May 23, 2011
Dan Estes Remembered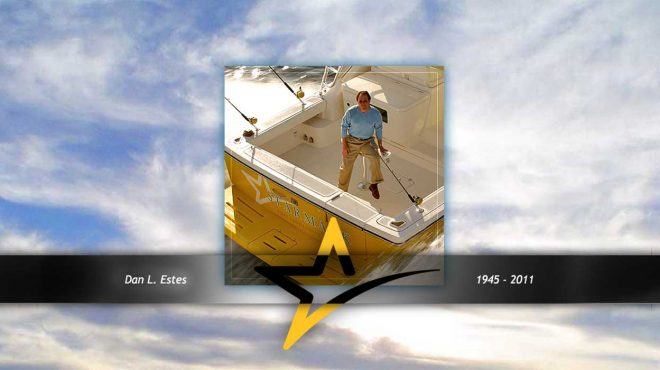 Dan L. Estes, co-founder of Starmark, Inc., 1978 in Chicago, and Starmark International, 1998 in Fort Lauderdale, Florida, was a self-proclaimed "serial entrepreneur" and boater. In all, he started over 25 companies and owned nearly as many boats, including several sports yachts ranging in size from 40′ – 50′.
He worked tirelessly at everything he did and was admittedly compulsive about organization and the design quality of his working and living environments, which are always uniquely functional and beautiful.

He grew up in Anderson, Indiana, was president of his senior class and captain of the football team. He received his undergraduate degree from Indiana University in Bloomington, and his masters in design and marketing from Purdue University. While at Purdue, he served as the university "designer" producing over 100 collateral projects each year.
Allan J. Cox, author of Confessions of a Corporate Headhunter, recruited Estes to Playboy Enterprises, from Fitch, his first job in Columbus, Ohio, in 1970. Indeed, he had won the attention of Playboy having won 45 design awards before he was 25 years of age, and having produced corporate identity projects for national brands such as Gerber, Midas and Fischer Chemical.
He headed up Playboy's design and branding for the magazine and resort properties worldwide from 1970 – 1973. In 1973 he began his entrepreneurial career, founding both a design firm in Chicago, IL, called International Design and a nightclub on Clark Street in Chicago, which he branded SMILE, and provided well-known entertainment including comedians Albert Brooks and Pat Paulsen.
He expanded his skills from design to business and specifically the business of advertising and promotion, and in 1978 started Starmark with Peggy Nordeen, a Chicago publicist, writer and advertising agency executive.
With a combination of expertise in design, advertising and the then emerging use of database marketing, they built Starmark into an international advertising organization with offices in Milwaukee, Denver and Chicago. In the process they started other related companies including Hot Shots photo studios and GFX International, which they sold to their management teams.
In 1994, after having transferred employees and selling Starmark's book of business to another Chicago headquartered advertising firm, Estes and Nordeen, who married in 1980, "retired" to Florida, where they had been boating for 10 years on long weekends.
Together they explored almost every island in the Bahamas from their home bases in Palm Beach and then Fort Lauderdale and caught and released hundreds of billfish. During the process they entertained many friends, former clients and business associates. Dan accumulated 4,000 hours on the water as the captain of his own sports yacht.
Then, feeling not unlike the opening scene in Romancing the Stone when Katherine Turner tells Michael Douglas she's had her fill of beach sunsets and margaritas, Estes and Nordeen returned to their roots in business. They re-opened Starmark in Fort Lauderdale in 1998.
With the DotCom era upon business and industry Estes knew he needed Interactive expertise as a part of the marketing mix that he would offer clients in the new Starmark and sourced out Brett Circe, who had a young Internet firm called TKOnet. Circe became a partner with Nordeen and Estes in Starmark International.
Dan also had a history in good real estate acquisitions for both his personal and business use and in 2000 bought 701 South Federal near the Kinney tunnel on Federal Highway for Starmark's headquarters. Five years later he purchased a 60,000 square foot office building next to the Design Center of the Americas and moved Starmark's headquarters onto the third floor.
In 2005, with a second retirement in the planning stages, Estes recruited a former Starmark Chicago management team member, Jacqui Hartnett, to join the company as COO. Jacqui had spent the last 13 years as COO of GFX International, where she helped grow the company from 30 to nearly 250 employees.
In 2010, Estes promoted Hartnett to Partner and President of Starmark International, and she and Brett Circe, Partner and Interactive Chief, along with a team of creative, media, direct response and interactive experts are in place to continue to grow the company with Estes' 33-year business partner, Peggy Nordeen as CEO.
With his succession team in place, Estes, having sold the Griffin Road office building to the DCOTA in 2007, spent the last year of his life finding a new downtown Fort Lauderdale headquarters for Starmark International and designing the build-out of another beautiful work environment for his creative idea experts to excel in.
The new location at 200 South Andrews next door to the Museum of Art has been designed and the permitting for the build-out is underway.
His Starmark team will continue to grow the company under the mantra of Dan's success formula – It's gotta be fun, it's gotta get results, it's gotta be profitable for everyone.
Dan may no longer be physically present, but his amazing work and planning have given us all a successful path to follow.
Dan's accomplishments are many. He was one of only a few entrepreneurs to have successfully made Inc magazine's fastest growing U.S. companies list seven times. But his true impact on this world is shown by the many young people he has coached to success and the many friends and family members that he has helped out in hard times.
He treated employees like family and worked hard to plan both their work and fun. He was lovingly named by the Starmark staff as "Chef Boy R Dan," because he was a talented hobby chef, wrote cookbooks and cooked for them.
His favorite song lyric came from the Beatle's song, "The End": "And, in the end the love you make is equal to the love you take."
Dan is Survived by his wife of 33 years, Peggy Nordeen, his two sons Jeff and Daniel, and his sister Shirley Estes.
In Lieu of Flowers donations "In Memory of Dan Estes" can be made to
A Child Is Missing or the Boys & Girls Clubs of Broward County.