Feb 25, 2000
Future home of Starmark, our own building!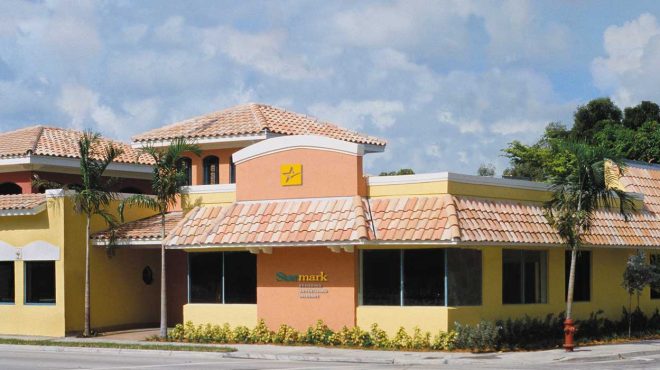 STARMARK INTERNATIONAL ACQUIRES 701 S. FEDERAL HWY; ANNOUNCES PLANS TO EXPAND BRANDING AND INTERNET SERVICES GROUPS
Starmark International, Inc., has purchased the former Elk's Club Bldg. at 701 S. Federal Hwy for their new corporate headquarters and plans to occupy the building before summer.
Dan L. Estes–CEO of the branding, advertising and Internet company currently located in the Quay Center on the 17th St. Causeway–said the company needed the 7,300 square foot structure to accommodate the growing needs of Starmark clients for additional branding and Internet services.
"The Dot Com, high technology, marine and health care industry clients that make up the majority of our client base are growing rapidly and we have to be able to expand quickly to add top professionals and meet their needs," Estes explained. "As a part of this, we've designed some unique interior spaces that promote and inspire interaction among our creative teams.
"Our plans call for turning the building into Class A professional offices. The two story atrium lobby already exists for an impressive entrance and gallery area to display our clients branding and advertising art," Estes continued. The company also plans an oversized plasma screen to display their major Internet sites in the atrium area.
Estes' Starmark partners, Peggy Nordeen, President, and Brett Circe, Webmaster, have worked with him to add creative touches to the space, among which is an impressive server room that will house the company's computer gear.
"While we're under construction, the Elk's 24-person bar will provide a perfect conference area and meeting room," Nordeen added. "It will be several months before we will be able to occupy all of the building. But that will give us time to recruit additional, qualified professionals ."
Friese Design Group, Inc., Ft. Lauderdale, is the architect and Constructure, Inc., Hollywood, is the general contractor for the project.
Starmark, Inc., was founded in 1978 in Chicago as an integrated marketing communications and advertising agency serving B2B clients — both entrepreneurs and Fortune 1000 companies. Among Starmark's achievements included becoming the first company to make Inc. magazine's 500 List of the Fastest Growing Privately Held Companies for 5 years in a row. For their 5-year record, Starmark was the first company to earn Coopers & Lybrand's "Repeater Award." In 1998, Starmark's founders relocated Starmark to Fort Lauderdale, acquired TKOnet, a 3-year-old Internet company, and formed Starmark International, Inc., to handle branding, advertising and Internet services for the growing national and international clientele located in South Florida.