Dec 6, 2022
Baking Spirits Bright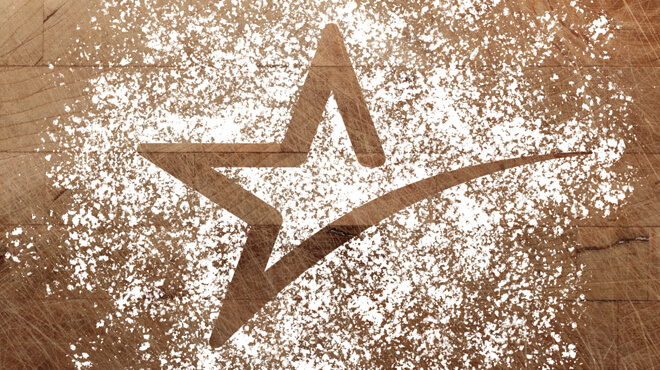 Welcome to the Starmark Kitchen.
It's time to sprinkle, twinkle and shine. Let's satisfy that sweet tooth of yours with some holiday cookie goodness. Enjoy these savory recipes from our team members to help you celebrate the season. Happy Holidays.
Madeleines Pistachio Star Cookies Hanukkah Rugelach Cookies Cowboy Cookies Sugar Cookies No-Bake Cookies Peanut Butter and Pumpkin Doggie Cookies
Madeleines
Yields about 2 dozen

Ingredients
Madeleine pans
1/2 cup (1 stick) butter, melted and cooled, plus more for pans
3/4 cup all-purpose flour, plus more for pans
2 large eggs, room temperature
1 cup confectioners' sugar
1/4 teaspoon baking powder
1/2 teaspoon pure vanilla extract
1/2 teaspoon freshly grated lemon zest
Directions
Preheat oven to 375 degrees. Butter and flour Madeleine pans thoroughly. Melt butter and let it cool.
In a medium bowl beat eggs, vanilla, and lemon zest with an electric mixer on high speed for 5 minutes. Gradually beat in the confectioners' sugar. Beat for 5-7 minutes or until thick and satiny. Sift together the flour and baking powder. Sift 1/4 of the flour mixture over the egg mixture, gently fold in using a spatula. Fold in the remaining flour by fourths. Then fold in the melted and cooled butter.
Spoon batter into prepared Madeleine pans, filling 3/4 full. Bake until golden, about 7 minutes. Remove from pans. Cool on racks.
Pistachio Star Cookies (Zimtsterne, German cinnamon star cookies)
Traditionally these cookies are made with almonds, but we've substituted with one of our favorite nuts, pistachios!

Ingredients
Cookies
4-2/3 cup of roasted pistachios (lightly salted)
3-3/4 cup of confectioners' sugar
1/2 teaspoon ground cinnamon
2 large egg whites (no yolk!)
Meringue
1 large egg white
1 cup confectioners' sugar
Directions
Preheat oven to 300 degrees; Line 2 baking sheets with parchment paper.
Cookies
Grind the pistachios in a food processor until fine.
Add 2-3/4 cups of the confectioners' sugar and the cinnamon.
Pulse to make a fine powder.
Add the egg whites and process until the dough comes together.
Sprinkle a work surface with the remaining 1 cup of confectioners' sugar. Knead the dough on the surface to create a cohesive dough. Roll out the dough until 1⁄4 inch thick, making sure the surface and rolling pin are coated with confectioners' sugar to keep the dough from sticking. Cut out cookies with a 2-inch star cookie cutter, dipping the cutter into the confectioners' sugar every now and again to keep the dough from sticking. Place the cookies about 1⁄2 inch apart on the pans. Gather the dough scraps, then reroll and cut out more stars.
Meringue
Whisk the egg white in a metal bowl until medium-stiff peaks form. Whisk in the confectioners' sugar, 1 tablespoon at a time, until thick and smooth (it's OK if the meringue doesn't hold a peak). Drop a teaspoon of meringue onto the middle of each cookie and use the back of a spoon to spread it.
Bake the cookies for 15- 17 minutes, or until the edges of the meringue barely start to color.
Cool 5 minutes on the baking sheets, transfer to a rack to cool completely.
Hanukkah Rugelach Cookies
Makes 18–22

Ingredients
2½ cups all-purpose flour, plus more for dusting
¼ tsp. baking powder
½ cup granulated sugar, divided
2 tsp. kosher salt, divided
1 cup chilled unsalted butter, cut into pieces
8 oz. cream cheese, room temperature
Zest of 1 orange
1½ cups finely chopped walnuts
1 cup raspberry or any other flavor jam or marmalade
½ cup freeze-dried raspberries or strawberries
1 large egg, beaten to blend
Special Equipment
A spice mill or mortar and pestle
Directions
Mix flour, baking powder, ¼ cup granulated sugar, and 1 tsp. salt in the bowl of a stand mixer fitted with paddle attachment on low speed to combine. Add butter and beat until it is flattened into nickel- and dime-size pieces and dry ingredients look a bit like sand, about 2 minutes. Cut cream cheese into 8–10 pieces and add all at once to mixer. Beat until dough starts to clump together in pieces (but not so long that it forms one large mass) with pieces of butter and some cream cheese still visible, about 1 minute longer.
Turn out dough onto a work surface and divide in half. Pat each into a disk and wrap tightly in plastic. Chill just until firm, 30–45 minutes.
Meanwhile, mix together orange zest, nuts, jam, and remaining 1 tsp. salt in a medium bowl. Set filling aside.
Working one at a time, roll out dough between 2 lightly floured sheets of parchment paper, dusting with more flour and turning over and rotating as needed, into ⅛"-thick ovals about 18×11″. Spread half of filling over each oval, leaving a ½" border. Rotate dough so a long side is closest to you and roll up into a tight spiral, using parchment to help you lift it as you go. If dough is sticking, chill 5 minutes before proceeding. Chill rolled-up dough until firm, at least 60 minutes and up to 1 day (wrapped in plastic).
Place racks in upper and lower thirds of oven; preheat to 375°. Finely grind raspberries in spice mill or with mortar and pestle. Transfer to a small bowl; mix in remaining ¼ cup granulated sugar. Brush tops of dough with egg. Sprinkle with half of berry sugar and cut into wedges 2″ wide at the base and ½" wide at the point. Make each cut on a diagonal, changing direction each time so that short and wide ends alternate. Divide rugelach between 2 parchment-lined baking sheets. Bake, rotating baking sheets top to bottom and front to back halfway through, until deep golden brown, 28–34 minutes. Let cool on baking sheets, sprinkling with remaining berry sugar while still warm.
Do Ahead: Cookies can be baked 5 days ahead. Store airtight at room temperature.
Cowboy Cookies
Ingredients
2.5 cups oatmeal, blended
2 cups flour
1/2 tsp salt
1 tsp baking powder
1 tsp baking soda
1 cup unsalted butter, room temp
1 cup granulated sugar
1 cup light brown sugar, firmly packed
2 eggs
1 tsp vanilla
12 oz. (2 cups) chocolate chips
1 (4 oz.) Hershey's bar, grated
1.5 cups chopped nuts (optional, but REALLLYYY good with)
Directions
Preheat oven to 374 degrees F
Blend oatmeal: measure and process in a blender to a coarse powder
In a medium bowl, mix together flour, oatmeal, salt, baking powder, and baking soda
In the bowl of an electric mixer, fitted with the paddle attachment, beat the butter and sugars on medium-high speed until light and fluffy
Beat in the eggs and vanilla until well-blended, scraping down the sides of the bowl as needed
Add flour mixture; mix until just blended. Stir in chocolate chips, grated chocolate, and nuts (if using)
OPTIONAL, BUT DEFINITELY SUGGESTED: cover dough and chill for 30 minutes (add 1 minutes or 2 of cook time if using chilled dough)
Roll dough into balls and place two inches apart on cookie sheet
Bake for 10 minutes
Take cookies out of over 1 or 2 minutes before the cookies are cooked, since they'll continue to cook on the baking pans
Let cookies cookie for two minutes on baking sheet before transferring to rack to cool completely.
Serve with vanilla ice cream on the side and enjoy!
Sugar Cookies
Makes 2 dozen

Ingredients
Cookie Dough
3 c. all-purpose flour, plus more for surface
1 tsp. baking powder
1/2 tsp. kosher salt
1 c. (2 sticks) butter, softened
1 c. granulated sugar
1 large egg
1 tsp. pure vanilla extract
1 tbsp. milk
Buttercream Frosting
1 c. (2 sticks) butter, softened
5 c. powdered sugar
1/4 c. heavy cream
1/2 tsp. pure almond extract
1/4 tsp. kosher salt
Food coloring
Directions
In a large bowl, whisk together flour, baking powder, and salt and set aside.
In another large bowl, beat butter and sugar until fluffy and pale in color. Add egg, milk, and vanilla and beat until combined, then add flour mixture gradually until totally combined.
Shape into a disk and wrap in plastic. Refrigerate 1 hour.
When ready to roll, preheat oven to 350º and line two baking sheets with parchment paper. Lightly flour a clean work surface and roll out dough until 1/8" thick. Cut out shapes and transfer to prepared baking sheets. Freeze 10 minutes (so your shapes hold while baking!).
Meanwhile, make frosting: In a large bowl using a hand mixer, beat butter until smooth, then add powdered sugar and beat until no lumps remain. Add cream, almond extract, and salt and beat until combined.
Bake cookies until edges are lightly golden, 8 to 10 minutes.
Let cool, then frost and decorate as desired.
No-Bake Cookies
There is always a lot of cooking and baking around the holidays. What is great about these cookies is that they kinda just fit right in with everything else you are doing, like a byproduct of all your efforts is rewarded with cookies!

Preparation
While you're doing your other baking, save any egg whites that may be left over from other recipes.
Have these cookies ready to go when the rest of your baking is done when you shut your oven off (we will use the heat left in the oven after you turn it off!)
Ingredients
Egg whites
Sugar

Vanilla

(or mint) extract
Pinch of salt
Chocolate chips
Nuts (Optional)
Directions
Use a mixer to beat the egg whites.
Slowly add sugar until it stiffens and has peaks.
Stir in the vanilla and a pinch of salt.
Fold in the chocolate chips (and nuts if you want to).
Stir with a spatula. Line a baking tray with aluminum foil and drop mounds about 2 inches apart.
When you remove your last item from the oven and turn the oven off for the night, put this tray in there when you do. Ensure the oven is off, and let this tray sit in the oven overnight (do not open the oven to check on it, or the heat will escape).
In the morning, you'll be rewarded with a batch of light and crisp, yummy cookies!
Peanut Butter and Pumpkin Doggie Cookies
Approx 25 treats

Ingredients
2 ½ cups whole wheat flour
2 large eggs
½ cup canned pumpkin
2 tablespoons natural peanut butter (avoid peanut butters that contain Xylitol)
½ teaspoon salt
½ teaspoon ground cinnamon
1 teaspoon water, or more if necessary (Optional)
Directions
Preheat the oven to 350 degrees F (175 degrees C).
Combine flour, eggs, pumpkin, peanut butter, salt, and cinnamon in a bowl; stir until combined.
Transfer mixture to a work surface and work it with your hands until mixture starts to come together. Add 1 teaspoon water at a time (only if needed) to help make the dough workable, but don't add too much as it should be dry and stiff.
Roll the dough to a thickness of 1/2 inch. Cut into 1/2-inch pieces and transfer to a baking sheet.
Bake in the preheated oven until dog treats are golden brown and crunchy, about 40 minutes. Let cool before serving to your dog.