Feb 23, 2005
Starmark International Opens New Headquarters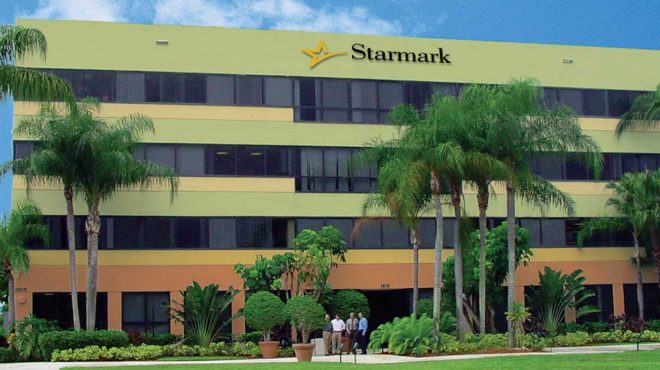 Starmark International, a South Florida-based, full-service marketing communications agency, has relocated its headquarters into a newly-purchased, 60,000-square-foot facility. Located at 1815 Griffin Road, the new headquarters enables Starmark to continue its growth plans and consolidate its operations into one building.
Named "Starmark Media Center," the building's location offers Starmark and its clients prime access to one of the regions most critical transportation arteries just south of the intersection of Interstates 95 and 595, and adjacent to Ft. Lauderdale/Hollywood International Airport. Since it opened in 1998, Starmark has grown year over year, with offices spanning three different locations during the past year. As part of that growth strategy, Starmark's technology subsidiary (OmniPilot Software, Inc.) and custom publishing house (Dialog Custom Media) will also be located in the new facility. The consolidation will enable all facets of Starmark's business to work in concert under one roof.
"As a full-service agency developing integrated marketing communications campaigns for regional, national and international clients, it is very important to have optimum efficiencies with all of our business components," said Dan Estes, chief executive officer of Starmark International. "Additionally, our new facility provides us with an opportunity to continue our strategic focus on growth and expansion. And by purchasing this property we can implement a long-term growth plan that includes the development of land adjacent to our building."
Combining all businesses and departments in the same building will immediately prove beneficial to Starmark's clients, providing more efficiency during the development of integrated marketing program strategies. In addition, the new facility will allow Starmark to expand its networking center, where clients, professional associations, community forums and non-profit organizations meet to collaborate on business strategy and relationship enhancement opportunities.
The Starmark Media Center will feature an internal workforce design concept that fosters substantial collaboration among agency team members. Termed "Idea Pods," associates that have a common client/industry focus will be grouped together, rather than simply by department. Estes added, "We developed the 'Idea Pod' concept through a best practices approach to streamline client program development. We have always operated with the client's needs first and foremost, which is the key reason why we are just the third company to be named seven times to the Inc. 500 list of America's fastest-growing companies."
About Starmark
Starmark International specializes in the seamless integration of multiple marketing disciplines – branding, advertising, Internet development, direct response, custom publishing and public relations among them – toward the effective fulfillment of client business goals. Originally founded in Chicago in 1978, Starmark relocated to Fort Lauderdale in 1998. In 2004, Starmark became just the third company named to the Inc. 500 ranking of the fastest growing private companies in America seven times, and was honored as only the ninth agency headquartered in South Florida to be awarded accreditation to the American Association of Advertising Agencies (AAAA). Starmark is a member of the International Network of Advertising Agencies (IN), a global network of independent agencies that offer local experience and expertise, while providing access to international markets, intelligence and solutions.
For more information on Starmark International, visit www.Starmark.com.