Sep 22, 2000
Starmark International's Relocation Celebration: the Toast of the Town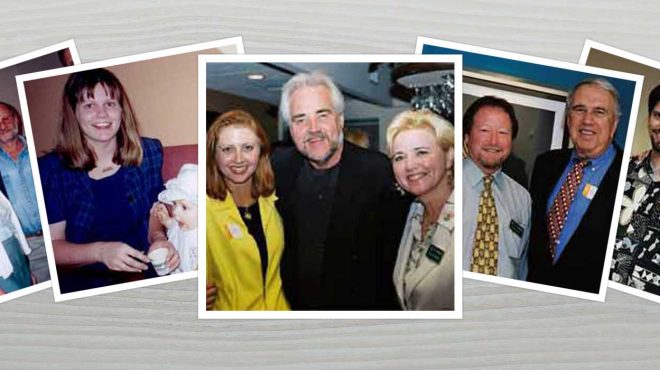 Starmark International, Inc., – the South Florida advertising, branding and internet agency; known for effectively branding, building and marketing dot com and traditional companies – held their relocation celebration last evening, to the delight of clients, colleagues, friends, and family. The party was the culmination of months of planning, designing, building and decorating, and a successful and seamless move into their spacious, newly remodeled building at 701 S. Federal Highway.
The party, hosted by the agency's three principles – Dan Estes, CEO; Peggy Nordeen, President and Brett Circe, Webmaster – allowed all in attendance to tour Starmark's new headquarters while sipping chilled champagne, nibbled on appetizers of filet mignon and rare imported cheeses; to the dulcet music of a live harpist. Starmark International, Inc., purchased the former Elk's Club Bldg. for their new corporate headquarters during the winter. The subsequent months have been spent on gutting, building, remodeling and decorating the facility to meet the growing business and creative needs of the agency.
"The stunned and appreciative reactions we saw on everyone's faces – when they walked through the doors and toured the building – were priceless," said Dan L. Estes. "For years people knew this building as the location of Two Guys Pizza and the transformation we have brought about has made the structure internally unrecognizable to those that knew the building in its previous form." Estes continued, "we're very proud of the business we have built and wanted to create an environment that represents and fosters the creative nature of our agency. To accomplish our goal we designed some unique interior spaces that promote and inspire interaction among our creative teams and showcase our campaigns and web sites. The two-story atrium lobby makes for an impressive entrance and gallery area to display our clients branding and advertising art." Invitees who could not attend the opening were able to log on to see the webcast of the party live at www.starmarkintl.com/starbar/.
Starmark, Inc. was founded in 1978 in Chicago as an integrated marketing communications and advertising agency serving B2B clients – both entrepreneurs and Fortune 1000 companies. Among Starmark's achievements is being the first company to make Inc. Magazine's List of the 500 Fastest Growing Privately Held Companies for 5 years in a row. In 1998, Starmark's founders relocated Starmark to Fort Lauderdale, acquired TKOnet, a 3-year-old Internet company, and formed Starmark International, Inc., to offer branding, advertising and internet services to a growing base of national and international clientele.