Sep 22, 2011
Starmark Joins Resurgence of Creative Industries in Downtown Fort Lauderdale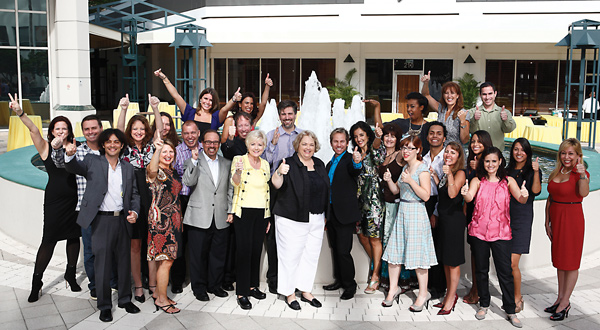 Starmark International, Inc., one of the largest advertising agencies in Florida, has made Museum Plaza in downtown Fort Lauderdale its national headquarters for the coming decade.
Nestled behind a beautiful fountain, in between the Museum of Art and 200 E. Andrews high rise office building, Starmark has remodeled a single-story former restaurant space with 15' high ceilings into an intriguing creative office environment designed to reflect both the tropical lifestyle with technological advancements of our community in a new genre: "Tropical Modern."
The location was discovered and conceptualized by Starmark's late chairman Dan Estes alongside Starmark Chief Interactive Officer Brett Circe and Creative Director Dale Baron.
"We've carried on Dan's vision for the space which is reminiscent of Chicago and New York loft-like creative office spaces but exudes the charm and lifestyle of our region," said Circe. "We are using the look and feel of the region to differentiate our agency, continue to use our culture to recruit top talent and promote the community generally as a great place to work."
Starmark President Jacqui Hartnett added the downtown Fort Lauderdale location also puts the agency in "walking distance" from some of its large local clients. "When we chose this location, we knew we would be taking advantage of the promotion of 'Greater Fort Lauderdale' as both a tourism and business Mecca. And, we are helping to create the growing aura of this region with our work with the Greater Fort Lauderdale Convention & Visitors Bureau and the Greater Fort Lauderdale Alliance."
For the last dozen years, Starmark has operated the "StarBar Networking Center" in its offices, hosting local business organizations and charities. There is a new Tropical Modern "StarBar Networking Center" in the Museum Plaza space, according to Hartnett. "The agency plans to host a StarBar networking event monthly after its Wednesday Webinars, which keep employees, clients and business associates updated on the latest eMarketing technologies," she explained.
For the last several "under construction months," Starmark posted window banners at the new location touting "Big Ideas are Coming Downtown" – a campaign Hartnett says will continue to prove itself true in the agency's coming decade.
Recently, Starmark's creative efforts won seven awards at the Advertising Federation of Greater Fort Lauderdale's ADDY Awards ceremony. Starmark was recognized for the creation of a variety of campaigns for clients Greater Fort Lauderdale Convention & Visitors Bureau, AccuData Integrated Marketing, Activ Doctors Online, Broward Center for the Performing Arts and Riverwalk Arts and Entertainment District.
Starmark is a national integrated marketing agency headquartered in Fort Lauderdale, FL. The agency specializes in strategic thinking, award-winning creative, branding, advertising, interactive and public relations. Since 1978, it has partnered with world-class companies to build measurable results. Starmark delivers fresh perspectives and smart thinking to ignite clients' business. Then, reinvests the knowledge to maximize return. It's big ideas. Bottom line.
Photo Credit: www.claywielandphotography.com