Aug 6, 2015
Starmark Celebrates Big Ideas at Summer Sizzler Event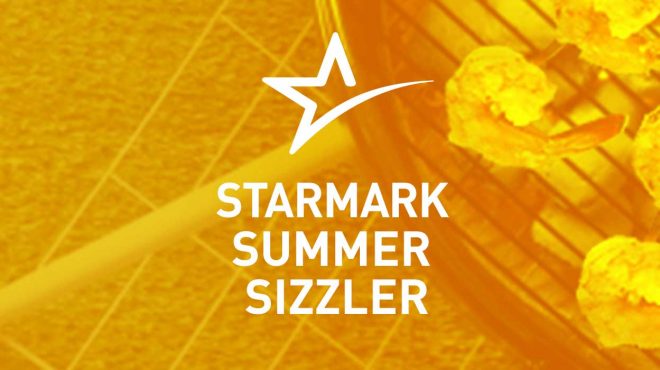 Starmark's summer BBQ really sizzled as we celebrated emerging technologies; new releases; and clients, old and new! Throughout the festivities, we enjoyed a feast of scrumptious bites hot from the grill. It was a sizzling good time and the grills and thrills were nonstop from start to finish!
Location-based technologies
But the grill wasn't the only thing firing on all cylinders. Throughout the agency, we unleashed an immersive interactive experience for our guests who were truly engaged in the latest location-based technologies as they meandered through the office connecting with geofences, beacons and smart posters too!
New Releases
The celebrations sizzled on with the release of our fourth edition in the eTips series, eTips for Market Leaders, 50 more marketing tips handsomely bound in a conveniently handy format that lets you thumb through the pages and pages of eTips. And if you crave more, download the brand new and free Starmark eTips App iOS and Android , a vast library of marketing tips available at the touch of a finger and conveniently delivered to your mobile device every week.
A New Starmark.com
Starmark saved the best for last with the release of the brand new Starmark.com website with vibrant videos and compelling images highlighting our work, our clients, our culture and of course more eTips.
Celebration of Stars
But at the end of the day, it all comes down to the grand gathering of friends, clients, and our Starmarkers without whom we couldn't celebrate our achievements and successes. It was a salutation to all of stars that blaze across our galaxy; and the partnerships and friendships, not to mention a lot of hard work, forged within. Our heartfelt thanks goes out to all of them!
Relive the moments
In case you missed our Summer Sizzler, you can relive the highlights on with some of our photo selects on Facebook.
Learn More.
To learn more about the location-based technologies, download our brand new Location Based Marketing Cheat Sheet highlighting some of the technologies we demonstrate in our agency as well as reading about the practical applications in an article from the South Florida Business Journal.