May 30, 2003
Starmark International Celebrates 25 Years in the Advertising Industry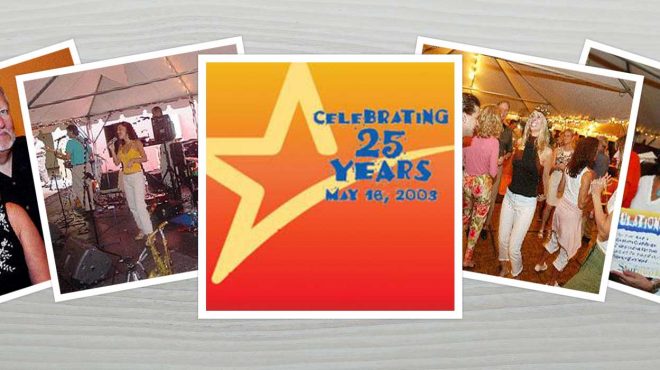 Starmark International, a full-service corporate branding and marketing communications agency, celebrated its 25th anniversary in the advertising industry, and its fifth year being headquartered in Fort Lauderdale, on Friday, May 16th, at the company's building on Federal Highway. More than 400 guests, including employees, clients, friends, corporate partners and members of the press, were on hand to enjoy the festivities.
In typical Starmark creative fashion, the company's headquarters was converted into a tropical Caribbean destination. Dubbed "Starmark Cay," the party venue was festooned with swaying palm trees, tiki lights, island drinks, and an authentic West Indian barbecue. The Stowaways, official band of the Fort Lauderdale/Miami Parrot Head Club and a frequent opening act for Jimmy Buffett, performed live music further enhancing the island vibe. As a special thanks to all the friends a business associates that have helped Starmark throughout the past 25 years, all guests even had the opportunity to win a seven-day Caribbean cruise aboard Norwegian Cruise Line.
Starmark co-founder and CEO, Dan Estes, commented on the party and the company's longevity stating, "Peggy Nordeen and I started our agency in Chicago with one goal in mind, solving marketing challenges. 25 years later – and in a new locale – we share the same goal, but with the added satisfaction of knowing that there's no where else we'd rather be and that there's nothing else we'd rather be doing. Now that's something to celebrate."
Pictured here (left to right) celebrating Starmark's silver anniversary are JR Russell, Starmark Vice President of Business Development; Kathy Rupar of O.R. Colan Associates, the lucky NCL cruise winner; Lisa Levy, Starmark Account Executive; and Carlos Macedo, Starmark Production Artist.
Starmark International specializes in the seamless integration of multiple marketing disciplines – branding, advertising, Internet development, direct response and public relations among them – toward the effective fulfillment of client business goals. Originally founded in Chicago in 1978, Starmark was the first company named to Inc. Magazine's List of the 500 Fastest Growing Privately Held Companies for five years in a row. Now headquartered in Fort Lauderdale, FL, Starmark combines a team-focused approach to client service, creativity, time-tested business acumen and technological know-how to help clients succeed in today's fast-paced global economy.