Aug 24, 2022
WEBINAR SERIES: Ways to Prepare Your Business for Web3 and the Metaverse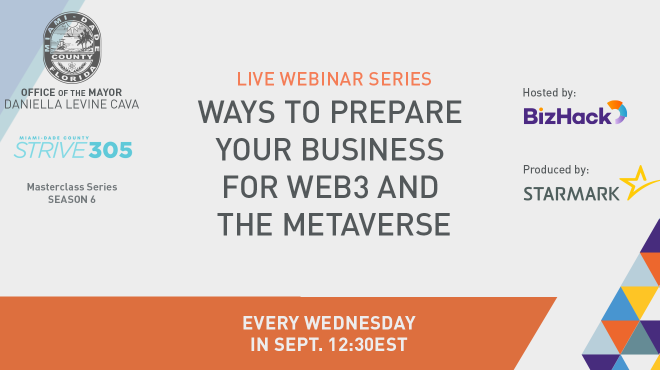 Starmark has joined forces with the Miami-Dade Mayor's office and Bizhack Academy for Season 6 of #BizHackLive's Digital Marketing Masterclass series, "Ways to Prepare Your Business for Web3 and the Metaverse." Hosted by Dan Grech of Bizhack and produced by Brett Circe of Starmark, these live, interactive webinars will offer tips and tools from industry experts to help business owners navigate the next big wave of digital marketing. Register for the free four-part series below!
Masterclass 6.1: How Brands Are Rewriting the Rules of Marketing in the Metaverse
From a company's look and feel to its voice and tone, learn everything you need to know about brand representation in the virtual world in the webinar series' first session.
Guests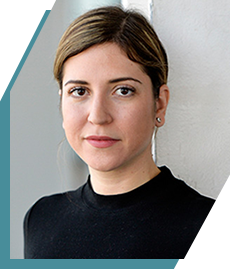 Franchesca "Cesi" de Quesada Covey
Partner @ TheVentureCity and Tech Innovation Advisor @ Miami-Dade County
Currently at TheVentureCity, Cesi invests in early-stage companies and becomes an extension of a startup's team by providing strategic growth insights and capital. She also serves as Tech and Innovation Advisor to Mayor Daniella Levine Cava. Before joining TheVentureCity, she drove cross-Facebook company strategy development and built and scaled business development teams supporting Internet.org, SMB commerce, and crypto efforts – Novi and Diem.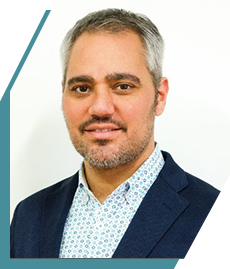 Jay Miolla
Managing Director @ The Cuttlefish, Inc.
Part strategist, part creative and part producer, Jay has been on the forefront of immersive tech for over 15 years, inventing and launching bleeding edge digital experiences for major brands. Jay is motivated to make the seemingly "impossible", very possible and to prove that this medium will truly change the world and the way in which we interact with it. A frequent speaker on the topic of AR/VR/MR, Jay is happy to share his knowledge with anyone interested in learning about the space.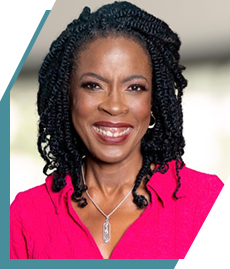 Jacqueline Jones
Head of Strategic Partnerships – Diversity, Inclusion & Belonging @ LinkedIn
As Strategic Partnerships Lead for Global Inclusion at LinkedIn, Jacqueline's role is to unlock significant economic opportunities for diverse groups via thought leadership, partnerships and new product offerings. She creates synergies between business partners to open new opportunities, products and markets. She is known for her collaborative approach and skilled leadership of cross-functional teams. Her areas of specialty include: business development, product management, strategic planning, market research, sponsorship design, and content marketing.
Masterclass 6.2: The Financial and Legal Implications of Web3 for Business
Going beyond the hype of NFTs and cryptocurrencies, this session will explore the practical business implications of Web3 with industry powerhouses.
Guests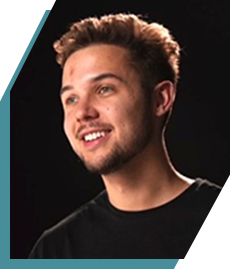 Brett Malinowski
CEO @ WGMI Media
Brett Malinowski is an NFT entrepreneur that has established himself as a pioneer within Web3. With over 100K subscribers on YouTube, he has devoted most of his efforts educating on the early nuances of NFTs while showcasing the web2 business potential for viewership. He is the founder of WGMI media, one of the first media sources to focus exclusively on web3 and NFTs. Brett has had continued success with NFT brands like Magic Mushroom Clubhouse and NFT Academy that has been a central hub for creators, builders and NFT enthusiasts all over the world.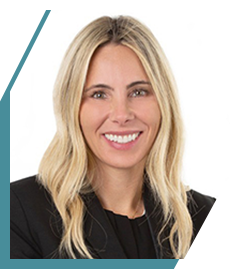 Kimberly A. Prior
Co-Chair, Digital Assets and Blockchain Technology Group @ Winston & Strawn LLP
Kimberly is a leading financial services regulatory attorney, advising financial institutions and other businesses with respect to legal, regulatory, and corporate matters. She has extensive expertise advising clients in the distributed ledger, blockchain, and digital assets sector.
Masterclass 6.3: How to Engage Employees and Recruit Talent using the Metaverse
How did companies adjust to quarantine? Can virtual reality actually help with talent recruitment? Get these questions answered and more at this engaging third session.
Guests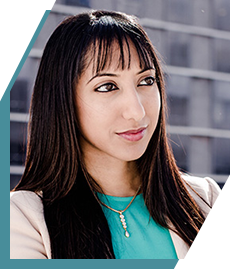 Angela Antony
Founder & CEO @ Scoutible
Angela Antony is Founder & CEO of Scoutible, the first gamified predictive professional metaverse designed to help anyone find and achieve their purpose. Antony spent 9 years at Harvard studying psychology, law, and business with a focus on labor market policy. She then worked at the White House zeroing in on one issue – more than 50% of all new hires fail because the most accurate and unbiased hiring criteria known to exist—personality and cognitive strengths—are never measured in the hiring process. Antony founded Scoutible to bring the power of psychology and science to hiring.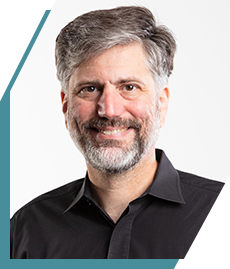 Brett Circe
Chief Digital Officer @ Starmark
With all aspects of business and branding now touching mobile, social and apps, Brett ensures that client strategies and tactics integrate seamlessly in the digital realm, in real time. As an internet pioneer, Brett won his first e-commerce website award from Yahoo! in 1995. He has served as president of three technology companies: TKOnet, OmniPilot Software, and most recently, FanWise, a social-reward technology for which he holds two patents. He likes to talk about AR/VR/MR and the Metaverse, Mobile Commerce, Advertising, Apps and anything latest, greatest, newest, best.
Masterclass 6.4: Case Studies of How To Do Business using Web3 and the Metaverse
Real-life case studies. Failures and success stories. New technologies. The series' grand finale live session will teach practical tips and tools to take your business to the next level.
Guests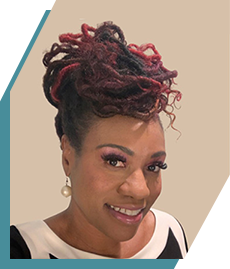 Dr. Muhsinah Morris
Director of Virtual Reality Project @ Morehouse College
Dr. Morris is the Principal Investigator (PI) of the VR Project, "Morehouse in the Metaverse". She believes VR provides a pathway for creating inclusion in society for the neurodivergent through immersive educational experiences that more specifically target vocational rehabilitation goals. She is affectionately known as Dr. M.O.M. (Molder of Minds) by all her students. She continues to mold the minds of educators and students globally in the Metaverse. Her future is authentic transformation of the educational system for our future leaders using immersive technologies in the Metaverse. More recently, she founded Metaverse United, LLC where she helps people find where they belong in the embodiment of the internet called the Metaverse.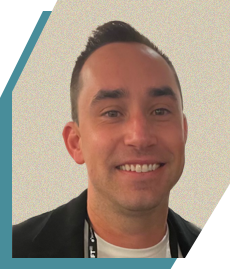 Tommy Farr
Founder @ Metaverse Hospitality Consulting Group
Tommy Farr went to school for Hospitality and Business at FSU before graduating on to the St. Regis Atlanta to further train in the hospitality industry. From studying wine in Switzerland to working for Michael Mina to traveling the world consulting with the best hotels, Tommy maximized his knowledge within the hospitality world surrounded by some of the best teachers. When the pandemic hit, a new passion within web3 and NFTs took over and Tommy wanted to find a way to combine hospitality and web3. Metaverse Hospitality was born and the first hotels in Sandbox were built.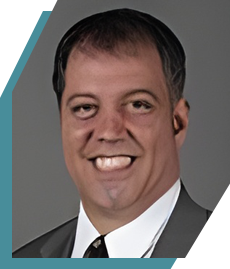 Nicholas Romeo
Sales Director @ Boggy Creek Airboat Adventures
Hospitality/Tourism executive with over 30 years experience. Nick oversees all sales at the attraction including events (3rd party resellers, youth operators, DMC's and meeting planners), development of education programs, and expanding new educational areas and exhibits within the park.