Nov 7, 2011
Starmark CEO Wins Two Leadership Awards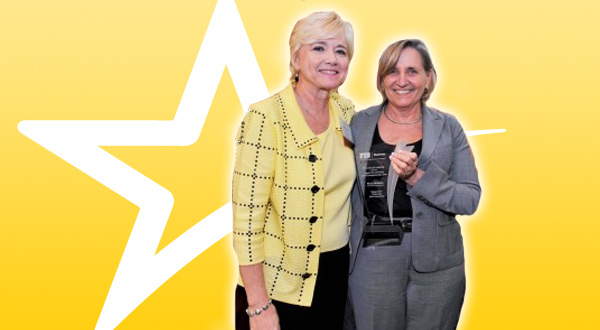 Starmark co-founder and CEO Peggy Nordeen received two awards from the Florida International University Center for Leadership and the Pino Global Entrepreneurship Center at the "Women to Watch: Florida's Entrepreneurial Leaders 2011" conference.
Nordeen was one of 25 women across Florida to receive recognition but the only one to receive two awards. She received an award in the category of Highest Revenue Growth due to the fact that Starmark maintained its revenue during hard economic times — from 2008 to 2010 — and had a minimum of $10 million in revenue in 2010.
The second award is for Outstanding Social Responsibility and recognized Starmark for its commitment to being a good corporate citizen. In its sixth year, the "Women to Watch: Florida's Entrepreneurial Leaders" awards created the category of Outstanding Social Responsibility just this year, and Nordeen was the first to receive the recognition.
Starmark does pro bono work for non-profits and charities including A Child Is Missing, The Boys and Girls Club of Broward County and The Broward Center for the Performing Arts. Nordeen serves on the Board for the Boys & Girls Clubs of Broward County, was the 2010 Chair of the Greater Fort Lauderdale Alliance, and is an Advisory Board member of A Child Is Missing.
'It's an honor for Starmark to be recognized for our social responsibility," said Nordeen. "Ultimately it makes good business sense to give back to the community. It keeps us engaged and current with what is going on in the world and our employees also stand behind our contributions."
Nordeen, who co-founded Starmark in 1978, has other awards to her credit including South Florida Business Journal's 2006 Business Woman of the Year/Entrepreneur of the Year. She is also the 2009 Diamond Award recipient for her prowess as a businesswoman and as a community leader in both the civic and philanthropic arenas. Starmark is the third company ever named to the Inc.magazine's "Inc 500" Fastest Growing Private Companies in America seven times.
Starmark International, Inc. is a national integrated marketing agency headquartered in Fort Lauderdale, FL. The agency specializes in strategic thinking, award-winning creative, branding, advertising, interactive and public relations. Since 1978, it has partnered with world-class companies to build measurable results. Starmark delivers fresh perspectives and smart thinking to ignite clients' business. Then, reinvests the knowledge to maximize return. It's big ideas. Bottom line.