Boca Raton Resort and Club
Elevate the selling experience with a 360° virtual resort tour for meeting planners
Starmark created Boca Meet 360° —an innovative, in-depth virtual site tour of the Boca Raton Beach Resort & Club.
This online tool strengthened the resort's relationship with meeting professionals, wedding planners and other prospects, enhancing both engagement and the entire selling process.
The tour eased the sales team's hassle of shipping brochures to far-away prospective planners and increased overall productivity.
HIGHLIGHTS:
Extends planner and resort connection beyond initial booking
Meetings app optimized for handheld devices

Informs attendees about schedules, speakers, important alerts

Floor-to-ceiling panoramic look at 15 key points of interest
High resolution video and photo galleries
Property map within proximity to the beach
Meeting space specifications and floor plans
LinkedIn Group with industry updates and meeting trends post
"The new Boca Meet 360° allows us to enhance the sales experience, creating an engaging, virtual selling environment" — Ed Carey, Managing Director of Sales at the Boca Raton Beach Resort & Club.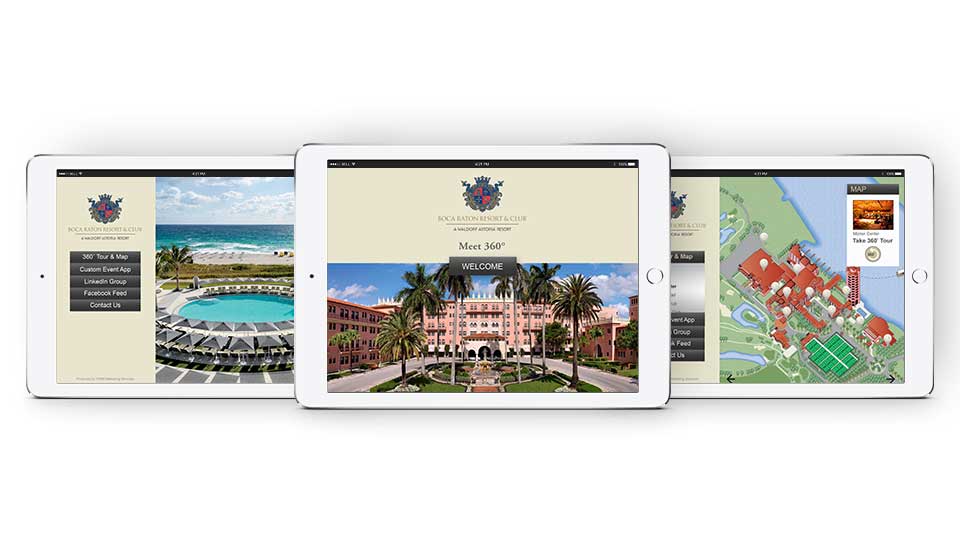 About Boca Raton Resort & Club, a Waldorf Astoria Resort
Boca Raton Resort & Club, a Waldorf Astoria Resort, is one of the country's premier resort destinations and private club facilities. Celebrated for its customized weddings and special events, the Resort offers experiences that can encompass everything from barefoot on the beach to black tie splendor.
Established in 1926 by Addison Mizner, the Resort & Club's amenities include a half-mile stretch of private beach at the redesigned Boca Beach Club, the award-winning Spa Palazzo, two 18-hole championship golf courses ranked among Golf Digest's "Top 75 Courses in North America" and the Dave Pelz Scoring Game School, the Resort's tennis program ranked among the top 50 U.S. tennis resorts by Tennis Magazine, full-service 32-slip marina, seven swimming pools, three state-of-the-art fitness centers, and a variety of water sports.
In addition, the Resort offers an outstanding selection of dining options, including Morimoto Sushi Bar by the internationally-renowned Iron Chef, Cielo Restaurant at the top of the Tower and Serendipity, New York City's famed ice cream shop with family friendly menu. A full range of water sports and activities include a comprehensive children's program. For reservations, call your travel professional or call 888-543-1286, or visit www.BocaResort.com or www.waldorfastoriacollection.com. Follow us on Facebook at: www.facebook.com/bocaresort.
About Waldorf Astoria Hotels & Resorts
WALDORF ASTORIA is Hilton Worldwide's luxury brand of landmark hotels, with each one as singular and timeless as the brand's namesake, The Waldorf Astoria Hotel in New York. From classic elegance to modern grandeur, Waldorf Astoria Hotels each represent worldly sophistication and unparalleled guest service. From sumptuous spas and culinary excellence to world-class golf, each hotel & resort offers the exquisite accommodations and signature accoutrements that define refinement and sophistication. Discover Waldorf Astoria by visiting www.waldorfastoria.com. Waldorf Astoria Hotels & Resorts is one of Hilton Worldwide's ten market-leading brands.