Sightline Payments

Creating more Play+ fans with an entirely new customer data ecosystem

Great things are possible when you really know your customers. And that's the power we unleashed for Sightline Payments — leading to a higher customer lifetime value, increased account retention and a consistent communication strategy.

So how'd we cement the position of Play+ as the smarter way to play with both gaming partners and customers? Well, it all started with a Herculean data effort.
The Ante — Setting the Stage for Our Effort
Sightline Payments is a leader in digital payment technology. Their product, Play+, provides a safe and convenient way to fund casino gaming, sports betting and everyday purchases without any cash.
When Play+ came to Starmark, it had a few years of customer data, several loyal casino and sportsbook partners and a big challenge of increasing usage and account-holder retention.
Thanks to financial service standards and reporting requirements, Play+ had a robust customer database, but the previous customer service communications system wasn't maintained and optimized for marketing communications. There were also two evident and troubling trends: 1) A large number of sign-ups that never became transactions; 2) A large percentage of accounts showing a trend of initial Play+ account use, followed by a steady decline in use until they lapsed.
The data also wasn't being used for any comarketing efforts with the casinos and sportsbooks with whom Play+ partners.
Our goal was to create, test and optimize a data-driven marketing program, for both B2B and B2C efforts, to improve account usage and increase per-account lifetime value.
This system gives us real visibility into our marketing activities and our accountholder communications. It's a major step forward for us.

— Mandi Hart, Chief Client Solutions Officer, Sightline Payments
The Wager — Defining Our Customer Data Strategy
Our first step was to define the tech stack for the program, which included choosing the perfect CRM, data lake and data warehouse for Sightline Payments' marketing data. Then our team extracted, transformed and loaded (ETL) all historical customer data, including lapsed accounts.
The customer data strategy for Play+ included understanding past customer behavior to predict future trends. To find our key insights, we mined three years of customer data, appended it with third-party data and compared those results to our own customer survey data. Through the survey, we learned what benefits of Play+ were most important to customers and what worked great — and not so great — about finding and becoming a new customer of Play+.
This effort yielded three essential tools: 1) a proprietary customer lifetime value (LTV) model and; 2) data-driven customer personas and journeys to translate our findings into real human personalities and experiences for our various customer segments; and; 3) a message map aligned with the top-rated customer benefits.
The propensity data modeling definitely made our media efforts more efficient.

— Tom Sears, Executive Vice President, Sightline Payments
The Raise — Leveraging Insights to Create More Effective Communications
After analyzing all the data, we realized people didn't choose Play+ because it was more secure or because it was easy to sign up or because it had a debit card with it. The real reason they chose Play+ and kept using it was because payouts take only minutes, versus days for other payment methods.
With this clear customer understanding, we had everything we needed to craft a successful acquisition and retention roadmap.
Table Stakes — Getting the Fundamentals Right
Our roadmap included a new, automated welcome drip program for new account sign-ups. The campaign specifically addressed many of the triggers, timings and behaviors we learned about in our data modeling exercise that prevented declining usage and led to high lifetime value.
The River — New Opportunities Flowing
The same findings also allowed us to create campaigns for new customer acquisition and lapsed customer reactivation. Then we tested these new targeting capabilities to create a pilot acquisition campaign in Michigan. In comparison to previous new state launches, this data-powered Michigan launch saw 112% greater market penetration in the first 90 days. Additionally, 76% of new accounts were traceable back to the marketing effort — a massive shift in attribution capabilities.
These learnings helped us immensely when we launched an interactive NCAA Playoff campaign to re-engage basketball fans with little to no account activity since the previous season. Animated gifs and tailor-made messaging encouraging fans to play along to win a $500 prize. Everything we learned from these efforts helped us pull off an award-winning football season effort that led to thousands of new sign-ups.
The Draw — Bringing in New Fans in Las Vegas
When Play+ had an opportunity to work with close partner Resorts World Las Vegas to launch the world's first cashless casino, the Starmark team used our data-driven creative approach to develop high-impact on-property promotions, employee training and a sign-up team strategy.
Prior to the resort opening, we deployed a building-sized animated promotion inviting The Strip to come in and experience the world's first cashless casino. We paired this massive effort with large animated monument signs at sidewalk level.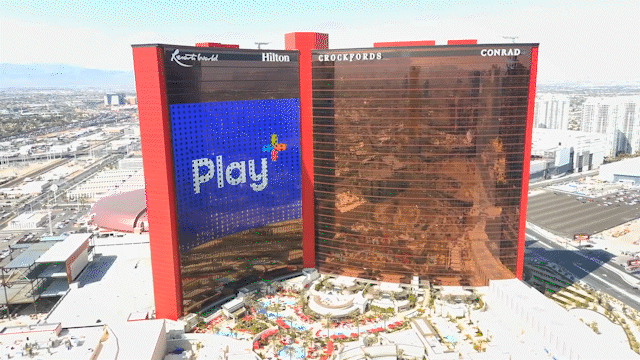 In partnership with the Play+ team, we workshopped a fluid online sign-up process and supplemented the effort with helpful onboarding videos to assist with every step. We also created an on-property lounge area to assist with in-person sign-ups. Signage on the casino floor, in-room promotions and large-scale sizzle videos promoted the cashless Play+ solution to everyone on property.
The Call — Creating Excellent Partnerships
Consistent and cohesive partner marketing with the 100+ partners throughout the US was also a critical channel. So the Starmark team also created essential business fundamentals for Play+ — messaging documents, a design system for digital products, a marketing automation system, brand guidelines and a huge family of templates.
One of the most critical pieces of these efforts was an "operator toolkit" for all Play+ casino and sportsbook partners. The online toolkit included comarketing templates, useful brand information and everything else a Play+ partner would need to create successful Play+ marketing. It included customizable online cardholder portals, a system to upload customized Play+ card art and other goodies for every partner to make Play+ feel like their own.
We included everything from social media assets to SMS messaging to make it easy for any partner — big or small — to use pre-approved communications for quick-turn promotions that stayed brand-consistent.
The Final Take
Over the course of two years, we created infrastructure to ramp up acquisition and reactivation marketing. We launched entirely new markets and the world's first cashless casino experience. We buttoned up the creative approach with consumer insights, and we created a consistent brand toolkit. In the end, these efforts led to a fresh investment in Sightline Payments, bringing the company's valuation of over $1 billion.