uVu Technologies

Tear the lid off traditional brand development Case Study

Over the past 10 years, uVu Technologies has grown into a global premier design and materials engineering leader, recognized for its contributions to manufacturing efficiency and consumer safety. When the company expanded into three core divisions of consumer packaging, industrial instruments and digital development, they needed a new branding program that would align the organization's multi-layered brand presence.
The Big Idea
Starmark developed a branding initiative that aligned the three lines of business under one umbrella, while highlighting the individual strengths of each division. Once we created a cohesive brand family, phase one of the rollout consisted of a new website developed by the team. The site established the company as a multi-sector, research and development organization, while giving them a branded look and feel that housed uVu's corporate message and mission, along with its respective divisions.
The next phase included the design of an award-winning trade show booth that captured uVu's innovative personality. The booth's unique design and structure highlighted the company's commitment to developing new technologies. Additional branding elements included corporate brand guidelines that unified the three divisions and provided the organization with elements for their brand toolbox, including photography from Starmark's product shoot; along with an umbrella brand mark.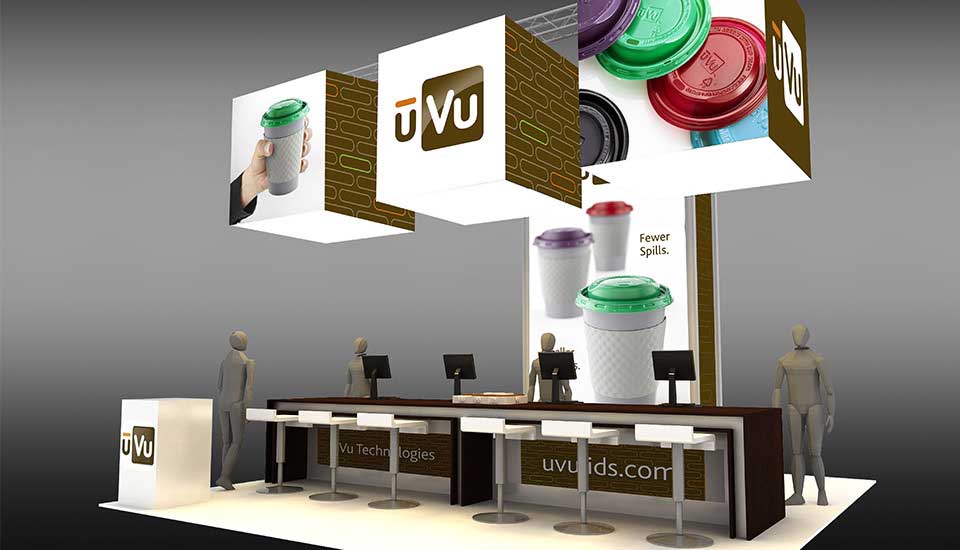 Starmark also helped uVu Technologies launch one of its most recent innovations, hot lids. Campaign components consisted of a colorful brochure to communicate the features and benefits of the lids, an informative side-by-side comparison video, and a dimensional direct mailer that was designed to build awareness of the company's flagship product — uVu hot lids — among C-level executives across the country, putting the product directly in their hands. Each cup in the mailer represented a key benefit of the lids.
Coffee spills are no fun, but they are fun to watch in slow-motion. Starmark added personality and panache to the rather pedestrian problem of coffee spills with a video that is part physics lecture, part blooper reel. The result is a branding initiative that demonstrates the superiority of uVu's hot beverage lids. It refreshes an old-fashioned industry with an up-close, fast-paced, slow-motion look at its newest technology.
What was so hot about the campaign? We took an every day coffee cup, and convinced key decision makers there was a need for a better, mode dependable lid.
Big Results
In just 24 months, Starmark's award-winning campaign and marketing strategies helped to garner the response needed to attract a leading manufacturer, who then signed a major licensing deal with uVu.