Catholic Health Services
A website relaunch with a healthcare leader
Catholic Health Services (CHS), one of the largest not-for-profit post-acute healthcare systems in the Southeast U.S., cares for 6,500 people of all faiths daily. Four medical campuses housing skilled nursing facilities, acute medical rehabilitation hospitals, home health agencies, assisted living facilities and in-patient hospice units: eighteen affordable senior housing communities for the independent low-income elderly, two Catholic cemeteries and five early education and childcare. In 2023, Starmark partnered with CHS to create a new healthcare web presence that put patient needs at the forefront while highlighting what makes the system's care so special.
The Diagnosis: Unconnected Dots
The #1 differentiator for Catholic Health Services is its commitment to a lifelong Continuum of Care. While competitors offer the same core services — physical therapy, skilled nursing or home health — few match the depth and breadth of the system across a patient's entire lifetime. CHS can coordinate and deliver a full range of highly-specialized healthcare services, covering all needs from the beginning of one's healthcare journey until they regain independence, without the extra time, stress and recordkeeping risks of using multiple providers.
What the CHS and Starmark team found was that most patients didn't know what Continuum of Care was — or why they should care. Few even realized that CHS offered multiple services. Physical therapy patients thought they had to go elsewhere for home health, and skilled nursing patients had no idea CHS offered stroke rehabilitation. This finding became the driving business imperative for the new website.
The Treatment Plan
People using a hospital site are usually doing so at very challenging times in their lives – whether a future patient, current patient or a family member of someone in need of care. It was critical for the new website to acknowledge this reality. Our mission was to make it far easier for visitors to find what they are looking for, as well as:
Create compelling ways to convey the importance of the CHS Continuum of Care
Instill a consistent, engaging visual identity and voice throughout
Unite all service lines under the Continuum of Care mission — while still prioritizing each service's unique selling points and expertise
Starmark began with in-depth stakeholder interviews that built a comprehensive understanding of opportunities. Both teams then collaborated closely on an Agile roadmap to update the information architecture, user personas and journeys.

Information Architecture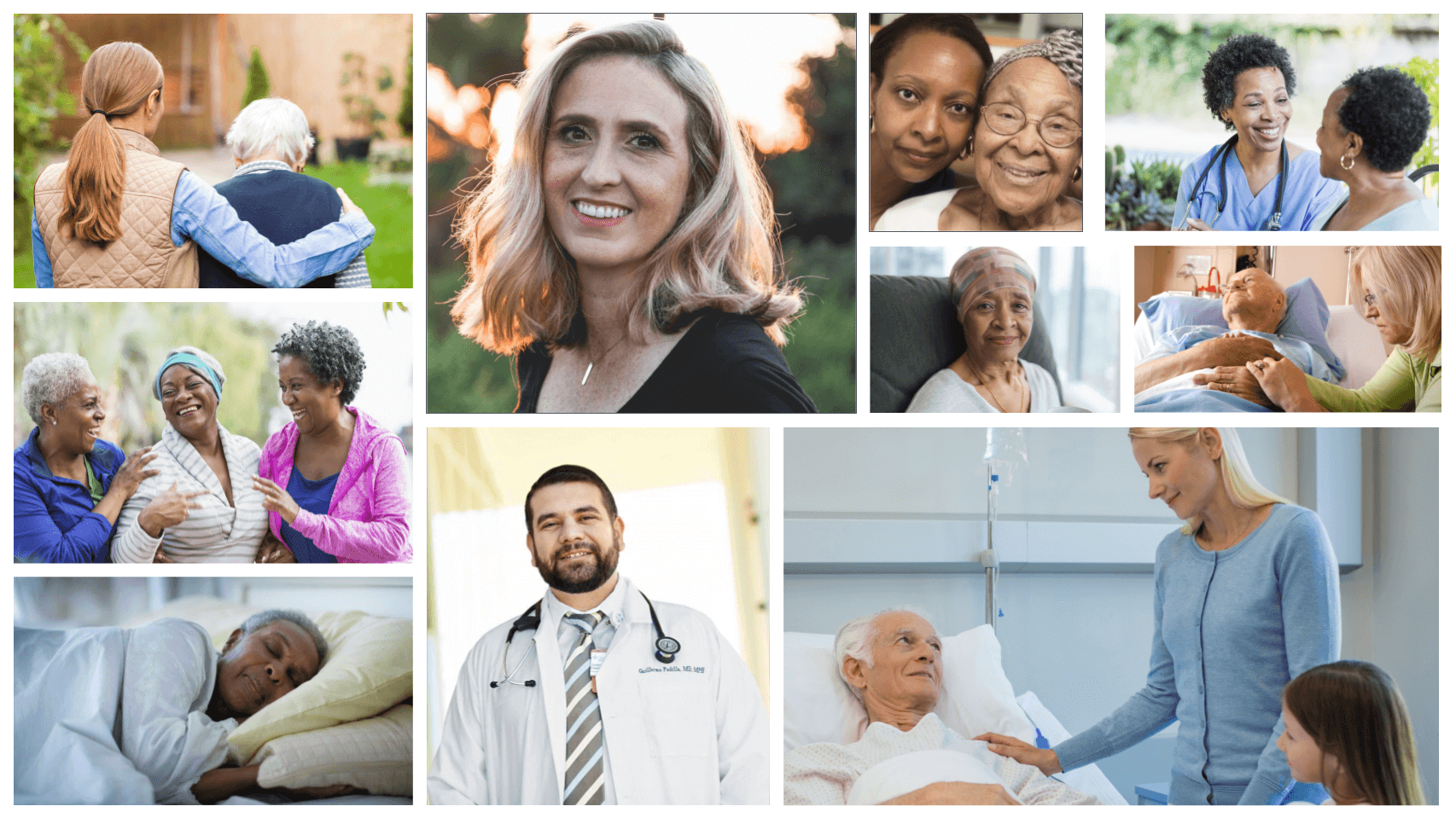 User Personas
Putting Every Visitor At The Center
Starmark conducted a best-in-class industry website review, research and testing to create the new design system and site experience. Many new features elevated the user experience significantly, ensuring that visitors stay at the center of the design process, just as the CHS Continuum of Care mission centers on every patient's individual healthcare journey.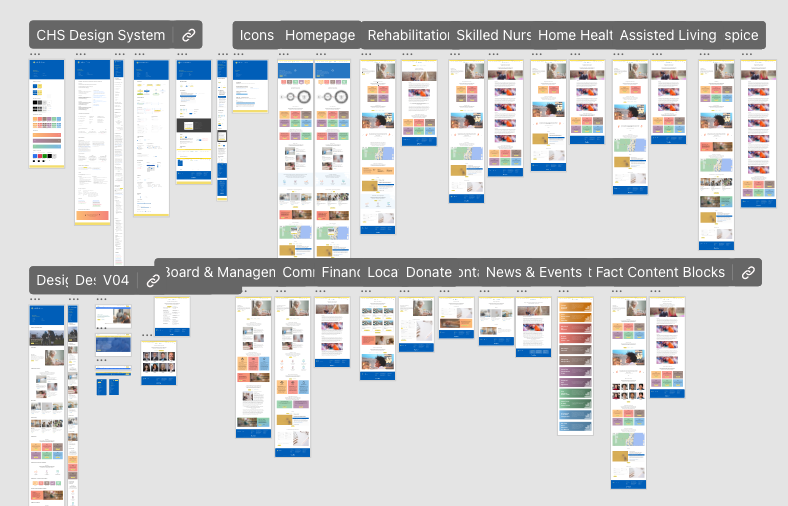 Design System & Patterns
Making Answers Simpler to Find
The Starmark team simplified the global and in-page navigational structures for the new CHS site. The goal was to make it dramatically easier to find what a visitor is looking for.
Simplified architecture makes it faster to find the answers a visitor seeks and view all core services.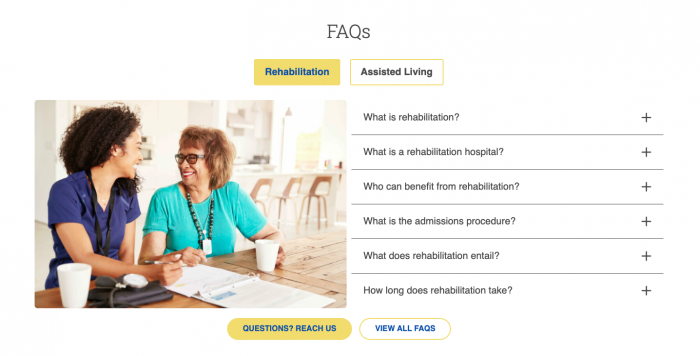 FAQs
Content was also formatted to match. The voice, tone and length of content were tuned to create greater engagement and a more scannable experience for seniors and families facing challenging health situations.
Simplifying donations
Donations help fund the ongoing care provided by the not-for-profit health system, so making sure donors could easily help support the mission was critical. Starmark simplified donation forms to make giving simple. We also overhauled back-end integrations to streamline financial handling.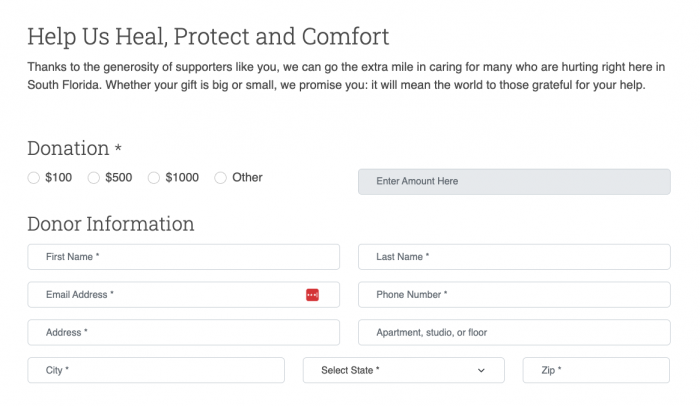 Donation Form
One major improvement in the new site is the intuitive, simplified design system. The update replaced dozens of custom content block styles with flexible, repeatable patterns. The new design system was created specifically to make it easier for several CHS content managers to make updates to keep information current. Reducing the proprietary and custom code created a system that's much easier to maintain without a full-time team of developers on staff at CHS.
Celebrating Healthier Outcomes
The new website now showcases the impressive range of CHS healthcare expertise clearly and convincingly. A consistent thread of caring and cohesion runs through from the homepage to every service line.
"Our goal was to align all healthcare services to the bigger CHS System mission: a commitment to lifelong continuum of care for every patient," says Linda Lamers, Senior Director of Marketing/Communications for CHS. "The reorganized content, innovative design and top-notch functionality all demonstrate our dedication to providing an exceptional experience for patients, loved ones, healthcare teams and the greater community."
The reorganized content, innovative design and top-notch functionality all demonstrate our dedication to providing an exceptional experience for patients, loved ones, healthcare teams and the greater community.

— Linda Lamers, Senior Director of Marketing/Communications, Catholic Health Services
The new website didn't just impress patients and families
The CHS team also took home a coveted bronze Aster Award in 2023. The Aster Awards are among the healthcare industry's most prestigious national/international marketing competitions, honoring outstanding healthcare professionals for excellence in advertising & marketing efforts for over 20 years.