Citrix
A Tech Marketing Campaign That Commands Attention
A worldwide leader in digital workspace, networking and security, and analytics technologies, Citrix is trusted by more than 100 million users across 400,000 organizations, including 98% of the Fortune 500. In this instance, Citrix put their trust in Starmark to help them relaunch their Citrix Workspace™ product and showcase its exciting new intelligence capability in a competitive market.
The Challenge
Citrix needed an entire suite of marketing materials for prospecting and follow-up, including digital banner ads, paid social ads, emails, an infographic, an ebook and a video.
We needed to effectively communicate Citrix Workplace's interruption-minimizing capabilities to an audience of IT-savvy decision-makers. Our creative approach emphasized the key benefit of these features — an improved employee experience, which boosts engagement and productivity.
An Idea That Understands the Audience
Our target audience consisted of the decision-makers in an organization's IT department, from those who give the approvals to those in the trenches every day solving end users' problems. To understand their pain points, we studied audience personas and conducted research to concept the big idea that would resonate with IT professionals:
Liberate IT. Empower People.
Our clients at Citrix agreed that this theme captured that Citrix Workspace is enabling IT directors to provide a great employee experience. It is this digital transformation that will empower a workforce transformation.
Online Ads to Generate Leads
Citrix Workspace with intelligence is a big solution with multifaceted features, so we needed to tell this complex story efficiently. To capture attention and get clicks with digital ads, the Starmark creative team piqued the target's interest visually and verbally, encouraging prospects to click the ad and request the ebook or infographic.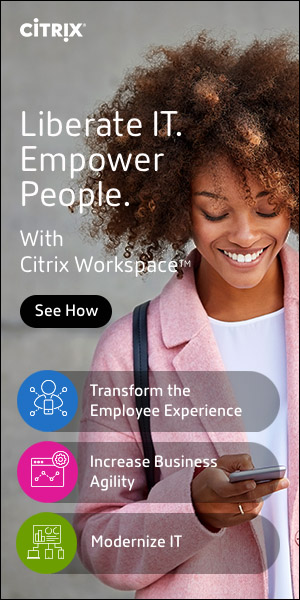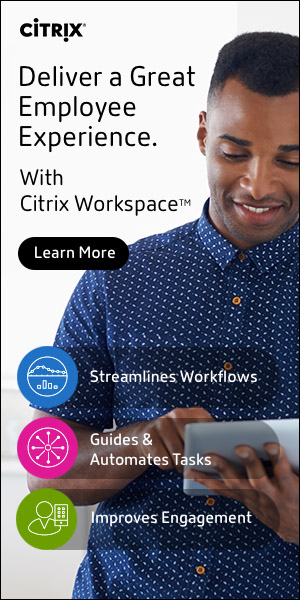 We utilized images that would demonstrate the emotional payoff to working within a Citrix Workspace environment. Because Citrix Workspace is a cloud-based platform, we didn't need to show workers at their desks. In fact, a benefit of Citrix's solution is that it makes seamless remote working possible. We also made the concept accessible and concrete by showing satisfied people paired with graphic representations of the Citrix Workspace features that made this success possible.
An Ebook to Tell the Entire Story
An ebook is a slick tool for lead generation and for moving prospects deeper into the marketing funnel toward conversion. Starmark created an informative 10-page ebook — "The modern digital workspace is here for you: Citrix Workspace™" — which we loaded with evergreen information, third-party research and validation, as well as an explanation of the features and benefits of using this solution.
An Infographic Is Worth a Thousand Words
Featuring vibrant graphics and concise, data-driven copy, an infographic is a valuable marketing asset. And for prospects too busy to read the ebook, an infographic offers an easy alternative to the TL;DR (too long; didn't read) ebook version.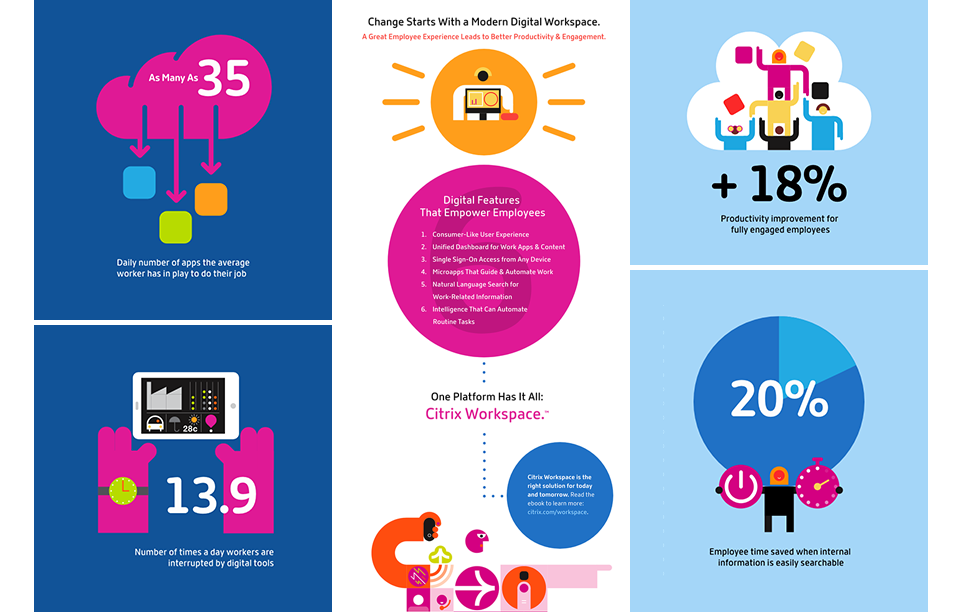 In creating "How IT Can Empower Employees to Do Their Best Work," we chose to use an eye-catching set of graphics from the Citrix brand toolkit. We knew our IT audience appreciates industry sources and quantitative data. So we prioritized third-party data about loss of productivity due to context switching, interruptions and complexity, as well as the flip side; how employee productivity improves when those sources of friction disappear. We then brought it home with an outline of the Citrix Workspace features that power a modern digital workspace.
A Video Brings It to Life
To reinforce the ebook and infographic, Starmark created a two-minute video embodying the idea that the next big move toward better employee engagement and empowerment will come from the IT department. "Understanding How People Want to Work: Citrix Workspace" sets up the problem — these are challenging times for an IT leader — and delivers the solution — Citrix Workspace improves the employee experience by organizing, guiding and automating work.
We employed footage of the way people work today, onsite and offsite. The video brings in some of the proof points from the infographic and ebook. We also included a brief demo to engage viewers with a look at the interface and select features which are as familiar and user-friendly as the phone in their hand.
This was a great opportunity to create a B2B campaign based on a powerful customer insight. – Brett Circe, Chief Digital Officer
Outcome: A Successful Marketing Toolkit
The turnaround time was short, but the outcome was huge. In just two months, the Starmark team was able to produce a multi-piece marketing toolkit that the Citrix sales team could use across the U.S. and translate for their international markets.