Nova Southeastern University
Attracting appointments with a benefit-driven health care campaign for veterans
Starmark helped Nova Southeastern University (NSU) launch a multi-channel campaign for NSU Health Clinics, attracting new patients to their health care facilities in various locations throughout South Florida.
The Consultation
Contrary to what some people may assume, NSU Health Clinics is not solely for students; they mainly serve the public. They even have a Veterans Access Clinic attending to veterans and their families' health concerns. When NSU came to Starmark, patients were finding clinics and services by word-of-mouth and referrals. The Starmark team was tasked with informing veterans and their families about NSU's services — open to all — and increasing the number of appointments made.
"With the 360 Care campaign, Starmark did a great job of connecting with our audience and capturing what NSU Health Clinics is all about. They truly encompassed our mission of giving the South Florida community the gold standard of care. " – Leonard Pounds, Vice President of NSU Clinical Operations
360 Care You Can Count On
NSU is a school first and foremost, and getting care from those that teach it is a stand out factor. NSU offers many same-day appointments, affordable care and a large variety of health services throughout Broward and Miami-Dade counties. It became clear that highlighting NSU Health Clinics' many benefits was the right way to pique audience interest.
After rounds of testing headlines, calls to action, layout and photography, the team landed on "360 Care" — a central campaign theme that encompassed NSU's full spectrum of care.
COVID-19's Impact on Advertising
As we were crafting our campaign concept, the coronavirus pandemic abruptly changed the world. We quickly emphasized telehealth appointments in our messaging. We also made sure our campaign imagery featured doctors and patients with masks on, a necessary move to reassure prospective patients they were in safe hands.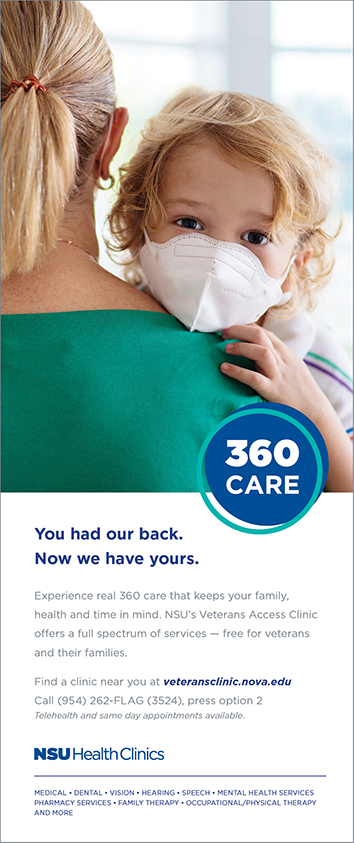 Extra, Extra!
The veterans campaign launched with a series of print ads in the Sun-Sentinel newspaper. Since it's a time to honor those who served our country, we strategically placed them to appear during the Memorial Day holiday weekend.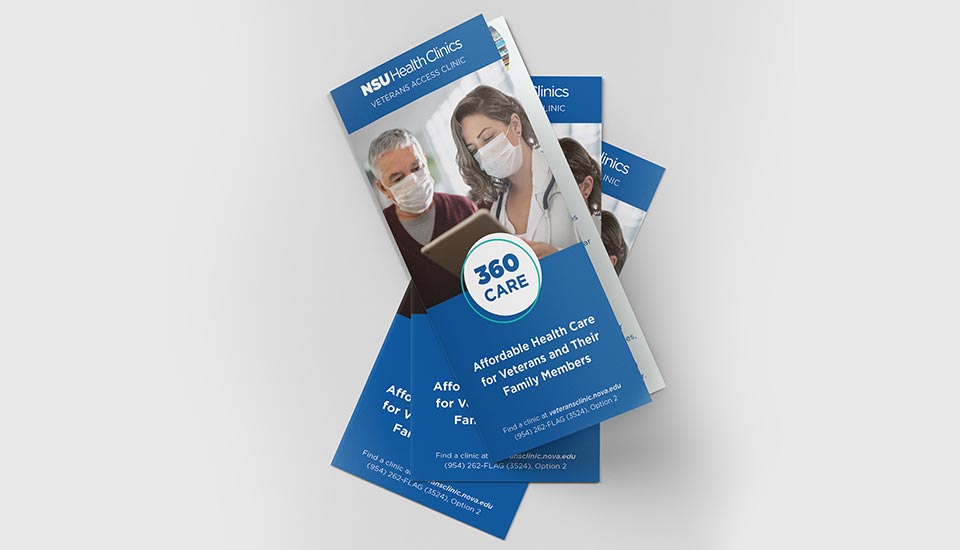 More off the Press: Veterans Access Clinic Brochure
The Starmark team wrote and designed a four-panel brochure to promote NSU's veteran health care offerings. The piece could double as a direct mailer inside an envelope with a letter as a personalized invite to learn about NSU's services.
Introducing NSU's Virtual Health Care Coordinator
Starmark created another way for patients to learn all about NSU Health Clinics: a Facebook Messenger Bot Campaign. With a friendly robot inside an animated in-feed ad to draw them in, patients could respond to a "Virtual Health Care Coordinator," request appointments and explore locations and services. We were able to anticipate customer needs and provide a rich experience at the right time.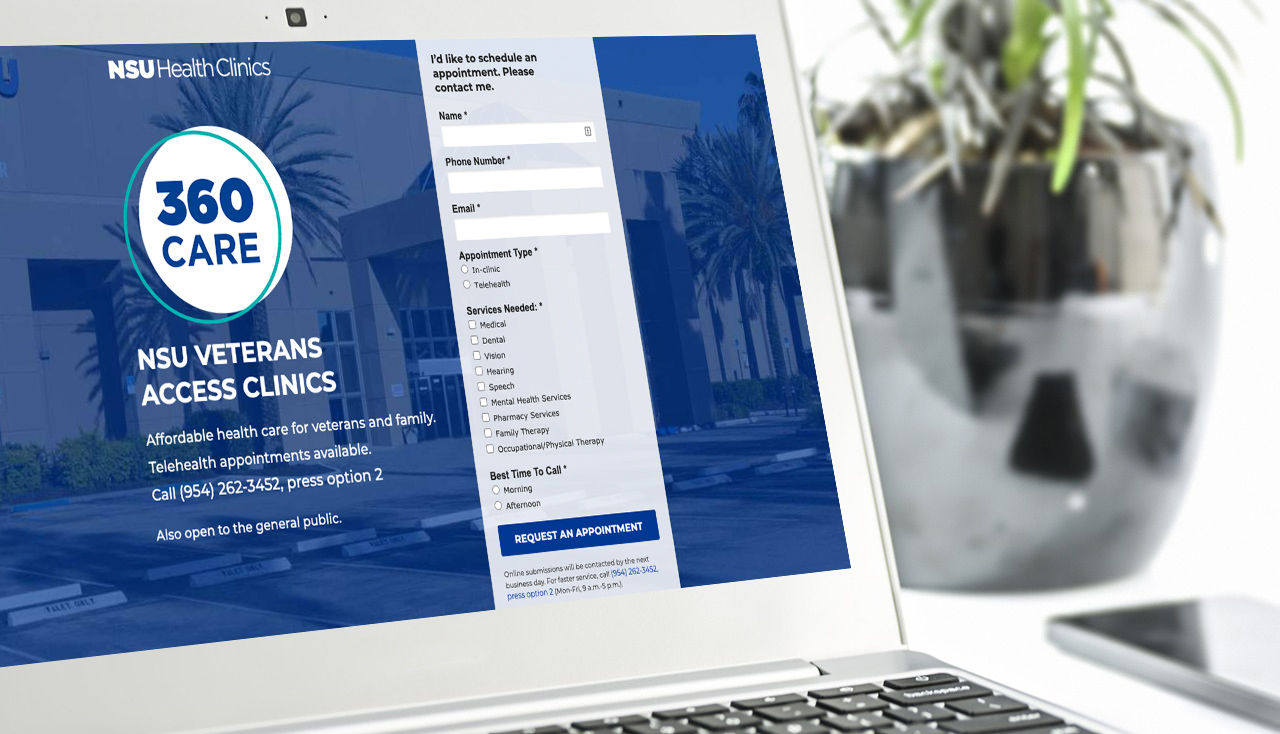 Giving the Campaign the Digital Treatment
In addition to the chatbot, 360 Care was promoted through animated Facebook ads and banner ads with benefit-focused copy. All campaign components drove to a landing page, where they could fill out a form and request an appointment.
A Regimen with Reach
From campus openings to rebranding makeovers, Starmark had already produced a variety of work for NSU. The 360 Care veteran campaign was another one to be proud of; it targeted new patients in the South Florida community and promoted NSU's rewarding characteristics that make it a renown health care and research university.