Greater Fort Lauderdale CVB
Stealing the spotlight at Riptide Music Festival by engaging fans with an interactive booth
For the 2nd year in a row, Starmark and the Greater Fort Lauderdale Convention & Visitors Bureau (GFLCVB) took over Riptide Music Festival on Fort Lauderdale beach with a booth to remember. Named "House of GFL," the booth promoted Underground Lauderdale, a division of GFLCVB that celebrates local music, arts and culture. On Nov. 30-Dec. 2, hundreds of music fans lined up outside the tent, ready to get flash tattoos and free swag, as well as participate in a live art activation and a one-of-a-kind photo booth experience.
The Starmark creative team contributed to the House of GFL booth from start to finish. From designing the booth to coming up with its activities, they created the ultimate Riptide hotspot. Each detail of the layout was inspired by Greater Fort Lauderdale's up-and-coming music scene. The atmosphere reflected the acoustic vibes heard throughout the destination, with twinkling lights and boxwood tables setting the tone. Underground Lauderdale's new mission statement, written by Starmark, and more chalkboard signage got their moment in the spotlight, sitting on display inside the tent.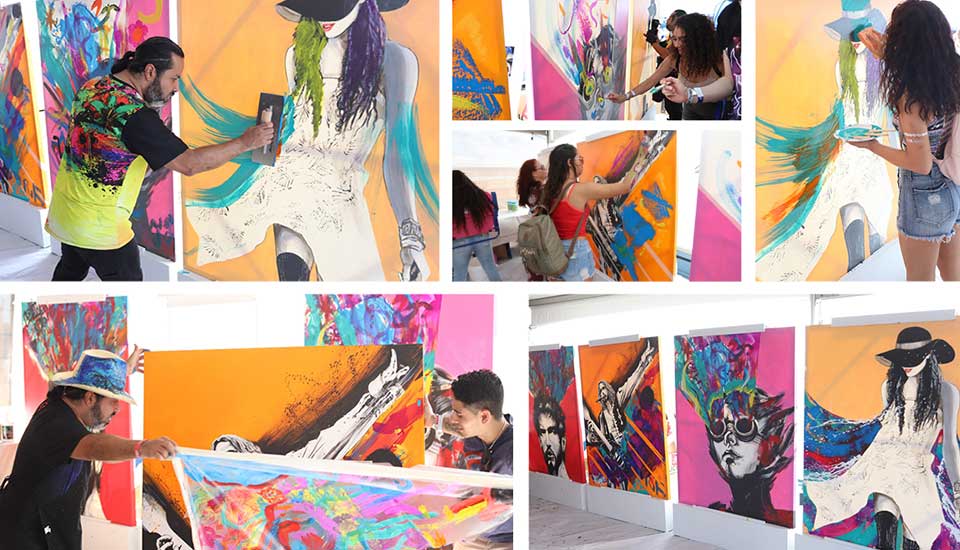 Festival-goers were treated to four interactive booth stations– the first of which made a splash in the community. The team recruited renowned artist Hector Prado to lead the attendees in a collaborative art activation. Visitors let their creativity run wild, expressing themselves by painting on the canvas. Prado brought his own "Fantastic Realism" flair to the project, transforming their creations into a masterpiece. Each canvas represented the four pillars of Underground: music, create, fashion and film. His big reveal on the last day of the festival was a show within itself, and the art will live on beyond the festival as a traveling art installation promoting arts in the destination.
The team provided attendees an opportunity to share their Riptide experience, while letting out their inner rockstar. Putting a twist on your typical photo booth, the "OrcaVue" video booth acted as a valuable lead-generator for the GFLCVB. With a microphone and instruments for props, people jammed out on stage as a 360 degree camera captured every angle in slow motion. After filling out their information, participants received their 360 debut via email and were encouraged to post their videos on social media tagging #RiptideFest18 and @VisitLauderdale. The videos online were a success, hitting approximately 250,000 total impressions and a total reach of about 80,000.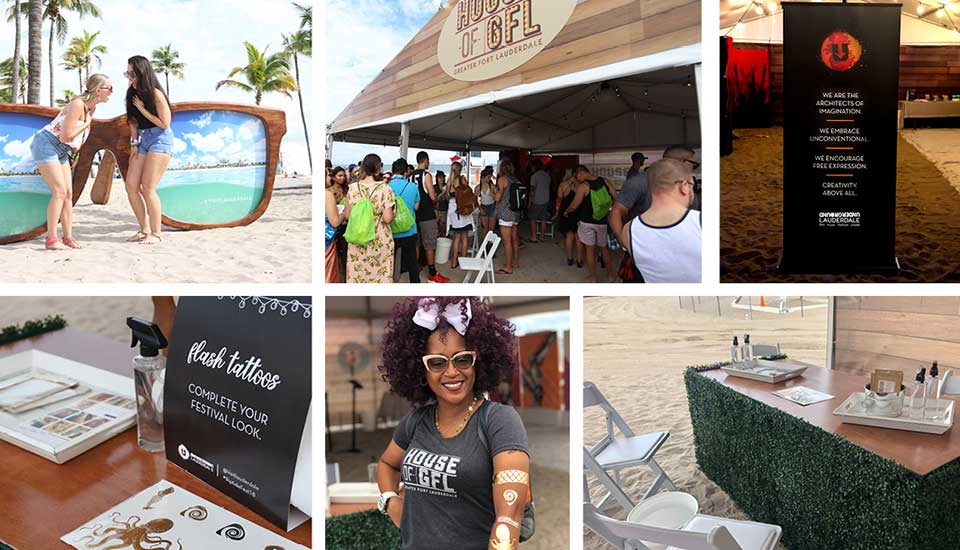 Besides embracing creativity and striking a pose, attendees could also complete their trendy festival looks with free Greater Fort Lauderdale branded swag and Starmark's custom Riptide and Underground flash tattoos. Word about the tattoos spread quickly– soon, the whole beach was decked out in gold and black.
Riptide was documented on social media all weekend long promoting the booth's activations and festival performances throughout. From livestreams with witty captions to Instagram stories and Facebook posts, it was clear that Starmark's and the GFLCVB's vision came to fruition– the House of GFL was a massive hit.