American Welding Society
Inspire a new generation of welders
Starmark recently created a new logo, brand essence video and positioning statement – "Inspiring the World Forward" – as part of the first phase of rebranding for the American Welding Society (AWS).
The new logo reflects a contemporary interpretation of the established AWS diamond insignia with modernized font and beveled metal elements. Meanwhile the positioning statement, "Inspiring the World Forward," focuses on AWS's goal to enhance the industry's stability, strength and future.
"Our new logo and tagline reflects a new era for the Society as it represents a more contemporary style propelling us into the future, while still maintaining a link to our rich history with our iconic diamond," said Lorena Cora, marketing director of American Welding Society.
As part of a comprehensive re-branding effort, the new logo and positioning statement will assist the service-driven organization in communicating about the future of welding as a high-tech, highly-skilled industry.
The brand essence video highlights extraordinary achievements, trends, and bigger opportunities for the Society and its members, as well as inspires new generations.
As part of the American Welding Society's brand-streamlining process and refresh of their online learning and marketing portal, AWS has launched their new website designed by Starmark.
"AWS is stepping up to help address the more than 250,000 welding jobs that will be needed in this country and around the world in the coming years. Ensuring that our brand is able to compete in this digital marketplace was our concern first and foremost. Our new website will ensure that we keep attracting the right target and providing them with the tools they need to achieve a successful life-long career in welding." Lorena Cora – AWS Marketing Director.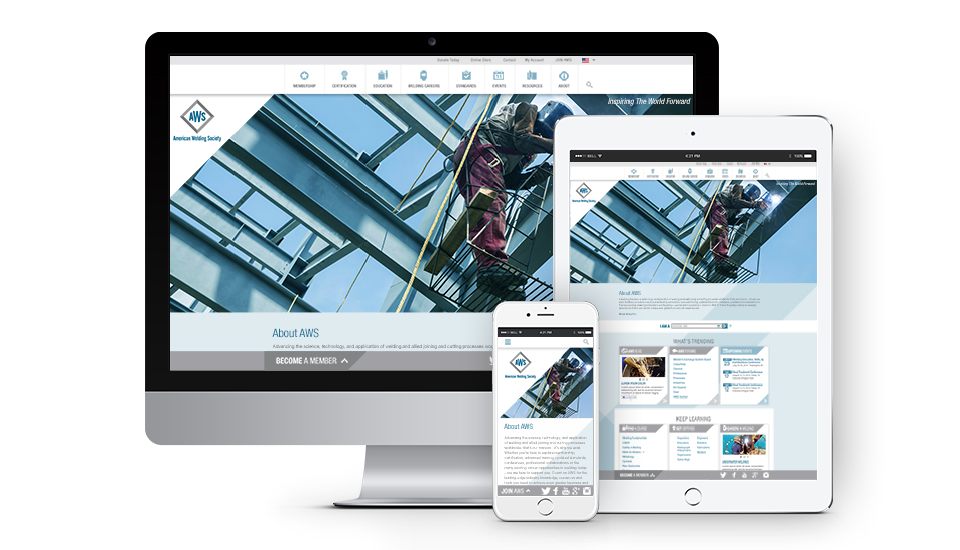 Starmark is excited to have partnered with AWS for the brand-streamlining process and design of the new site. Utilizing the new branding program (color coding, iconography) Starmark built functional iconic tools to access: journals, educational opportunities, local events, where to learn welding near you, etc.  The site was also built to be fully mobile-friendly with a responsive design that worked across all operating systems.
The site was purposefully designed to better align the business opportunities as well as the diverse needs of business units that had previously had low visibility within the existing site and who's fragmented back end systems provided little to no continuity within the site's user experience.  Through Starmark's 10-step process, we were able to seamlessly bring business units such as Membership, Subscriptions and Standards online with never before seen account information and other integrated system functionality.
We look forward to ensuring that tomorrow's welding workforce will see the benefits and obtain the knowledge and skills needed to advance the welding and manufacturing industries worldwide.