Talent Forge
Creating a Dynamic Brand Presence for a New Community Movement
An Enticing Brand for an Inspiring Mission
The Work-Based Learning Experience Consortium — a coalition of Broward County leaders representing business, education and public service sectors — came to Starmark with an inspiring mission: connecting young adults with area employers for real-world work experiences.
To bolster their cause, the team needed a compelling brand presence for both the coalition and its first program. What made this challenge even more exciting was that the brands needed to work with two very different key audiences: young adults in their late teens/early 20s and a B2B audience of business leaders/potential employers.
The Solution
This was a truly ground-up branding project. Using Starmark's North Star Branding process, the team defined their organization during a collaborative half-day session. The result was a clear, simple brand experience built upon a personality, identity and positioning platform of a Life-Changing Matchmaker. This platform would inform all naming, positioning and brand marks to come.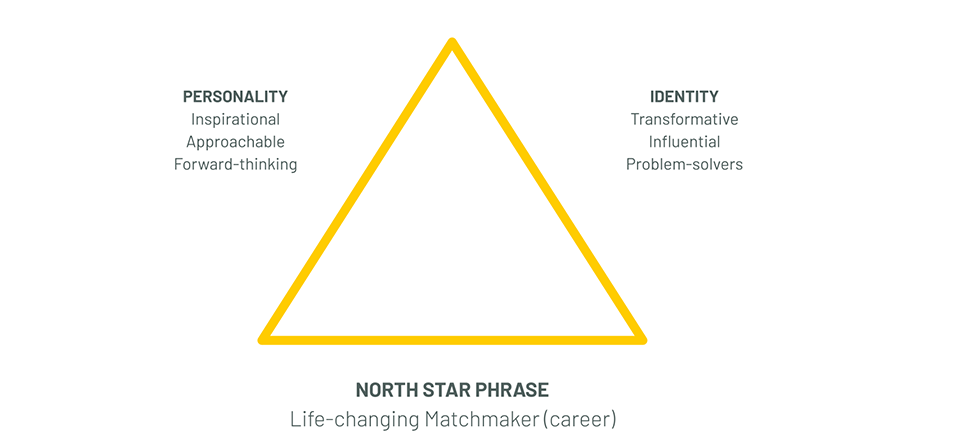 Ideation. Vetting. Testing.
Over a hundred names were developed for consideration, fully exploring all creative avenues. The team then narrowed down to the most successful and tested them with our key audiences. In-depth insights as to which performed best – and why – were analyzed, then shared with coalition members. Once the naming structure was in place, Starmark developed dozens of brand mark directions, first testing them in black and white, before adding color. Colors were chosen based upon testing insights and the core attributes defined during the North Star branding exercise.
The Winners
COALITION BRAND: Talent Forge
The coalition's formal name needed to support the Life-Changing Matchmaker brand platform and its key capabilities. Talent Forge was the winning choice that audiences felt best conveyed this, reflecting the coalition's action-oriented approach, influence and expertise.

The logo features a twisting combination of two letters. This metal-wrought imagery is designed to reinforce the central metaphor of the brand and the combination of the interests of two groups — students and business leaders. The addition of the tagline expands upon the consortium's name: articulating their aspirational mission to deliver a win-win value proposition to both audiences.
PROGRAM BRAND: LiftOff
The program name needed to be short, clear, easy to speak and read, ownable, memorable and inspiring to both audiences. Audiences felt LiftOff best captured the program's uplifting promise. It's inherently optimistic and energetic, speaking to the potential we help to launch. The "powered by" establishes it as a program offered by Talent Forge. The logo draws inspiration from the coalition logo's metal-wrought metaphor, transformed into a rocket.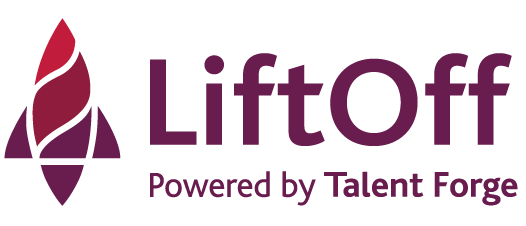 Launching With Momentum
Although the LiftOff and Talent Forge brands have just launched, they've already helped recruit new program employers and partners, not to mention generating significant excitement among current coalition members.
We've been building these brands with you bit by bit, and seeing it all come together now is really powerful. You can see all the thought that went into every step. This process is incredible. — Lisa Martinez, Talent Forge Marketing Consultant