Starmark Innovation Lab
The State of Virtual Reality in Education: March 2023
The benefits of virtual reality in education are numerous. And that's part of the reason some states are offering grants and including education budget funding to bring this technology to classrooms, campuses and remote learners. For non-linear learning environments, better engagement, endless creativity, connecting online students to their campus culture (and even organic uses students will teach us along the way), nothing beats the possibilities of VR for education. So we're making a list of what's here today – and what's just ahead – for education VR.
Learning Outcome Benefits of Virtual Reality in Education
Virtual reality is great at a lot of things in education. It can easily transport a user to harsh or remote locations: an underwater reef, Mars, or Antarctica. It is also great at transporting people through time, whether to study ancient Rome, Egypt, a Mayan civilization or more recent history.
Several studies have been conducted by colleges that are early adopters of virtual reality and those that received grants to study virtual reality outcomes.

One of those early adopters is Dr. Mushina Morris from Morehouse College, who received a grant to investigate educational results with VR. The research compared in-person learning to online learning to virtual reality learning across three categories: attendance, engagement and achievement.
We developed an asynchronous virtual reality course…that was tethered to the next generation science standards. They LOVED it! We started to see student achievement increase by 11.9%, student attendance rate increase by 10%, students were not withdrawn at all…so we saw increases across the board.

— Dr. Mushina Morris, Morehouse College
As were many colleges and universities, Morehouse College was faced with several COVID-19-related educational challenges, like low student engagement and poor participation via Zoom. Dr. Morris and her colleagues decided to try something new. They applied for a grant enabling them to launch a pandemic "Metaversity-style" learning atmosphere using virtual reality and avatars to teach their courses.
What did they discover? Student attendance, engagement, and achievement increased across the board. They also saw notable overall improvements among students with learning challenges, including a young man whose speech impediment became non-existent when attending class in the Metaversity. Though he had difficulty presenting his classwork in real life, when he presented as his avatar, he had flawless diction and speech. He reported feeling much more at ease in the Metaverse, stating, "I felt like you all saw me differently, and I saw myself differently."
So, according to Dr. Morris, education via the Metaverse truly works. Here are the results of her study: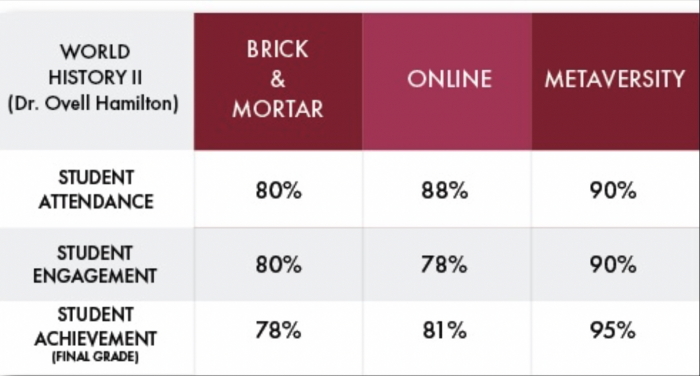 We should note: there's still some novelty to VR for students who've never tried it. So curiosity may have helped boost the numbers in this early study. Nevertheless, these initial results are compelling.

Purdue also did an amazing research study to compare education when reading, watching a video, and using Augmented Reality. This study was designed to measure how efficiently learners were able to complete tasks using instruction through written paper instructions, video instructions and augmented reality instructions.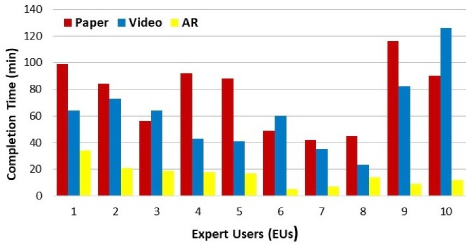 The difference in time it took learners to follow AR directions are startling. Of course, we would expect augmented reality to outperform paper instructions, but video, which has long been considered a superior way to learn, significantly underperformed versus AR.

Microsoft, maker of the HoloLens mixed reality device, is also interested in this area of research. In its own study the company found a 22% improvement in student test scores and a 35% increase in student engagement and retention of material when learning through spatial computing versus conventional methods. For a full rundown of the findings, check out their white paper on Mixed Reality for Education.
Diversity and Representation in Virtual Reality
Representation matters – no matter the platform. Unfortunately, even in a progressive space, such as virtual technology, we have a long way to go when it comes to inclusivity of race, ethnicity, gender, disabilities and more.
From a lack of diversity in culturally appropriate avatar options to limited accessibility resources for disabled folks, a more inclusive Metaverse for people of all backgrounds is sorely needed.
A focus on inclusivity is at the heart of development of the Engage metaworld. The company has greatly enhanced their avatar system, allowing students to create self images that are authentic and comfortable, while still giving them the flexibility to envision themselves as historians, professors, astronauts and more.
Creating your own avatar system would be a massive undertaking we would never recommend. However, developers of avatar systems are receptive to user feedback and actively working to improve their platforms. If you feel your platform does not allow users to "see themselves" in their avatars, let the developers know!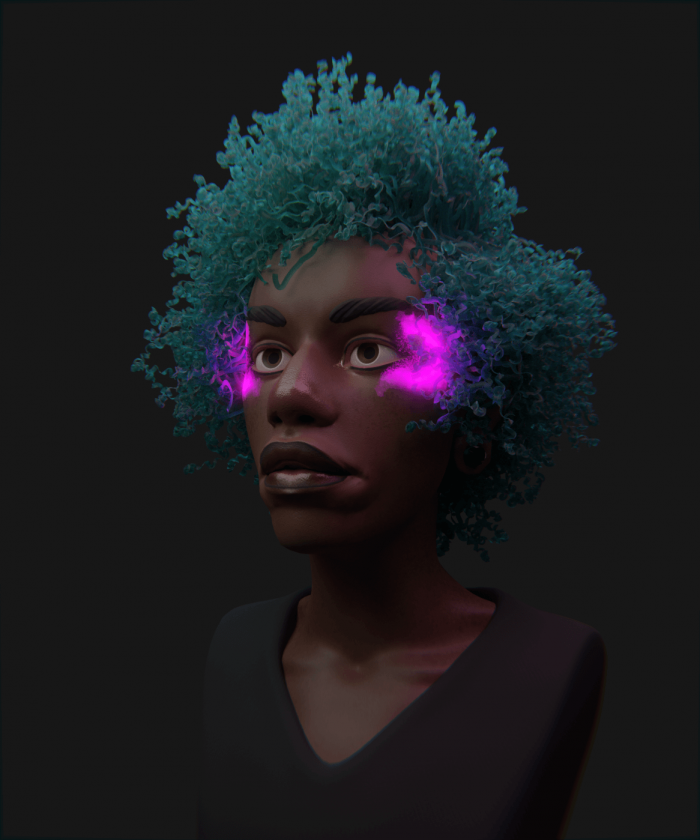 Existing tools are already making this goal of inclusivity easier. The Open Source Afro Hair Library is available for developers. It is a free, user-friendly, highly curated 3D model database of Black hairstyles and textures that serves as a feminist, anti-racist resource for digital artists and 3D content creators. Their website states: "Functioning as both art practice and technological development, the Open Source Afro Hair Library seeks to address the lack of thoughtful representation of Blackness in games, virtual/augmented reality, and other 3D media."
Virtual Reality and the Future of Higher Education Campuses
Many colleges and universities are creating virtual campuses in virtual reality. These campuses are a great place for students to gather, meet, socialize, and feel connected to the school, especially those who are mostly remote, commuter or online learners.
But what's even more surprising are the organic, emergent uses for these campus spaces that students are coming up with on their own.
Students at Morehouse college started to use their digital campus for study sessions, even when the students themselves were sitting in their dorm rooms (sometimes at 2:00 a.m.). Students also spawned Meditation Mondays, ad-hoc club gatherings and many other uses.
It's amazing the creativity that happens when an institution creates an open, collaborative environment by and for students. Ultimately, it's what makes a metacampus an even more valuable digital tool.
To Digital Twin, or Not?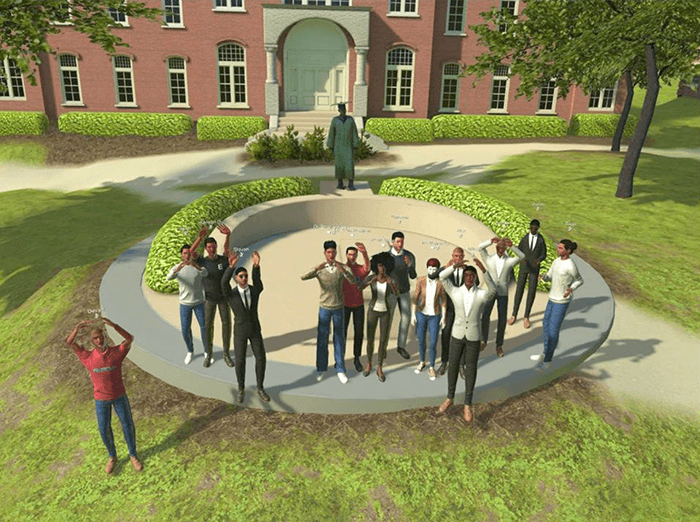 At its core, a digital campus should be three-dimensional, persistent, interactive and social. This social aspect is particularly important – because there's nothing fun or compelling about walking around an empty campus.
Likewise, a digital campus should not start & end, or be linear. The best VR campuses create continuous experiences, open environments, promote exploration and discovery.
A Digital Twin is an exact representation of a real-life location in virtual reality. There is some debate as to if this is the best approach. Sure, a digital twin is easy to relate to, familiar to users, and has already been designed, so you just need to make a copy. It's not a particularly creative exercise.
Now, if you're thinking the relatively straightforward exercise of creating a digital twin campus might be a great way to dip your toe into VR while still being on the cutting edge, think again. As part of an effort to kickstart its VR education program Meta has already funded the creation of several digital twin campuses, including: University of Kansas School of Nursing, New Mexico State University, South Dakota State University, Florida A&M University, West Virginia University, University of Maryland Global Campus, Southwestern Oregon Community College, California State University, Dominquez Hills, and Alabama A&M University.
There are some specific uses where a digital twin makes sense – like training and orientation on a specific location or facility. Operating rooms and airplane cockpits are two prime examples where VR should reflect actual reality as closely as possible. But when it comes to a college campus, the values of dynamism and discovery definitely outweigh familiarity. A digital twin simply doesn't take advantage of what this medium can offer.
What to consider when planning your VR education experiment
If you're looking to create a new campus in VR, create interpretations of your campus that stretch the bounds of conventional reality. Make something that feels like an extension (skeuomorphism, anyone?). After all, what is right in real life may not be that great in virtual reality.
Make sure your plan is fun and interactive. Any campus, whether physical or virtual, should be the kind of place where people can meet, musicians can perform, artists can create, sports can be enjoyed, games are played and a sense of discovery is at the heart of every experience (hint: don't forget to include a few Easter eggs for curious users). Make your digital campus easy to learn, hard to master. Surprise and delight will make people want to keep discovering, tell their friends and come back over and over again.
But you don't have to take our word for it. Check out these colleges who are really taking advantage of the medium:
New Frontiers
The end users for VR in education are all digital natives. These students grew up with technology. For them, this transition is completely intuitive, natural and expected. It's administrators and educators who really have the learning curve. In the past year, I've had over 50 meetings in VR with education institutions, helping them get hands-on with the future. If you're curious, get in touch.

— Brett Circe, Starmark Chief Digital Officer
There's far more to think through when bringing VR to any academic institution. If you're not sure where to start, we can help you roadmap ways to increase student engagement, raise your profile, attract more applicants and improve educational outcomes. Sound good? Then use the form below to schedule a meeting in VR.
Schedule a meeting in VR