Oct 22, 2017
Staying Agile through Irma: What We Learned During a Stormy Sprint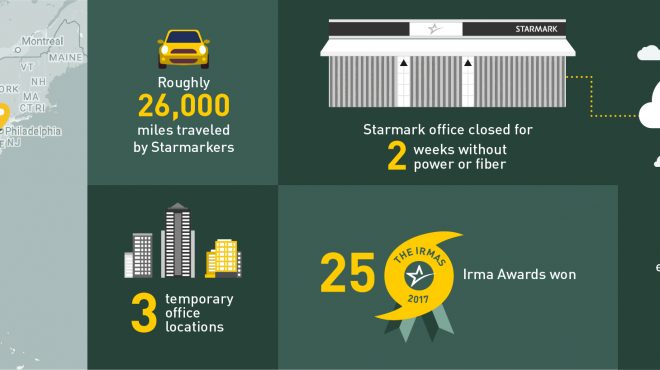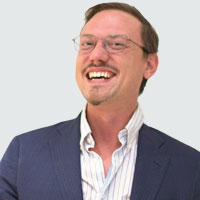 Thursday, June 1, 2017 – Like every year, Starmark leadership meets on the first day of Hurricane Season to review and update our business continuity plan (BCP) created in the wake of Hurricane Katrina.

Thursday, September 7, 2017 – In preparation for Hurricane Irma, our business continuity plan goes into effect to protect employees, property and workflow during the storm.

Friday, September 22, 2017 – After a full two-week sprint out of the office, the entire Starmark team holds a Sprint Retro focused on continuous improvement of our BCP.
Here's what we learned after a sprint under storm conditions:
There's no replacement for having a plan
Hope for the best. Prepare for the worst. That's what having a business continuity plan is all about.
After 12 years without an incident, it would have been easy for Starmark to get lackadaisical about updating our BCP every year. But having the plan up-to-date made all the difference.
Over the years the plan has evolved as technology evolves. We are now able to take advantage of the newest cloud storage options, communication methods, and our experiences from two years of agency-wide Agile Methodology.
Productivity stayed up even when servers went down
Even though the office runs on a generator, damage to power and fiber lines around the Starmark office complicated remote access to our file servers. But with a bit of pre-planning, most active project files were replicated to one of our cloud servers. Teams were able to keep stories on track, even with more than half our staff evacuated to remote locations.
And once back in the offices, having a separate cloud platform made integrating new work back to our our server as simple as dragging and dropping.
Close teams make distance irrelevant
Teams worked together around a small cafe table in the lobby of a condominium high-rise. One roadmapped a new project in the elevator bay of a hotel.  Another executed an entire multimedia campaign using Hangouts from three different states. We learned that when teams are comfortable collaborating on a daily basis, very few things can stand in the way of accomplishing solid work.
We are more resilient than we realized
As an Agile team, we're set up to respond well to change versus doggedly following a plan. During Irma, however, we dealt with enough change to push Agile to its limits. Some client efforts were paused while they also recovered. Several new efforts were born out of storm recovery efforts. Priorities shifted on a daily basis as power and data access came back across the state.
Even when we're out of office, we're still tongue in cheek
We created Irma Awards to lend a little levity to a tough situation.
With our IT and accounting teams working tirelessly, Starmarkers battling traffic to get back home and others without power to their homes for more than a week, we shrugged off frustration to celebrate with a happy hour awards ceremony.