ETIP #108
12 Mobile Tactics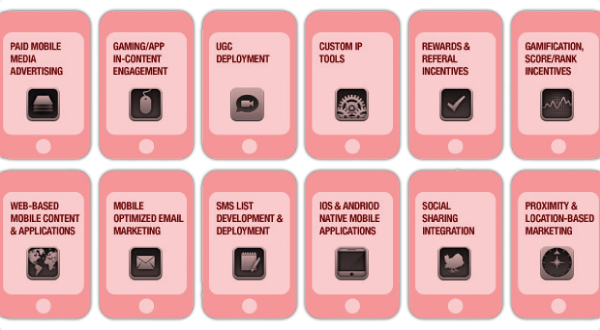 If you are a digital integrated marketing professional who isn't thinking 50% mobile – at the risk of ruining your day – we've got to let you know you're behind the curve. This year, U.S. mobile ad spending is expected to grow 80% to $2.61 billion.
But don't fret; we can get you caught up. First, realize that one of the keystones of smart-phone marketing is that you can utilize it based on your GPS coordinates.
Here are some mobile tactics to consider:

Paid mobile advertising: Primary digital brands have standard ad networks in which you can buy mobile advertising.
Game apps: There are signature games such as Angry Birds or Words with Friends. But "in-content" engagement can happen at an affiliate level, impression level or as a fully-branded game.
User-generated content deployment: You can find this from just about any application running a contest or seeking to gain fans.
Gamification, score/rank incentives: The most important thing you can keep in mind when constructing a mobile environment with gamification elements is how to make it addictive.
Custom IP tools: If you have the budget, an integrated marketing company can create just about anything you can think up.
Rewards and referral incentives: If users are recruited on a website, the integration will likely extend to their mobile applications as well.
Web-based mobile content and applications: You can accomplish most goals with a web-based application. Your audience may have an affinity for a particular operating system and within that OS, you may find tools and functionality that cannot be replicated. Therefore, you would want to create a custom solution.
Mobile optimized e-mail marketing: The trend in all website and interactive design is to use responsive layouts, coding, and user interface scenarios. Savvy marketers will construct responsive e-mail scenarios for mobile deployment.
SMS list development and appointment: Just as you collect e-mail lists of loyal customers, you should also collect cell-phone numbers to build your SMS (short message service) lists.
IOS and android mobile applications: Prior to implementing an application specific to an operating system, analyze your audience's technological aptitude and their affinity to a particular smart phone and version, in order to determine how robust your application should be.
Social sharing integration: Content-creation applications allow you to distribute that content to social channels. Be sure to consider whether your mobile marketing is a private or personal experience. If it's a B2B model, it may require high security due to its content.
Proximity and location-based marketing: One of the key elements of smart phone marketing is the ability to utilize proximity-based marketing based on your GPS coordinates, so that your phone is able to provide you with appropriate location-based information.
That's a good start…now start carving up those marketing dollars!