ETIP #298
Higher Education, Travel & Hospitality, and B2B Sales Case Studies for Doing Business in the Metaverse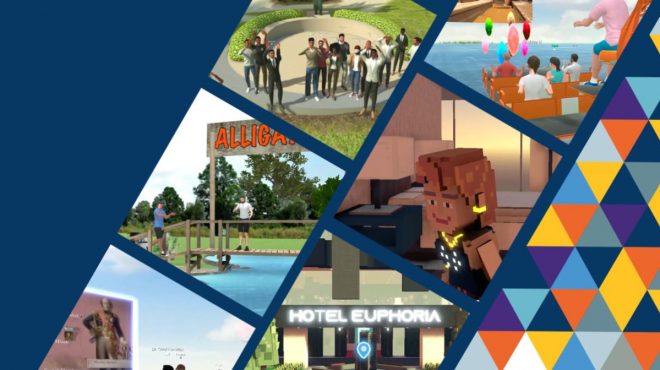 We know the Metaverse and Web3 are taking over the B2C marketing world, but what about when it comes to B2B, education, and travel? We explored these topics in our final live session, "Case Studies of How To Do Business using Web3 and the Metaverse," which examined three unique case studies: one focused on higher education with Morehouse College's VR expert, Muhsinah Morris; another uncovering travel and hospitality learnings Metaverse Hospitality's Tommy Farr, and a unique B2B sales opportunity with Nick Romeo of Boggy Creek Airboat Adventures. The results? Extremely impactful. Let's dive a little deeper, shall we?
Metaversity Learning Works
According to Dr. Morris, education via the Metaverse truly works! As were many colleges and universities, Morehouse College was faced with several COVID-19-related educational challenges, like low student engagement and participation via Zoom. Dr. Morris and her colleagues decided to try something new. They applied for a grant enabling them to launch a pandemic "Metaversity-style" learning atmosphere using virtual reality and avatars to teach their courses.
What did they discover? Student attendance, engagement, and achievement increased across the board.
They also saw notable improvement with students with learning challenges' overall performances, including a young man whose speech impediment became non-existent in the Metaverse. Though he had difficulty presenting his classwork in real life, when he presented as his avatar, he had flawless diction and speech. He conveyed feeling much more at ease and comfortable in the Metaverse, stating, "I felt like you all saw me differently and I saw myself differently."
Inclusivity is Still Lacking
Representation matters — no matter the platform. Unfortunately, even in a progressive world such as virtual technology, we have a long way to go when it comes to inclusivity in regards to race, ethnicity, gender, people with disabilities, and more. From a lack of diversity in culturally appropriate avatar options to limited rehabilitation resources for disabled folks, Dr. Morris and her team pushed the developers towards providing a more inclusive Metaverse for people of all backgrounds. This paid off in the Engage Metaworld, which greatly enhanced their Avatars to allow students to create self images of themselves that they felt were authentic and comfortable, some even envisioning themselves as historians, professors, etc.
Meta-Travel
So, how does the Metaverse apply to travel and hospitality? For starters, hotels are using VR for employee training, concierges are using it to conduct virtual tours which lead to real-life hotel bookings. Once travel and hospitality guru, Tommy Farr of Metaverse Hospitality, saw opportunities in his field, his company built a business hotel with a conference center and meeting rooms; a hip hotel with a nightclub DJ and lounge; and a vacation hotel complete with a pool, golf course and spa! Who else is ready for a virtual vacation?
Metaverse B2B is the Bee's Knees
Curious how B2B sales translates into the Metaverse? So were we. That's why we chatted with Nick Romeo, Sales Director at Boggy Creek Airboat Adventures. After COVID-19 put travel and tourism on the back burner, tour operators were in trouble and FAM tours came to a screeching halt. Since 75% of Romeo's business consists of European travelers, they needed to find a safer, more cost-effective way to show off their attraction to prospects and travel agents around the world.
Enter: Starmark. Our agency built a Metaworld (AKA Meta-attraction) for Boggy Creek to conduct business in. Instead of agents traveling to Orlando for a tour, Romeo could safely "walk" his European clients through the park virtually at a fraction of the cost. He could also use these virtual tours to introduce clients to the park's new butterfly pavilion — opening this fall and built entirely in VR way ahead of time to conduct pre-sales. This became a B2B sales effort to try to get more buy-in and excitement from travel agencies that would ultimately drive more bookings world-wide.
The results are still rolling in, but so far they're faring well and setting themselves apart from other Orlando competitors. 
High Risk, High Reward
Our expert, Tommy Farr, acknowledges the inherent risks in building an immature platform and realizes that sometimes you make big investments, only to get the "carpet pulled from under you," as our host, Dan Grech, puts it. Unfortunately, after investing over 10K in virtual hotels, one of Meta Hospitality's Metaworlds utilizing NFTs got shut down due to regulations. But according to all of our experts, this experimental phase is bound to have some growing pains.
Corporations are consistently "falling" or "failing forward" (as Dr. Morris calls it) by testing the waters and laying the framework for others. Once perfected, it's bound to take off — likely with a company we've never even heard of yet. Just because big players like Meta broke the internet with Web2 and Facebook, that certainly doesn't mean they will dominate Web3 and Metaverse in the future. It could be one of your businesses instead!
So, what's the consensus? Operating your business in Web3 and the Metaverse is a big investment, with a potentially huge payoff. Dan Grech recaps the conversation nicely: "What we're seeing are examples of early adopters — people spending time and money, risking falling forward, but immediately differentiating themselves from the competition and putting themselves in a position to be ready for Web3, which is inevitable and coming." So, is it worth it? That's a BIG yes from us.
For more on Case Studies and other business endeavors in Web3 and the Metaverse, watch our entire series on Ways to Prepare Your Business for Web3 and the Metaverse.