May 18, 2017
Sync My Lights earns 2017 Appy Award!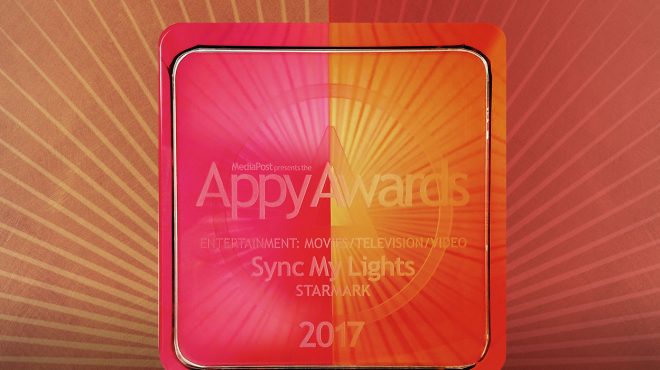 Starmark is thrilled to announce that our Sync My Lights app received the 2017 Appy Award in Entertainment: Movies/Television/Video! The Appy Awards are presented every year and sponsored by MediaPost, an integrated publishing and content company whose mission is to provide a complete array of resources for media, marketing and advertising professionals.
Sync My Lights is the latest spark of innovation from our in-house Starmark Innovation Lab team and resulted from an experiment to build a community of movie lovers who want to enhance their viewing experience by synchronizing the lights in their home with the movie they are enjoying.
Community members can create "synchronized lighting recipes" for their favorite movies, TV shows, music videos, concerts and even stand-up comedy routines. When shared with the rest of the community, they can enjoy these shows with synchronized lights, rate the recipes and connect with the authors.
The recipes feature lighting enhancements timed to draw out big on-screen action, pivotal sound effects and emotional cues and make the entire experience more immersive. Experience love, rage, fear or the feeling of being in the room with your favorite characters in an entirely new way with Sync My Lights.
With the technology behind Sync My Lights, there's no need to point your camera at the screen, and the effects are light-years beyond other apps that use computer algorithms to take an average sampling of screen color.
Pretty soon you'll be creating your own recipes for your favorite entertainment with our intuitive recipe creation interface — and then sharing them with a community of thousands of users.
Sync My Lights reproduces sophisticated commercial synchronized lighting systems in an easy-to-use app for home use. It currently acts as a lighting controller for Philips Hue lights with other controllable lights to be added in the future.