Amelia Island CVB
It's an Island Thing
In a state with over 800 miles of beaches, how do you differentiate a single coastal destination from all the rest? Starmark's new campaign for the Amelia Island Convention & Visitors Bureau (AICVB) delivered a fresh perspective to help the Northeast Florida barrier island stand out in a literal "sea of sameness."
A campaign as unique as the destination it represents
There's nothing quite like the feeling of being on Amelia Island, so Starmark set out to encapsulate that feeling with the "It's an Island thing" campaign. The team's unique approach to storytelling framed the island around the vibe of "once you go, you get it" with sweeping vistas of its stunning topography. This showcased the destination's natural beauty while conveying the indescribable feeling of being there.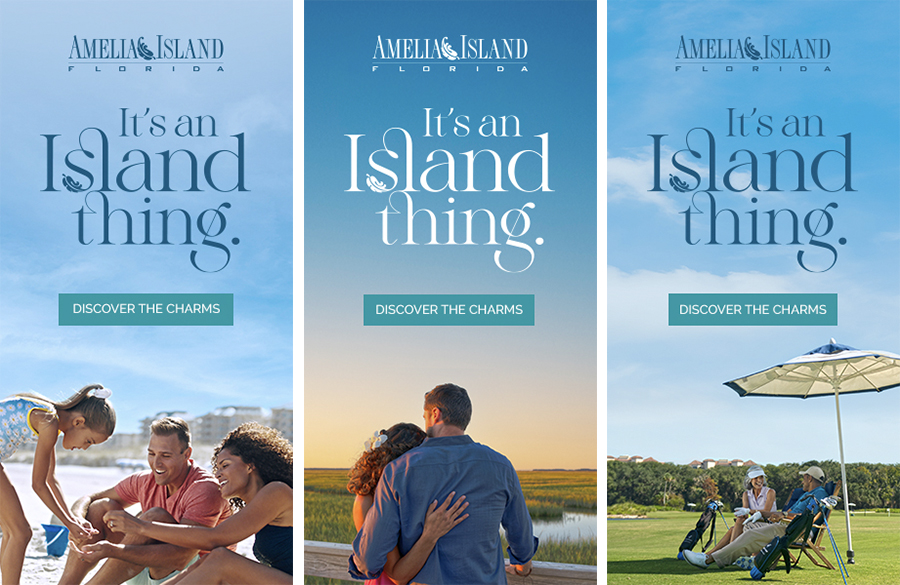 Endless views from every direction
Videos were filmed using the latest drone technology to capture a bird's-eye view of the island in all directions. This footage complemented the street-level vignettes that were also filmed. The idea was to highlight the beaches to the east and the marshes to the west, and all the island charms in between.
With a five-day production schedule, Starmark and AICVB were able to build a dynamic content library in various sizes and formats, all of which were mobile-first. View some of the highlights below.
Island Thing is designed to bring to life the duality of a remote escape that's still easily accessible. The campaign execution is built on mini-storylines that reveal epic views in all directions. Our campaign really reflects the natural beauty of Amelia Island.

— Dale Baron, Starmark VP, Executive Creative Director
Sky-high results
To date, over 200 digital assets have been developed to support AICVB's website, digital media buy, social media and e-newsletters. And the results are even more impressive. Overall, the campaign has consistently performed 15 times higher than industry benchmarks on average. It has generated more than 36 million impressions, nearly 449,283 clicks, and a 1.25% click-through-rate. For print publications, circulation was 2,935,168.
We've always known Amelia Island is a special place. There's no other place in Florida quite like it. This new campaign tells our island story, with captivating video that covers what our destination has to offer.

— Gil Langley, AICVB President & CEO
For more on the Amelia Island "It's an Island thing" campaign, watch the behind the scenes below.