Charter Schools USA
Generating charter school enrollment leads for the 2020-2021 year
Charter Schools USA and Starmark worked together to carry out a successful integrated lead-generation marketing campaign that contributed to a 63% increase in student enrollment for the 2020-2021 school year. We were able to reach this milestone during the COVID-19 pandemic, in which the need to adapt was critical to our success. The campaign's paid media plan included the latest digital marketing trends and gave the brand a strong presence that was optimized for 11 markets throughout the Southeast.
The Assignment
Over the course of the last several years, Charter Schools USA had experienced a rapid growth and expansion. They transformed from a smaller network of schools in South Florida to an education powerhouse with nearly 100 schools serving some 75,000 students in the United States.
Enrollment marketing tactics were mainly executed by individual schools without a formalized digital strategy. With Fall 2020 around the corner, Starmark was tasked with creating a consistent, unified approach to marketing that generated credible leads and applicants for more than more than 40 schools. Florida markets included Tampa, Orlando, Jacksonville, Fort Myers and Palm Beach, while out-of-state consisted of North Carolina and Louisiana.
Our Paid Media Approach
The Starmark team elevated Charter School USA's marketing strategy with a media-driven, lead generation umbrella campaign that unified the creative for each school, while still highlighting their individual benefits. The creative was also updated over time to stay agile and adapt to any challenges from the COVID-19 pandemic, like mobile learning.
Media Plan
Using an omni-channel digital approach, the paid media strategy focused on marketing tactics reaching parents at the right time and place. The campaign was optimized to drive awareness, lead generation and ultimately enrollments. Each digital campaign also included a remarketing strategy, following the lead funnel through to enrollment.
Paid Social Media
Each school had an individual Facebook page, which enabled the Starmark team to promote key differentiators within the all paid social ads. Call-outs like free tuition, world language programs, extracurriculars, STEM, WISH, performing arts and college prep helped the schools stand out and caused parents to stop scrolling.
In-feed ads began as Carousels and eventually were evolved to Dynamic creatives, which optimize the message and visual to generate a personalized version for the user. Each ad directed users to pre-filled lead-gen forms that captured relevant information, putting users in touch with the online admissions office.
Starmark Media monitored the performance of each creative daily and collaborated with the Creative Team to provide insights on how to further enhance the campaign to prevent burn out and drive more leads.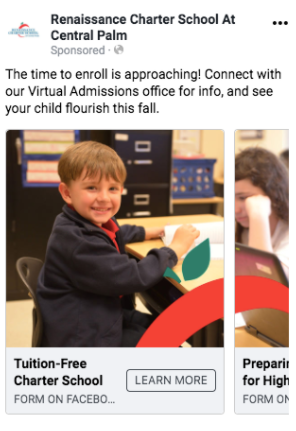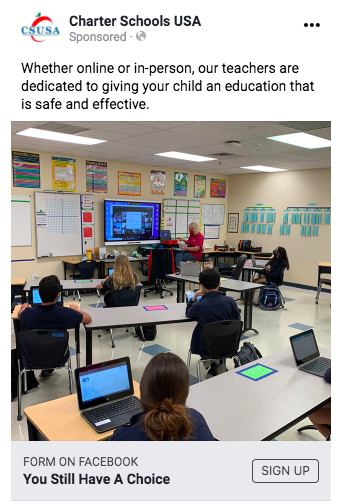 Paid Search
Paid Search campaigns reached parents who were in the consideration phase and were actively searching for keywords related to schools in their county, including charter, public and private schools options.
Through the Google Ads platform, these campaigns helped generate more qualified leads by strategically targeting those who are most interested in the schools' offerings the moment parents were searching for education solutions for their children. The ads directed to each market's landing page to collect each user's information for follow up interactions.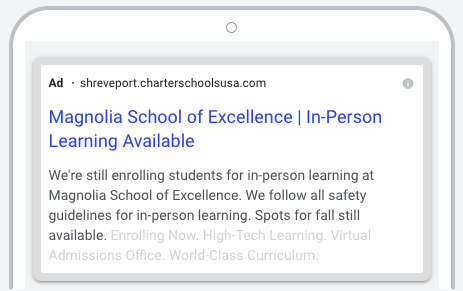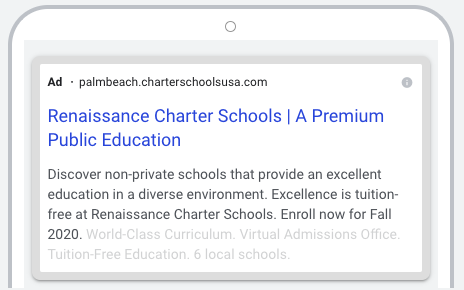 Display Ads
A display campaign generated awareness and provoked brand search, supporting all channels and driving traffic to the individual markets' landing pages. The display ads targeted parents on multiple devices, following through on the lead generation strategy of the campaign as a whole.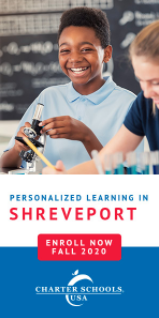 Grand Opening Campaigns
Charter Schools USA continued its growth with two recent grand openings in the state of Florida: Winthrop College Preparatory Academy and Innovation Preparatory Academy (InPrep). It was important Starmark capture the brand essence of what each school was about. The team created Facebook Instant Experience Ads with longform storytelling that was the perfect way to introduce a new school to a new audience.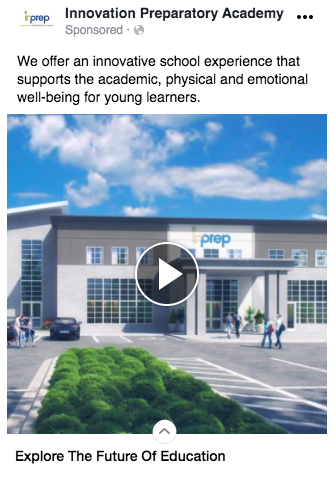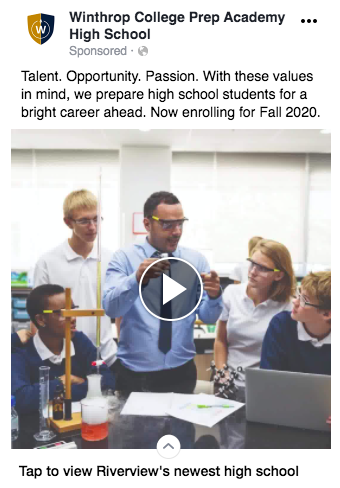 In-market radio spots and billboards were also utilized to reach parents beyond a digital landscape. The Starmark team set up 90-second interviews with InPrep's principal and a 15-minute Public Affairs Show. The boards were strategically placed close to the school in high traffic areas, to serve as both directional and informational assets.
Grade A Results
The campaign ran from March-October of 2020. Overall, we garnered 11,435 leads from our efforts. Throughout the lifetime of the campaign, we were able to generate over 60,400,000 impressions with an average blended click-through-rate of .67% and an average cost per lead of $59.49. When the 2020-2021 school year arrived, enrollment numbers for participating charter schools increased by 63%.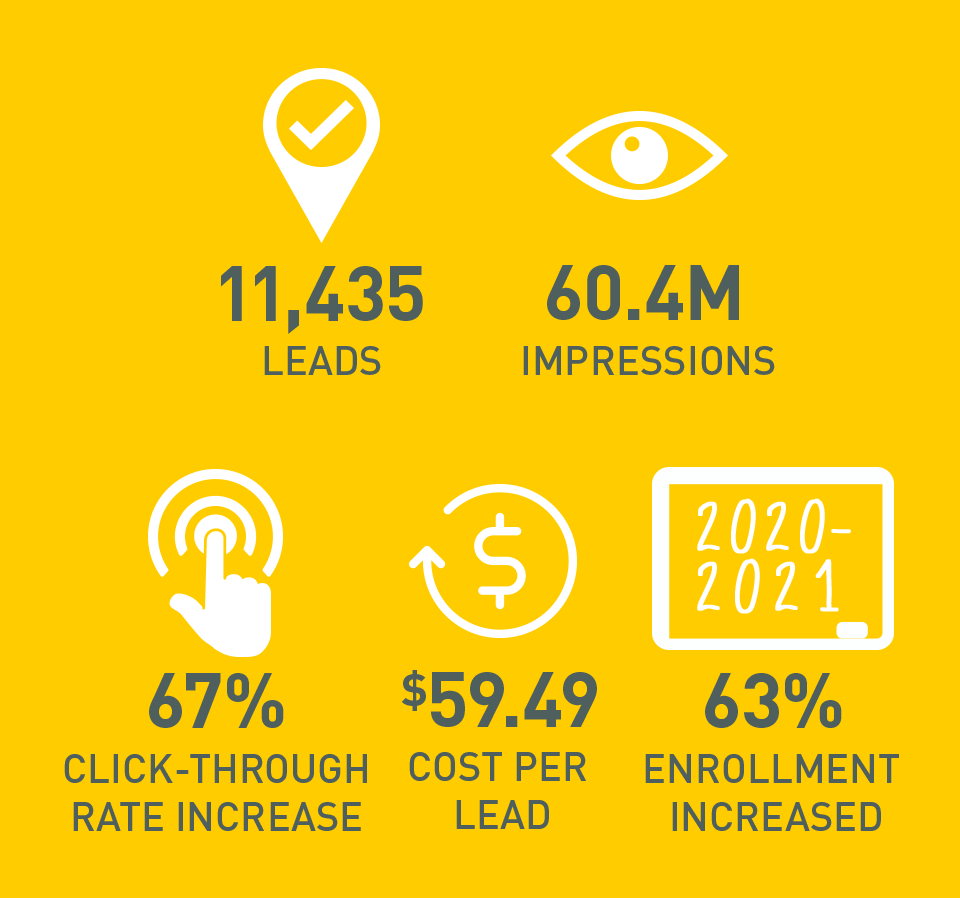 Starmark's marketing efforts helped create cohesion among all the markets; what was once sporadic individual campaigns became an aligned umbrella initiative with a central digital media strategy. In turn, more parents and students gained an interest, applied and enrolled, and gained an education that will create a brighter future for us all.
Read more about where we see the future of education heading in our article about VR in higher education, and check out our tips for adapting your brand to new tech and new media.