Greater Fort Lauderdale CVB
Celebrate Florida's landmark marriage equality ruling with an epic celebration, Hello Sunny style
Following months of top-secret planning in anticipation of Florida's marriage equality ruling, Starmark and the Greater Fort Lauderdale Convention & Visitors Bureau (GFLCVB) rolled out the rainbow carpet with a ground-breaking LGBT campaign titled "Love is Love."
The campaign, which was created within the GFLCVB's popular Hello Sunny brand, was the first of its kind, inviting 100 couples of all loves to exchange vows on beautiful Fort Lauderdale Beach. Elements included videos, print and digital ads touting the headline "Finally, We All Do," and a microsite where couples could enter to win a trip and hotel stay, and take part in the sunrise ceremony.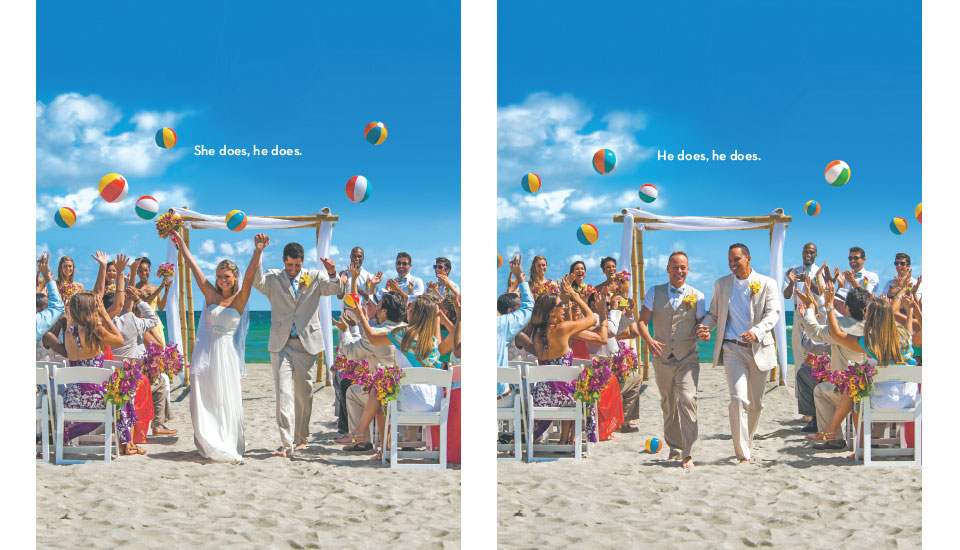 At the Love is Love ceremony, (which took place January 6, 2015 – just one month after the court ruling) NSYNC member and Dancing with the Stars alum Lance Bass delivered a moving address on the meaning of love as the event's official "Love is Love" ambassador with his new husband Michael Turchin. He also posted about the event on his social media channels. A highlight of the ceremony was the pronouncement that the couples were all legally married, which was commemorated with an all out beach ball toss.
The campaign captured the hearts of viewers, and the press, with Passport Magazine creating a touching video recapping the event.