The Forbes Company
How do we infuse haute couture in a website fashion blog?
The Forbes Company represents an unparalleled collection of luxury shopping malls for residents and tourists in Orlando, Palm Beach and Naples, Florida. With hundreds of iconic brands and world-class eateries at each location, the malls are destinations unto themselves and they take great pride in reinforcing every fashion-conscious shopper's ideology, "fashion is not just a necessity, it's a state of mind!"
Forbes challenged Starmark to think "outside the box" and design a brand new look and feel for their fashionable news blog that allows each of the malls to showcase the latest in fashion trends with compelling photography in a brand new design that not only integrates with their websites but adds a flair all its own.
"We are thrilled with our new fashion blog and grateful to Starmark for brining our vision to life!"
Employing our Agile philosophy, the Forbes teams and Starmark collaborated on the new layout's requirements and objectives. Together we agreed on an approach and then work was underway. Of the three design concepts presented, one fashionable layout stood above the rest and was transformed from a creative vision into an interactive experience that brings to life every fashionista's dream.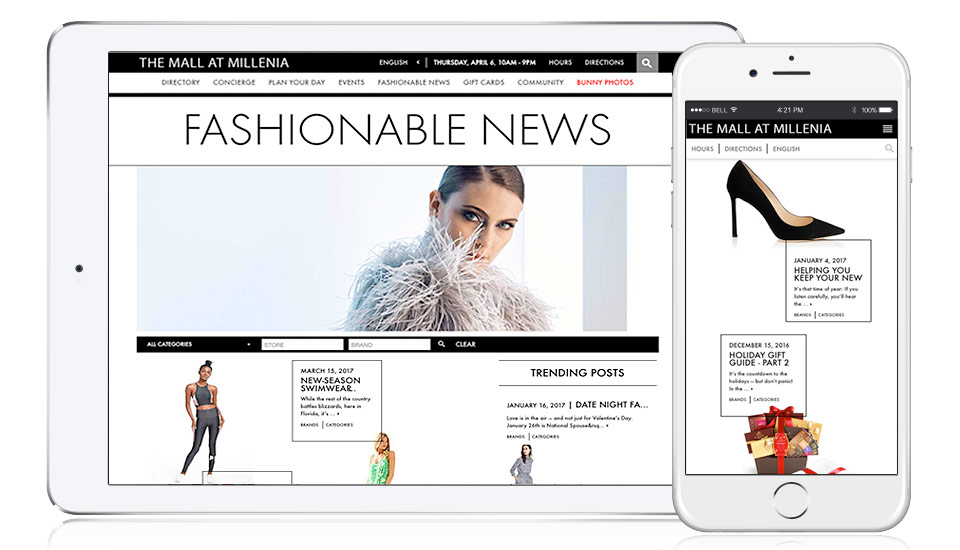 "We are thrilled with our new fashion blog and grateful to Starmark for brining our vision to life! We now have a vehicle that properly showcases the latest designs and trends in an attractive format that appeals to the fashionista in all of us. And while it's a slight departure from our websites' themes, the new design integrates well and even adds a little pizazz," exclaimed Michele Jacobs, Corporate Director of Marketing / Operations / Florida of the Forbes Company. "Most of all, we were overjoyed when our new Fashionable News blog won a Silver Addy award for "Online Interactive Blogs & Digital Publications" at the 2017 American Advertising Federation of Fort Lauderdale Addy Gala in March."