Kaplan
Helping Students Stand Out in the Working World
As an education powerhouse, Kaplan University (now Purdue University Global) prepares students with the knowledge and skills employers seek. Starmark and Kaplan worked together to create a campaign that highlighted the school's commitment to advancing students' careers.
The national campaign consisted of broadcast spots, social video, digital display banners and landing pages — each versioned for Kaplan's Nursing, IT and Business programs for both online and ground campuses.
The Challenge
Kaplan's core target audience wasn't your everyday high school student. They were busy adults already working full time. The campaign needed to quickly illustrate why a degree with Kaplan was beneficial, as most prospective students were either looking to move up in their existing career or make a fresh start in a new field.
Our Solution
Starmark wanted to show that Kaplan University graduates are very different from the sea of other candidates, thanks to the school's thorough academic curriculum.
"Don't Blend In — Stand Out" Campaign
Broadcast spots showed employees going about their workday and blending into their surroundings. Other employees and managers didn't seem to notice them at all. It's as if they were invisible. Then, things change. As the audience sees them take an online Kaplan University class; work an internship; or pass a certification, each of our heroes proudly emerges from their background and stands out vibrantly. Wardrobe changes and other visuals help convey their empowering ascent into higher-level positions and career satisfaction.
All for One: Maximizing Shoot Efficiencies
This campaign required three versions, to cover Nursing, IT and Business programs. It also needed still photography for banner ads and landing pages, plus specialized footage for social media that was different from the broadcast ad footage.
Banner Ads


While our broadcast spots employed both visuals and voiceover to tell our story, our social versions were shot and edited to communicate well without sound to make an impression within users' social media feeds — even when muted.
Business Program Social Video
Nursing Program Social Video
All digital assets directed to a campaign landing page, where prospective students found out all the ways a degree with Kaplan can help give students the technical and professional skills they need to stand out to employers.
Landing Page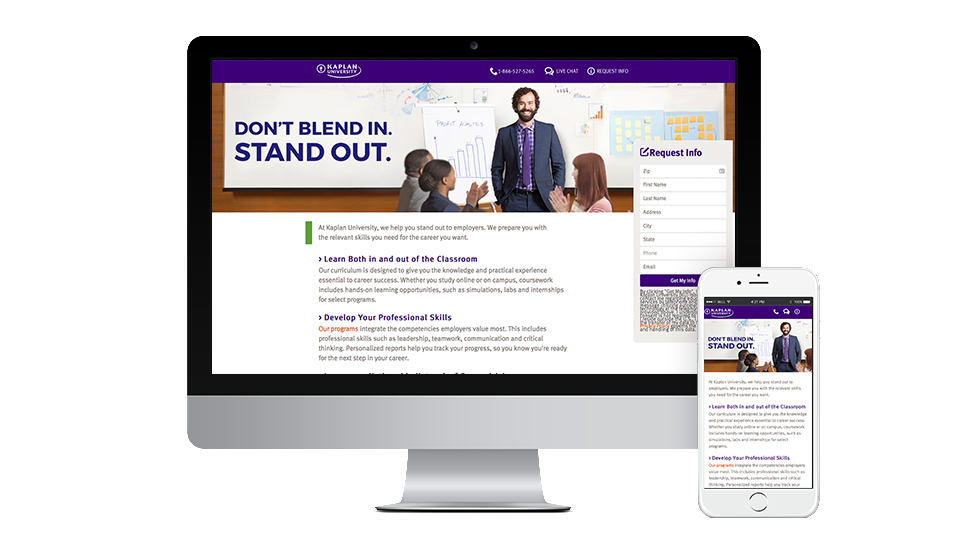 Rewarding Results
Through proactive planning, we were able to capture everything, while saving Kaplan significant money. In just one two-day shoot, we covered:
All three audience verticals
Still photography for landing pages and display banners
Footage for broadcast needs
Specialized footage for social needs
Kaplan University reported that audiences responded well to the campaign, successfully capturing their school's key value proposition while supporting university-wide enrollment goals.
It's safe to say that when it comes to campaigns for educational institutions, this one stands out.