Fort Lauderdale-Hollywood International Airport
Schlep-Free: Parking Gets Easy Peasy At FLL
The number-one source of revenue for Fort Lauderdale-Hollywood International Airport (FLL) is parking. But revenues were declining due to aggressive off-site vendors. Airport officials asked Starmark for help to reverse the trend – and Starmark delivered with double-digit revenue gains.
Research and Strategy
Starmark began with a comprehensive study, including many onsite passenger conversations. The airport spent a year and millions of dollars to upgrade their parking systems, based on the findings revealed from the research.This included new infrastructure enhancements; wayfinding for the garages; a digital system to keep track of open spots; new services like valet parking; and more.
Sharing the News
Once FLL officials were ready to share the news with the flying public, Starmark developed a compelling new campaign that could convey all the benefits in a memorable way.
Titled "Park Smart, Park Onsite", the new campaign featured a bold brandmark, colorful, animated graphics, a new light-hearted attitude and clear message: it's easier than ever before to park onsite. No more schlepping across lots, driving in circles or not finding a parking space!
The result: FLL's revenue increased by 12% over the previous year.
Elements included an umbrella :30 TV spot and series of :15 spots, each highlighting a specific benefit, from curbside valet to the new airport app, online reservations and garage space finder.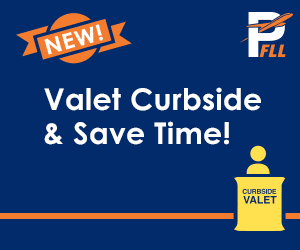 In addition to TV, the campaign ran animated digital banners and radio spots supporting the fun, lighthearted brand personality.
Several billboards were created, including a digital version with real-time counter. Installed along the main I-595 highway on approach to the airport, every driver passing could see the big bold message about all the new FLL parking and actual number of spaces open at that moment.
On-property media included airport pole banners, wall and elevator signage, all designed with bold graphics to grab busy travelers' attention. There was even a kiosk in Baggage Claim to help returning passengers find their cars.
All media efforts drove to a landing page which featured a download of the new airport app, also designed by Starmark. The app offered real-time reporting on all open spots throughout the parking garage, as well as the ability to ping valets as a passenger is disembarking the plane, so their car is ready as soon as they reach the curb.