Amelia Island CVB
Welcoming Visitors Back to Florida's Enchanted Island
Starmark and Amelia Island Convention & Visitors Bureau partnered to launch the destination's comeback campaign from COVID-19. No easy task considering the pandemic's staggering impact on the global tourism industry.
The Challenge
When travel began to slowly resume during Florida's phased reopening, Amelia Island CVB needed a plan to welcome visitors back to their sunny shores. As travel behaviors changed, it became clear it was time for a refresh. Starmark was tasked to develop a new campaign that would build on the "Come Make Memories" tagline and communicate the safe attributes of the destination — wide-open spaces, outdoor activities and beautiful beaches — without the crowds.
Three concepts, one comprehensive testing approach
The Starmark creative team developed three concepts utilizing Amelia Island's existing imagery of the peaceful, uncrowded beaches, so as to not require a new photo/video shoot during the pandemic. The UX team then tested the themes with both loyalists and prospects in drive-market regions. After various rounds and combinations of tests, the "Moments" concept was declared the winner.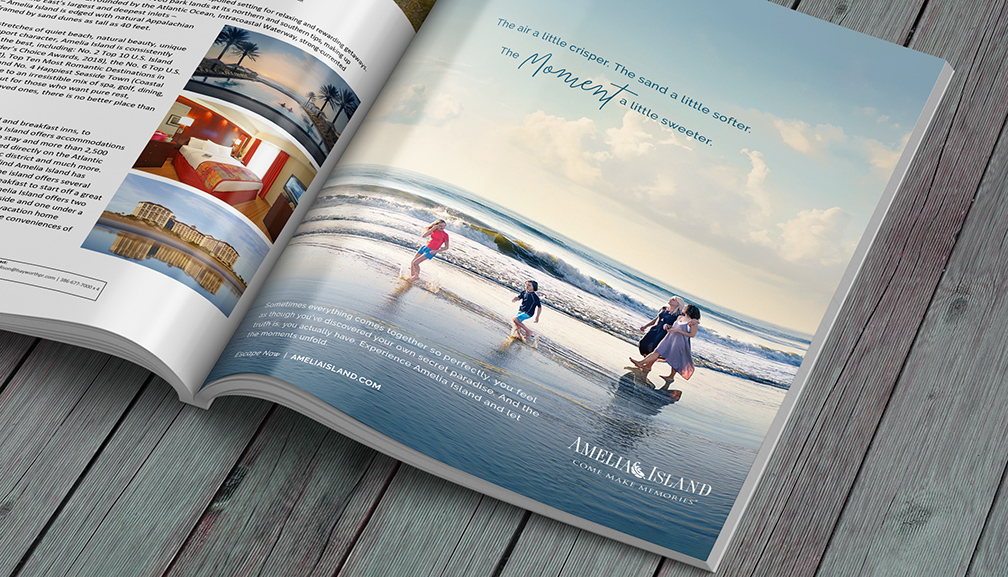 The "Moments" campaign resonated the most with copy that spoke to the moments in life that are heightened by extra-sensory experiences so powerful, they become lasting memories. The concept captured those new-found moments in stunning Amelia Island locations, reminding consumers they needed to experience those moments, and come make new memories — now more than ever before.
A roll out that went all out
An open invitation to visit the destination, the "Moments" campaign was leveraged across all of Amelia Island's media channels. Elements included broadcast spots, out-of-home, print, social, animated and static banners, and a landing page where all assets would drive to.
For social, the team developed several ad units to engage target audiences who were dreaming about their long-overdue vacations while scrolling through their feeds. Units included animated story ads, carousel ads with cinemagraphs, various in-feed ads targeting families and couples, and an in-depth Instant Experience ad.
A 360-degree portal was deployed to take viewers on a journey through the natural beauty of Amelia Island.
The team also developed a Facebook Messenger and website chatbot campaign to facilitate a conversation between readers and the destination, where they could inquire about safety, what's open and general information about the island. The chatbot linked to the CVB's online travel guide, where users could explore the best of the destination.
Turning moments into memories
With a fully integrated, timely campaign, Starmark helped ensure Amelia Island would be ready to welcome visitors from drive markets throughout Florida and the Southeast U.S. Whether they were first-timers or frequent guests, the message was clear: Amelia Island was a welcoming, safe choice for a much needed, well-deserved vacation — where new memories were waiting to be made.
And that message clearly resonated with travelers. Here's what we achieved.
Revenue for August was up 12% over the prior year, thanks to the Recovery Campaign.
In only the first week of running, the AR experience ad had an average view time of 24 seconds, well above industry averages.
The AR experience also garnered an impressive 138 shares, 139 post saves, 160 post comments and 2,054 post reactions.
The click-through rate for the AR portal was 6.5x's higher than the industry average.
A total of 19,730 people engaged with the chat bot.