Oct 10, 2022
Making Our Mark on Florida Tourism Starmark Earns Six Flagler Awards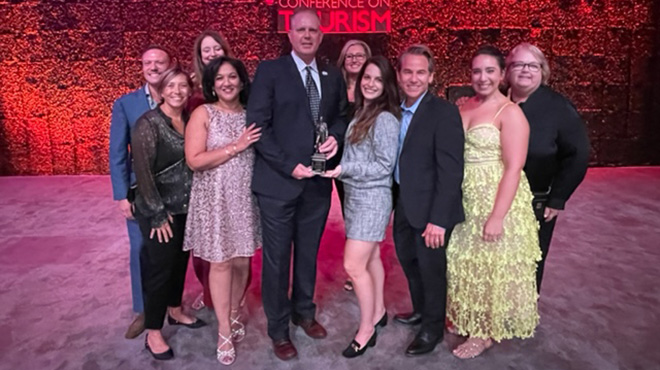 When it comes to creating memorable tourism work, we always put our heart into our home state. Starmark's creative efforts in partnership with the Amelia Island Convention and Visitors Bureau and St. Pete-Clearwater International Airport (PIE) brought home six awards from the 2022 Florida Governor's Conference Flagler Awards Ceremony, including Best in Show and four of their top honors — "The Henry" award.
Created by VISIT FLORIDA and named after pioneering developer and industrialist Henry Flagler, the Flagler Awards honor stellar tourism marketing that helps maintain Florida's position as a top travel destination.
A Best of Show and Several More Wins for Amelia Island
There's a lot to love about Amelia Island, Florida, and our marketing efforts made sure to spread the word to both consumers and the meetings market.
Every month, we delivered Amelia Island eye candy to the inbox subscribers in a series of New York Times Great Getaways Emails. This campaign earned Silver in the Direct Marketing category.
Our three "Henry" winners for the Amelia Island CVB included the Amelia Island Meetings Brochure, which lured meeting planners back to the island post-Covid by showcasing the destination's ample outdoor venues, amenities and hospitality. This stellar meetings brochure also won Best in Show.
Also taking home a Henry were our series of four Instant Experience Travel Guides showed the different facets of Amelia Island, including family travel, arts and culture, romance, and spa and wellness. And finally, the Amelia Island Event Ads were recognized with a Henry for combining video and storytelling to promote the island's signature happenings.
"We appreciate the recognition our marketing efforts have received from VISIT FLORIDA and our peers, and we are proud of the work we've produced with our creative partners at Starmark."

— Amy Boek, Chief Marketing Officer of the Amelia Island Convention & Visitors Bureau
An Award-Winning Reunion for PIE Airport
A timely and touching PR effort earned Starmark and St. Pete-Clearwater International Airport (PIE) The Henry award for Creativity in Public Relations. Inspired by an unexpected cross-country friendship formed during Super Bowl® LV in Tampa Bay, Starmark and PIE, with support from airline partner Allegiant, planned a super reunion.
This activation went from the airport to throughout the destination, and local and national media picked up the story and ran with it.
"We are honored to receive such a prestigious recognition in the competitive and innovative Florida Tourism industry. I am very proud of our airport team and our partnership with our agency, Starmark."

— Jeff Clauss, Airport Air Service Development and Marketing Director for St. Pete-Clearwater International Airport