Jan 15, 2001
Starmark Awarded Recreational Boating and Fishing Foundation's Web Portal Contract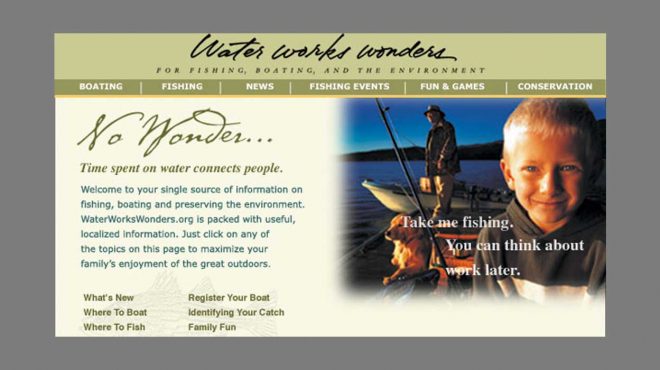 Starmark International – the South Florida advertising, and internet agency known for effectively branding, building and marketing global companies – has been awarded the contract to design, develop and maintain a web-based portal for the Recreational Boating and Fishing Foundation (RBFF). RBFF is a non-profit organization dedicated to increasing participation in recreational boating, fishing and stewardships of the nation's aquatic resources.
Starmark's creative team will design the web-based portal to nationwide fishing, boating and conservation resources. RBFF will include the URL, http://waterworkswonders.org/ in advertising in a dozen magazines and on network TV and cable Fox Sports Network from March – June. Millions of readers and viewers will be directed to the site to "begin" or "renew" an interest in fishing and boating. The site will provide the "basics" of fishing, boating and conservation, including where and how to fish and boat, but most importantly it will direct site visitors to content sponsors (boating and fishing sites) throughout the Internet uniquely linking the industry and its many resources.
"We have a lot of boating and fishing enthusiasts – myself included – on staff at the agency. So, our interest in this new client is both personal and professional. We have all the right people and tools to help RBFF achieve its goals while producing a product we will value and use individually on an ongoing basis," said Peggy Nordeen, Starmark president.
Boating, fishing and conservation sites who would like to become content sponsors and benefit from the linkage from this high-interest, high-traffic site should contact: Debbie Waite, Interactive Project Manager at Starmark.
Starmark, Inc. was founded in 1978 in Chicago as an integrated marketing communications and advertising agency serving B2B clients – both entrepreneurs and Fortune 1000 companies. Among Starmark's achievements is being the first company to be named to Inc. Magazine's List of the 500 Fastest Growing Privately Held Companies for 5 years in a row. In 1998, Starmark's founders relocated Starmark to Fort Lauderdale, acquired TKOnet, a 3-year-old Internet company, and formed Starmark International, Inc., to offer branding, advertising and internet services to a growing base of national and international clientele.