May 12, 2009
Governor Crist Endorses Viva Florida! Program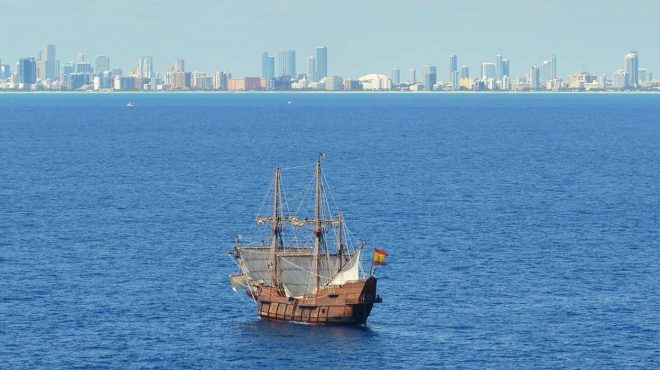 Governor Charlie Crist today announced the Viva Florida! campaign, a multi-year, multi-city consumer awareness campaign tailored to educate audiences and promote Spanish culture and heritage throughout the state.
"Florida is poised to become a leading heritage tourism destination for domestic and international travelers," said Governor Crist. "The Viva Florida! initiative will generate new opportunities in tourism, trade and education."
Home to the oldest city in the United States, Florida boasts a recorded history older than that of any other state in the nation. Through the Viva Florida! program, significant historical and cultural milestones will be promoted through a bilingual Web site, www.VivaFlorida.org, and Spanish Colonial Heritage Trail Guide.
The Web site provides Spanish- and English-speaking travelers with details on the trail guide's historic locations as well as an interactive calendar highlighting local events that promote Florida's Hispanic culture, art and cuisine. The bilingual trail guide highlights Florida/Spanish history, showcases historical sites and provides information on early Spanish explorers.
Cultural and historical activities provide a tremendous economic benefit to Florida. According to the Economic Impacts of Historic Preservation in Florida study by the University of Florida, nearly $4 billion is spent annually in Florida by tourists who visit historic sites. VISIT FLORIDA surveys show that nearly 50 percent of Florida visitors participate in history-based activities while on vacation.
VISIT FLORIDA and the Florida Department of State are working together to promote Viva Florida! by mobilizing their partners to educate consumers about Florida's unique history. Important milestones in Florida and United States history include:
In 2009, Pensacola's 450th anniversary marks one of the first attempts at European settlement in the United States. The anniversary celebration launched with a royal visit from King Juan Carlos I and Queen Sofia of Spain in February 2009. Many events and activities are planned throughout the remainder of the year. For more information visit www.celebratepensacola.com and www.visitpensacola.com.
In 2013, Florida's Quincentennial will honor the 1513 arrival and exploration by Juan Ponce de Leon and the 500th anniversary of Florida. For more information visit www.VivaFlorida.org.
In 2015, St. Augustine's 450th anniversary will be honored. The St. Augustine Commemoration Commission is planning a series of events in America's oldest city, remembering Pedro Menéndez de Avilés' arrival in 1565, when he established the settlement of St. Augustine. For more information visit www.visitoldcity.com.
For more information about the Viva Florida! campaign, visit www.VivaFlorida.org
About VISIT FLORIDA
VISIT FLORIDA is the official tourism marketing corporation for the state of Florida. VISIT FLORIDA promotes tourism to Florida through sales, advertising, promotions, PR, new product development and visitor services programs. As a public/private partnership, VISIT FLORIDA has more than 3,400 tourism industry partners and four major strategic alliances with American Express Travel Related Services, Air Tran Airways, Dollar Rent A Car and The Hertz Corporation. In the summer of 2008, VISIT FLORIDA's Viva Florida! Spanish Heritage Committee was tasked to market travel to and within Florida by highlighting Florida's Spanish Colonial history and cultural heritage. For additional information please visit: www.VivaFlorida.org.