Amelia Island CVB
Weather-triggered creativity beats winter forecasts for Amelia Island
After a successful welcome back for travelers as pandemic restrictions eased, in winter of 2021, Starmark and the Amelia Island Convention and Visitors Bureau wanted to find a way to inspire spontaneous getaways for travelers in winter-weary northern cities. The answer was an award-winning weather-triggered digital campaign that outperformed all estimates for media performance.
How to avoid getting iced out by other coastal destinations
With travel advertising ramping back up on the heels of pandemic travel restrictions, Amelia Island needed a smarter way to start a travel conversation to avoid getting drowned out by larger coastal destinations hocking the same old sun and sand pitch. The team needed an approach that was more targeted and more incisive to beat the heat from competitors.
A cool insight drives an even cooler execution
The driving insight for this campaign came from team members from the northern and midwestern states about the low points of winter. You know, those days where you can't imagine it getting any colder — until it does.
Tapping into the visceral experiences of winter weather and the mindset of wanting to escape from slogging through slush or being cloistered in the house, our team concocted a tiered campaign approach that dialed up the escapism as temperatures dropped in DC, Philadelphia, Boston and New York.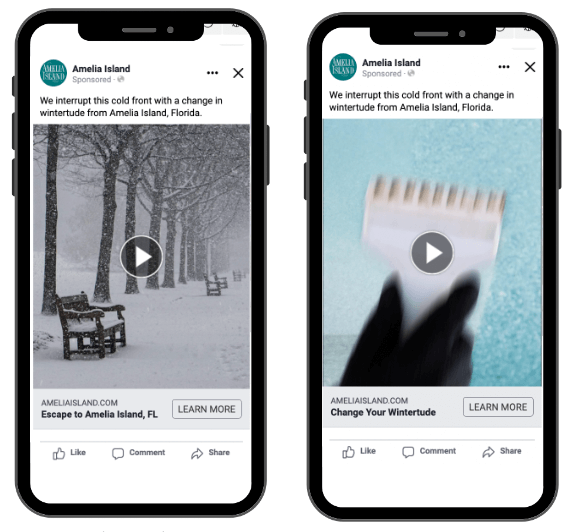 On any day where daytime temperature estimates dropped to a certain point, our standard campaign creative was replaced by the first stage of our weather-triggered ads. And on days with snowfall, a second creative iteration dialed up the appeal of a blue-sky getaway on Amelia Island.
It's not every day that you see creative assets that are this eye-catching. I've worked on hundreds of creative builds in my career, but these really stood out. It's the first time we've been able to build a format in such a personal way that takes a consumer through the entire journey end-to-end — brilliant strategy.

— Padsquad
Both creative approaches were tailored for winter-weary mindsets to grab attention and then pay it off with a quick Instagram-highlights-style tour of experiences awaiting travelers on the island.
Blue skies for the win
This is one of those campaigns where a simple human understanding won the day. We're thrilled to see results that it worked even better than we expected.

— Dale Baron, Starmark Executive Creative Director
We knew the campaign was something special, but it performed even beyond our expectations. Our media partner reported engagement metrics more than 8x the benchmark performance for similar placements.
Between the end of December 2021 and end of March 2022, the two scrollers and the stories-style placements delivered combined impressions of over 3.1 million with engagement scores of 4.2%, 9.2% and 7.2%, respectively. All on a budget well below what competitors were spending during those months.
The approach clearly resonated with travelers, too, leading to a significant uptick in Amelia Island visitation during late winter and spring. And awards show judges also chimed in with a series of wins — two local gold ADDY awards, a district-level American Advertising award, an Adrian Award and a Hermes Award — for this clever, human-centric, weather-triggered campaign.