Fort Lauderdale-Hollywood International Airport
How to celebrate progress while changing traveler behavior
As 100,000 people and thousands of vehicles navigate the airport on any given day, pedestrian safety among the congestion became a major concern. Infrastructure updates and a communication plan were needed to change people's behavior, in order to support years of future airport growth to come.
FLL and Starmark have launched a comprehensive new communications campaign, along with upgraded airport brand identity, to spread the word throughout South Florida about major safety upgrades every visitor will experience on their next visit.
Updates include new pedestrian crosswalk signal systems on Level 1; ADA ramps, overhead lighting and larger curbside passenger waiting areas; and new signal systems, ad signs and pavement markings to help vehicles move through safer and more efficiently.
The Challenge
While these new upgrades help travelers reach their destination with less congestion, they also change the way drivers and pedestrians are used to navigating the airport. FLL needed a strong communications program targeted to passengers, visitors, employees, vendors and locals that:
Share positive messages about the safety upgrades underway
Alert visitors regarding what to expect during their next visit
Change current driver and pedestrian behavior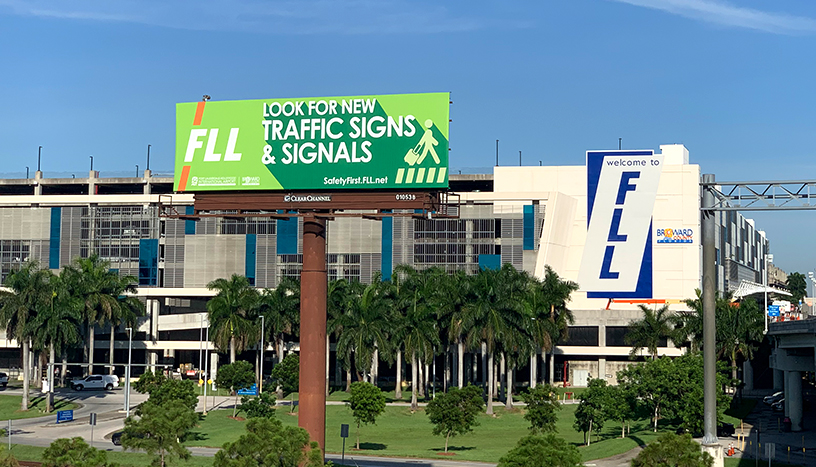 Keeping it SIMPLE
Given South Florida's large population of non-native English speakers and high volume of international visitors, messaging and design needed to stay simple, yet still be eye-catching.
The Solution
Starmark developed an integrated campaign, rigorously testing brand marks, copy versions and designs with audiences to determine which proved the most appealing and easiest to understand.

The campaign's distinctive "Safety First" brandmark and tag resonated best: emphasizing FLL's mission and linking all roadside, terminal and offsite components. Street lines play to crosswalks and roads and utilize orange as a globally-recognized color for in-progress roadwork.
The onsite campaign is a clear "show and tell", conveying what guests should do, featuring vivid color, fun personality and safety iconography reminiscent of recognizable street signs.
The creative appears on elevator wraps and giant LCD screens onsite, on highway billboards, in local English and Spanish newspapers and in printed collateral distributed outside the airport.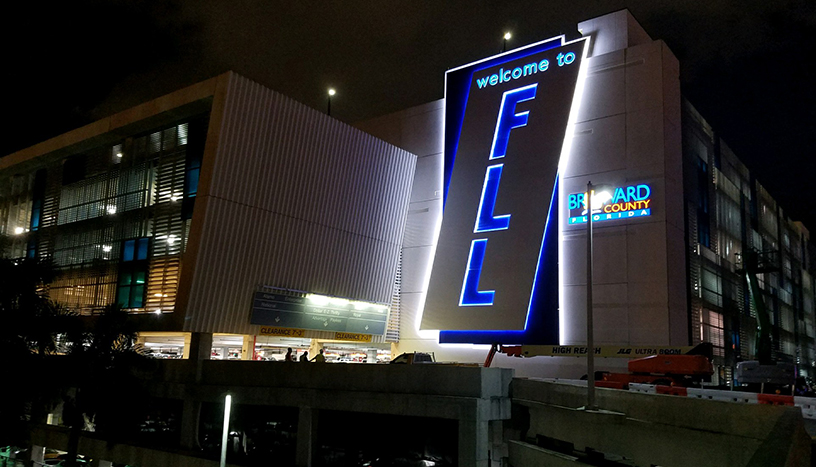 Coinciding with the safety campaign launch, FLL also partnered with Starmark to upgrade the airport's brand identity. Better awareness of the signature FLL airport code was needed, in support of its continued growth and world-class airport mission. This big, bold welcome sign now greets all guests, building stronger recognition to support future communications.
Print ads ran in national aviation journals and regional business alliance publications touting FLL's growth, economic impact and the investments made to enhance guest comfort and safety.
FLL, located in Greater Fort Lauderdale, ranks 19th in the U.S. in total passenger traffic, with more than 350 departures a day; non-stop service to more than 75 U.S. cities; and global connectivity to 60+ international destinations.