Greater Fort Lauderdale CVB
A Destination Music Festival Activation for the Record Books
For the 3rd year in a row, Starmark and the Greater Fort Lauderdale Convention and Visitors Bureau (GFLCVB) teamed up to create a rockin' brand presence at Riptide Music Festival on Fort Lauderdale beach. The Nov. 2019 activation took over the entire beach, cementing Greater Fort Lauderdale as a music destination.
The Challenge
This was the first year Riptide Music Festival was branded a "Broward County Signature Event." GFLCVB needed to make a big impact throughout the whole event's weekend, in order to fully own the new title. The activation's message had to encourage travel throughout the rest of the destination, as well as celebrate its reputation as a place where creativity and the arts thrive.
Competition was another notable challenge — there is a sensory overload for attendees throughout the entire beach with brands galore. Festival attendees were ages 18-49 and comprised of a local and national audience. These were music fans and trendsetters that attended multiple concerts and music festivals a year. At Riptide, they are constantly moving, not staying in the same booth for a long period of time. Attendees typically remember one "cool factor" about a booth and are willing to give out their information if the activation is exciting enough.
The Booth Heard 'Round the Beach
The Starmark team ideated the "Visit Lauderdale Music Beach House," a concept that welcomed music fans with open arms. The two-story booth painted Greater Fort Lauderdale as "the soundtrack and backdrop to your vacation." With a vintage record store sign and a "Let's Make Music Together" banner at the top, it featured multiple activations that seamlessly tied aspects of the destination and music together.
Vinyl Record Wall
Since this was the first Broward County Signature Event, Starmark thought it was important to highlight the entire county at this activation, not just Fort Lauderdale beach. All 31 municipalities in Broward County were represented in both an exterior and interior decorative record wall.
In the last few years, vintage record stores and vinyls had made a big comeback within the music industry. To leverage this insight and connect with fans, the creative team put a clever spin on the famous bands and artists we all know and love. Artist names like Kanye Weston, Bruce Coral Springsteen, Linkin Parkland, Macklemiramar, Deerfield Beach Boys, North Lauduran Duran each got their own album cover on the wall, featuring editorial-style destination photography. In the center of the wall was a "Visit Lauderdale" neon sign, making the brand name clearly identifiable to attendees as they admired the wall, waiting in line for the booth's other activities.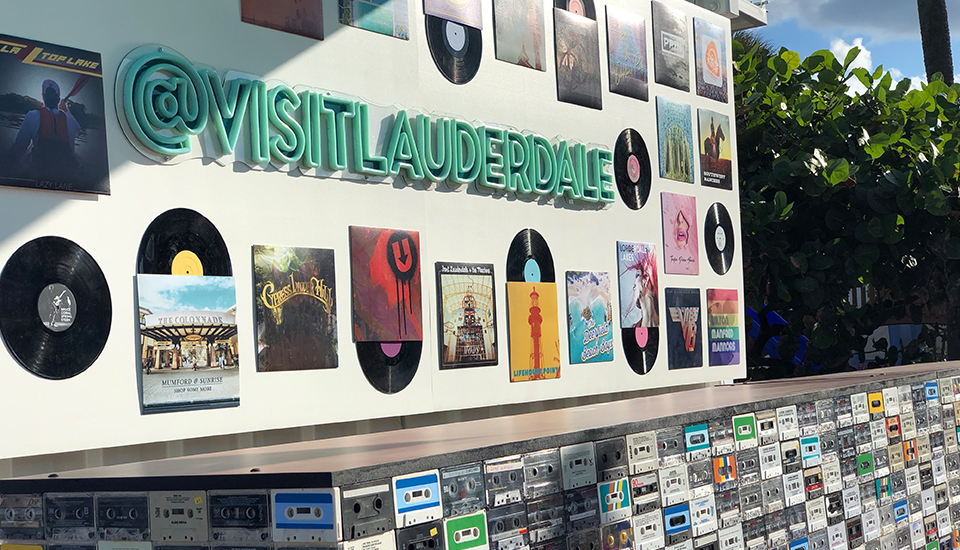 Larger-than-Life Instruments
These days, if you went to a music festival without taking a picture, it didn't really happen. Starmark felt that creating "Instagrammable moments" at Riptide not only would engage attendees, but also their followers. Give attendees an epic background, and they won't be able to resist posing, posting and sharing.
Three oversized instruments were dispersed throughout the festival, tempting attendees to snap a photo. The first was interactive—a "Big" piano placed inside the Visit Lauderdale Beach House that people could play with their feet. As they tickled the ivories with their toes, other attendees could hear and be inclined to join in.
Two giant guitars were great photo-ops, one 16-ft guitar placed outside the booth and the other greeting attendees at the VIP entrance. The VIP guitar featured destination photography, while the other embraced an artistic aesthetic, and both included the @VisitLauderdale handle to encourage social follows.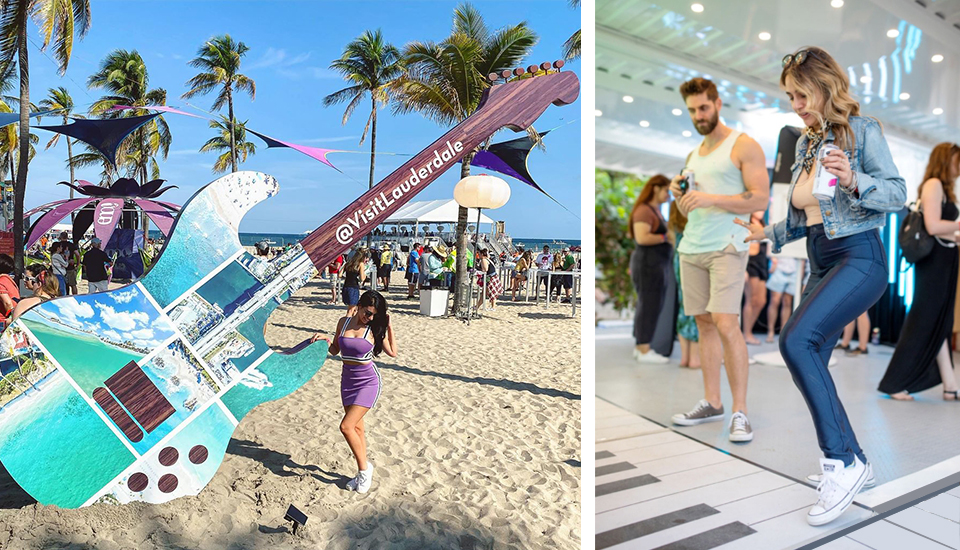 Booth Activities
Attendees could make their own music videos in the video booth complete with neon lights and funky music. The booth captured leads when the attendees filled out their information in order to receive their video. The email they received encouraged them to share their videos on social media tagging @VisitLauderdale, and a second follow-up email asked them to opt-in to Visit Lauderdale's monthly newsletter, as well as promoted additional upcoming festivals and events in Broward County.
People could also get free temporary flash tattoos, applied by the GFLCVB street team. Each tattoo was custom designed, from an octopus wrapped around a guitar to the Riptide logo.
The second level of the booth was a balcony lounge positioned directly in front of the Underground Stage, which Starmark also designed the skin for. Attendees with special wristbands had access to sit upstairs and enjoy the music from the stage. The balcony had couches with branded Visit Lauderdale pillows and vinyl record coasters featuring the municipality album names. GFLCVB also arranged for DJ Citizen Jane to play music in between sets to attract passersby to the booth.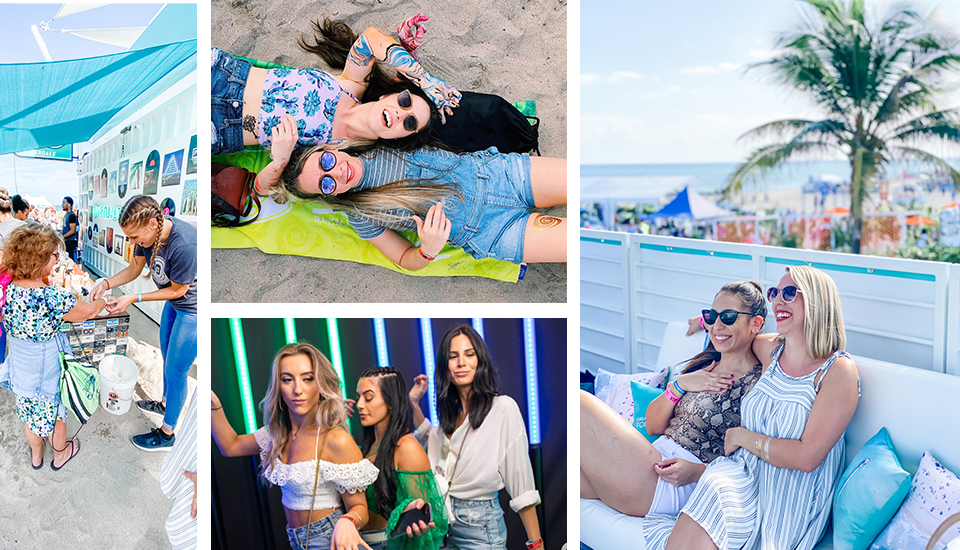 Social Media Promotion
Starmark and GFLCVB partnered with Entercom to promote the Visit Lauderdale booth. Instagram stories and In-feed Facebook and Instagram organic and paid posts highlighting each booth feature were shared on Entercom's pages, in addition to Visit Lauderdale's accounts.
Starmark also created custom Visit Lauderdale branded Instagram stickers, including a spinning octopus guitar and a Riptide guitar pic, uploaded to Giphy. Users could add them to their Instagram stories and post all the fun from the festival.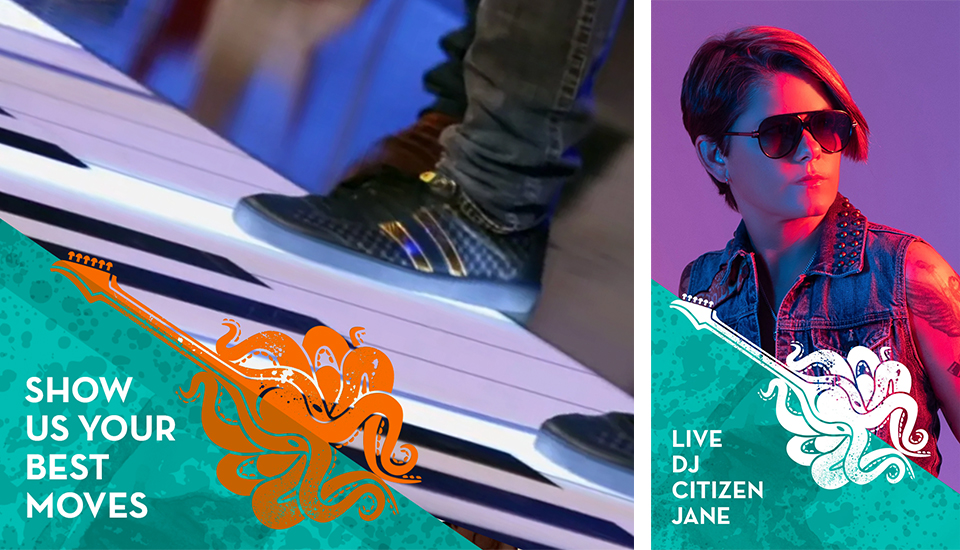 Broadcast Lounge
Riptide performers, from The 1975 to The Killers, were invited to the broadcast lounge to be interviewed by the press, do meet and greets and enjoy cocktails. Starmark designed the entire lounge, placing Greater Fort Lauderdale branding throughout. Aerial photos of the beaches and other destination hotspots served as backdrops on the wall and branded pillows on each couch and chair.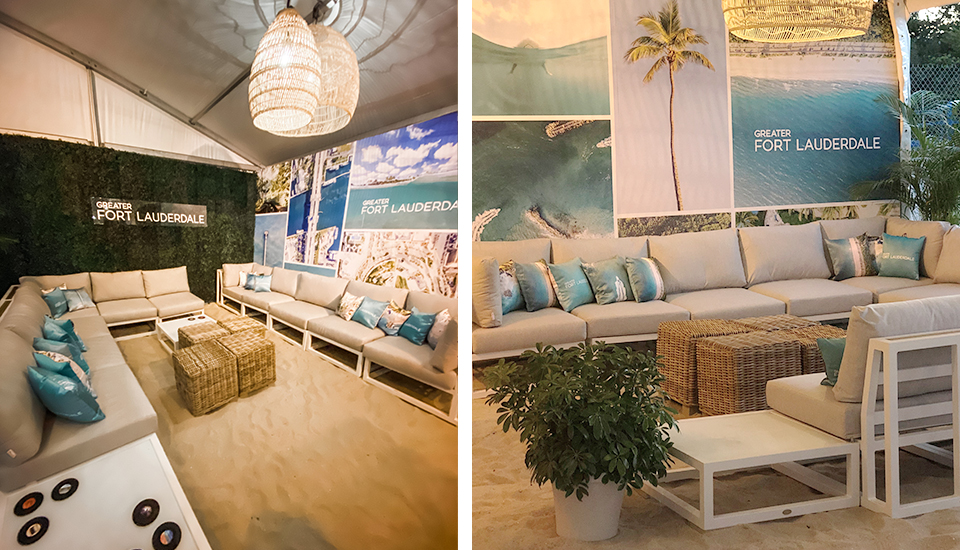 Music to Our Ears
Visit Lauderdale's activations took Riptide Music Festival by storm.
"I couldn't be more proud of the talented Starmark team that has pulled off such a cool and creative activation for Riptide Music Festival." — Kara Franker, Senior Vice President of Marketing & Communications at GFLCVB
All weekend long, fans lined up outside the Visit Lauderdale Music Beach House to get in on all the action. Attendees starred in their own music videos in the Bosco video booth, exchanging contact info for their footage and generating 305 videos, 325 emails and 766 SMS. In addition, a total of 96,008 social users were reached with paid social media assets: 30,548 on Facebook and 65,460 on Instagram. The event was covered by acclaimed media outlets, from Rolling Stone Magazine to Good Morning America, while a number of social media influencers posted footage and photos at the Visit Lauderdale booth. It's safe to say the first Broward County Signature Event was a hit.