Oct 22, 2015
Boat show kicks up digital experience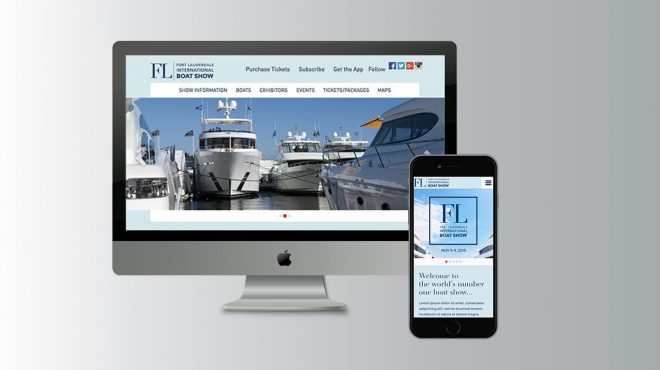 Reprinted from South Florida Business Journal.
As with most major consumer purchases today, prospective boat buyers spend a great deal of time researching online before they buy. And, for boat buyers the buying process continues at major boat shows worldwide, which make purchasing a boat a fun-filled experience – even an adventure – that marketers can learn from.
This year, the 56th Annual Fort Lauderdale International Boat Show is using the power of digital experience to enhance boat buyers' pre-show research, and their days exploring boats, watersports and accessories at seven locations along the waterways.
The mobile-first design of FLIBS.com allows an estimated 100,000 showgoers to review boats, find exhibitors, events, seminars, transportation and purchase tickets.
"The most amazing feature on the new FLIBS.com is how we are able to showcase exhibitors, not only with better online navigation for consumers to find them, but what amounts to almost an exhibit space for each inside the site," said Brett Keating, VP of consumer marketing with Show Management, which markets and produces the show. "Big pictures and descriptions of boats and products, as well as exhibitor social media links, help boat buyers research the boats they want to see up close and personal at the show."
Keating said there will be several other digital experiences new to attendees, such as self-service mobile texting to message boat show goers about special events, transportation advisories, drawings at the Greater Fort Lauderdale 'Hello Sunny' pavilion and other types of raffles. (Texting code "FLIBS15" to 55778 will put you on the FLIBS notification list early.)
"There [also] will be video streaming from the FLIBS media studio to screens throughout the show, on social media #FLIBS, and on FLIBS.com," Keating said.
There will also be more free Wi-Fi zones throughout the show and food courts, and giveaways, including "Hello Sunny" sunglasses for those who attend and tweet or post campaign messages.
"Our 'Hello Sunny' sunglasses have been a hit all over the country, and when our visitors tweet or post for game plays, they are sharing a fun Fort Lauderdale adventure with their friends on Facebook or Twitter," said Carlos Molinet, senior VP of the Greater Fort Lauderdale Convention & Visitors Bureau.
"This marks the second year we have worked with FLIBS and the Greater Fort Lauderdale Convention & Visitors Bureau to have a booth at the show and encourage show goers to experience other activities in our diverse destination and return for their next vacation or even consider moving their business and homes here," said David Coddington, VP of business development with the Greater Fort Lauderdale Alliance.
The Marine Industries Association of South Florida touts FLIBS, which it owns, as Fort Lauderdale's annual "Super Bowl," in terms of economic impact. It draws 100,000 attendees and nearly 1,500 exhibitors from 28 countries, which the show aims to entice back to the region.
"FLIBS is the No. 1 boat show on the planet, and we want to make sure we are offering the premiere exhibiting and buying experience," Keating said.