Aug 26, 2009
A Case Study in Guerilla Marketing – The IWearYourShirt Experiment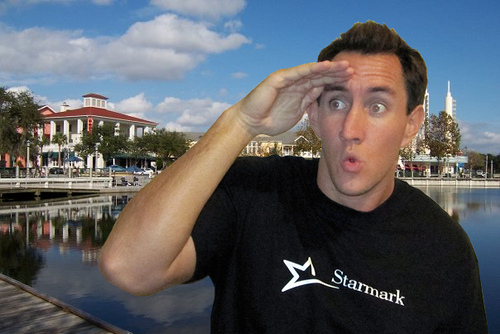 A t-shirt can be much more than a fashion statement – it can be a billboard seen by almost half a million people a month. This is the premise of Jason Sadler's brainchild, IWearYourShirt.com.
In This Economy, He Wears Shirts Well
Sadler had the ingenious idea to sell the upper-half of his wardrobe throughout 2009, using his chest as a billboard to promote whatever company paid for the privilege. The price he charges corresponds to the day of the year, with January 1 a bargain at just one dollar and December 31 going for $365, the maximum.
More than just wearing a company's logo on his chest and running errands around town, Sadler uses social networking to spread the word. He blogs about the company on iwearyourshirt.com, posts videos on YouTube and Ustream.tv and photos on Flickr and Facebook. But that's not all. He also promotes the company via tweets to his more than 16,000 followers on Twitter, messages to over1000 facebook fans, and email blasts to a database that exceeds 15,000.
So far in 2009, Sadler has been sponsored by a variety of organizations varying by size and industry. They include Zappos.com, INTUIT, Gary Vaynerchuck's WineLibraryTV, Re/Max and Marietta College, just to name just a few. He and his innovative idea were also recently featured on cnn.com.
We Didn't Lose Our Shirt
As an exercise in guerilla marketing and to support our eTip "Build buzz with courageously outrageous marketing", Starmark purchased one IWearYourShirt day from Sadler. Starmark chose the date of August 4, paying a total of $216. At the time, we could have opted for an earlier date and paid less, but we selected a mid-year date anticipating that IWearYourShirt would gain notoriety. We were as surprised as Jason to discover that the day of our sponsorship, during the live chat and video, Venturebeat.com posted a feature article on Jason Sadler and IWearYourShirt, which also mentioned Starmark. As a sense of scale, VentureBeat.com gets on average over 1,000,000 visits per month (compete.com).
We'll Give You the Shirt off Our Back – Or A Weekend Vacation
To add a promotional element to the program, Stamark upped the ante and offered IWearYourShirt's built-in audience a chance to win a three-day/two-night stay in Celebration, FL, just outside Orlando. To qualify, participants simply needed to interact with Starmark from a social media perspective. Each activity, whether it was joining the Starmark Group on LinkedIn, "fanning" Starmark's page on Facebook or "following" @StarmarkIntl on Twitter, entered the user into our weeklong contest.
During this time, Starmark continued to engage with this audience, promoting both the company and our clients, including the Kissimmee, FL area (which we proudly represent as the Kissimmee Convention and Visitors Bureau's agency of record) via the grand prize.
Holy shirt, that's a lot of people!
Sadler promoted Starmark to his many followers, friends, email list and viewers, including a live video interview with Starmark's Director of Interactive Marketing, Murray Izenwasser (who tweeted about the promotion throughout the day). There was a recap video posted to YouTube, which was viewed 265 times that day.
As a result of the promotion, Starmark International experienced the following increases in our social marketing platforms:
Starmark's Facebook page rose 112%
On Twitter, followers of @StarmarkIntl increased by 24%
The size of Starmark's LinkedIn group increased by 100%.
Additional viewers included the readers of the VentureBeat article, and the several thousand people that followed the tweets of Starmark throughout the day. The success of the campaign proved that social marketing is a viable medium to get the word out about products, promotions, companies and brands. When used on an ongoing basis, they build the buzz and keep the conversation going.
As a bonus, one of the people who saw Starmark's video began following Izenwasser on Twitter. She learned that he would be visiting New York on business later that week, and immediately set up a meeting with the owner of her agency to explore partnership opportunities.
Lesson learned: You don't have to go topless to garner attention!
And this is just a preview of what Starmark can do for you. Through this exercise, we saw an opportunity to experiment with a social marketing tactic, have a little fun and prove a point.