Dec 18, 2008
South Florida Young Pros Get Philanthropic with a Child Is Missing Holiday Fundraiser at Starmark Life-Saving Law Enforcement Alert Program Garners Financial Support, Goodwill from Local Business Leaders and Young Professionals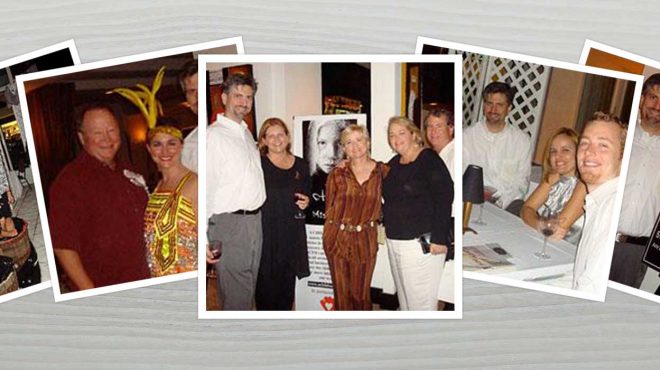 A Child Is Missing (ACIM), a Fort Lauderdale-based, national non- profit organization dedicated to helping law enforcement agencies locate missing children and the elderly during the first critical hours of their disappearance, gathered support from local business leaders and young professionals alike during its Holiday Fundraising and Networking event held Wednesday, December 17th at Starmark International's StarBar Networking Center.
"We are excited that so many young professionals took the time out of their busy schedules to show such strong support of our mission, and we are grateful to Starmark for making this networking event happen at Starmark," said Sherry Friedlander, President and Founder of A Child Is Missing.
Several attendees raised funds in support of ACIM's mission at the networking event. Young professionals showed what they were really made of on Guitar Hero while enjoying hors d' oeuvres and refreshments, courtesy of Starmark International, a full-service integrated marketing communications agency, which has been working with A Child Is Missing for nearly a decade to grow the organization to a nationwide program.
"We are very pleased to have hosted such a successful community event at Starmark," said Peggy Nordeen, President of Starmark International. "Starmark has been involved with A Child Is Missing for over nine years and watched it grow from a local non-profit to an internationally respected organization recognized by the United Nations."
About A Child Is Missing
A Child Is Missing (ACIM), a non-profit 501(c)(3) organization, was founded in 1997 in Fort Lauderdale, Florida because no community-based program existed for locating children and challenged adults. Today, using an advanced satellite mapping and telephony system, the organization has become a valuable, no-cost asset to state and local police and sheriffs, the FBI, U.S. Marshals and Homeland Security. ACIM has personally trained more than 2,700 departments to use our unique program, and has helped save well over 400 lives. For more information about A Child Is Missing and its programs, call (888) 875-2246 or visit www.achildismissing.org.
About Starmark International
Starmark International is a full-service integrated marketing communications agency that specializes in the seamless integration of multiple marketing disciplines, including advertising, PR, interactive services, branding, direct response and custom media. The agency's additional capabilities include strategic consulting, research, media planning and buying, as well as relationship and channel marketing services. Originally founded in Chicago in 1978, Starmark is one of only three companies ever named to Inc. Magazine's "INC 500" Fastest Growing Privately Held Companies seven times. Headquartered in Fort Lauderdale, only minutes from Fort Lauderdale/Hollywood International Airport, Starmark also has offices in Celebration, Florida and Washington, D.C. For more information, visit http://www.starmark.com or call 954-874-9000.