Nov 29, 2021
Starmark Brings Home Multiple 2021 Smarties Awards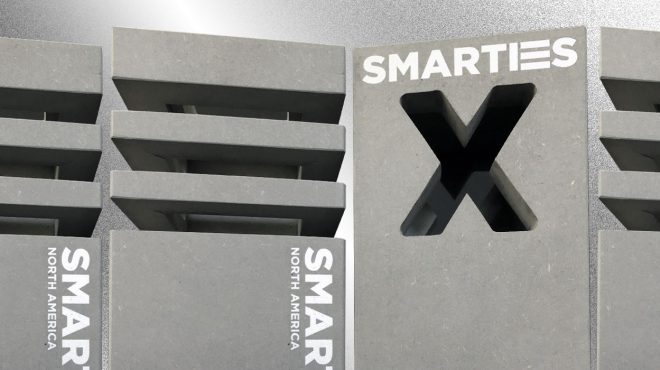 Starmark is thrilled to announce that our efforts to deliver strategy, growth and innovation for our clients have once again been recognized with Mobile Marketing Association (MMA) 2021 Smarties X and Smarties North America Awards. The Smarties X awards are not only the very first marketing award recognizing innovation across the globe, it's also the world's highest achievement in regards to honoring "the X factor" — innovation that results in significant business impact for brands, agencies, media companies and technology providers.
Silver Award | Starmark: Mobile App Category
Our purpose-built, custom Depositions.com app won a Smarties X Award in the Mobile App category. This platform allows attorneys and legal assistants to stream, clip and share videos and exhibits in the cloud. This innovative software project was born out of the necessity to provide lawyers and legal professionals with secure cloud access to their video depositions, transcripts and related files, allowing video streaming, collaboration and productivity to be right at their fingertips.
Together, we architected a cloud-based mobile app and website platform that can be leveraged by legal professionals nationwide to solve court reporting service pain points, such as easier clipping tools, heightened security and the ability to use the app sans WiFi. In addition, the Starmark development team included the ability to store related files and exhibits, such as documents and photographs, making sure transcripts synced with video. We're excited to report that after Depositions.com was released, it garnered rave reviews from users across the country.
"This win recognizes our team's innovative tech skills. It was a challenging and rewarding endeavor for both the client and Starmark."

— Dale Baron, Executive Creative Director at Starmark
North America Silver | Starmark: XR Category
The Starmark Innovation Lab initiated a VR experiment aimed at improving our employees' social connection after 2020's move to remote work. The results? Remarkable. So remarkable that this VR effort earned Starmark a highly regarded Smarties North America Silver Award in the XR category.
Company-provided VR gear was given to every remote worker, uniting Starmarkers for our agency's annual holiday party and company-wide meeting — all together, in one virtual environment. The immersive experience architected by Starmark's Innovation Lab was so engaging and productive that it took home a Smarties Silver Award.
"We're really excited that our effort to keep the team engaged was recognized by the Smarties. The experience truly took our virtual meetings to a completely new level."

— Brett Circe, Chief Digital Officer at Starmark
North America Silver Award | Starmark: Lead-Gen Strategy Category
Our client Charter Schools USA, one of the largest and highest performing education management companies in the United States, tasked Starmark with creating a consistent, unified marketing approach for more than 40 participating schools. The goal was to drive awareness, gain leads and advance enrollments — all in the midst of a global pandemic.
Starmark was more than up for the challenge. By using a centralized digital strategy, including in-feed carousels, dynamic display ads and Instant Experience ads for new school launches, we were able to capture each schools' unique brand essence with a long-term storyline and link to admissions. By the time the 2020-2021 school year came around, Starmark's cohesive campaign had garnered significant leads and impressions, while boosting their enrollment numbers by 63%.
North America Silver Award | Starmark: Consumer Promotions Category
Starmark teamed up with client Sightline Payments to promote the company's proprietary gaming technology product Play+, an FDIC-insured reloadable account used to fund your favorite resort or sports account or daily spending. We executed a re-engagement email campaign designed to inspire current customers to use Play+ to fund their NCAA Finals wagering.
By creating animated gifs, bold graphics and game-driven promotions in our emails, we were able to achieve our client's main strategic objectives: increase both customer wagering and overall wagering during the NCAA basketball tournament. A massive surge in customer deposits and increased funding proved the campaign to be a smashing success.
"We set the bar high and exceeded expectations. We are really proud of our 2021 wins."

— Dale Baron, Executive Creative Director at Starmark
About the SMARTIES and SMARTIES X Awards
The SMARTIES and SMARTIES X Award are the highest achievement across North America and the globe honoring and awarding outstanding innovation resulting in significant business impact for brands, agencies, media companies and technology providers. A highly competitive and coveted award, SMARTIES only award to three entries (gold, silver and bronze) in each category. Winners are among the best in the modern marketing community.