Dec 6, 2018
Starmark Scores Marcom Platinum and Gold
Starmark earned several Platinum and Gold awards for work MarCom competition judges deemed exceptional, including the FlyGreen MIA campaign and Marine Research Hub advertising.
The MarCom is among the largest, most-respected international creative competitions worldwide. An average of 6,000 entries are received from dozens of firms around the U.S. and other nations, all vying for top honors in marketing and communications.
MEET THE WINNERS
The FlyGreen MIA campaign earned platinum in the "Marketing/Promo Campaign/Integrated Marketing" category. Starmark partnered with a major energy company to promote one of the world's most ambitious sustainability projects at the largest airport in Florida. The program included multiple components: main brandmark icon, on-property signage and augmented-reality experience, website, video and mobile app.
The ARport App, part of above FlyGreen MIA campaign, earned platinum in the "Mobile App/Web/App for Training/Learning" category. This app was the campaign's centerpiece: an augmented reality (AR) trivia scavenger hunt to uncover all the ways MIA saves energy and water. It also delivered helpful tips for home. It was the first time an AR app promoted an infrastructure project of this scale directly to consumers. To keep the app relevant and engaging, Starmark also created a year-long roadmap and release schedule for new content, AR games and improvements.
The FlyGreen MIA Airport Signage earned gold in the "Marketing / Promo Campaign / Branding" category. To capture the attention of travelers passing through and residents returning home, eye-catching signage and installations were placed throughout the airport. Simple artwork directed users to a project website with more information and a video series focused on the key pillars of the project.
The FlyGreen MIA Video Campaign earned gold in the "Marketing / Promo Campaign / Digital Marketing" category. This video series focused on the key pillars of the project and provided more context for each major element — Energy Use Improvements, Water Efficiency Gains and HVAC Updates — to help consumers connect to steps they could take at home.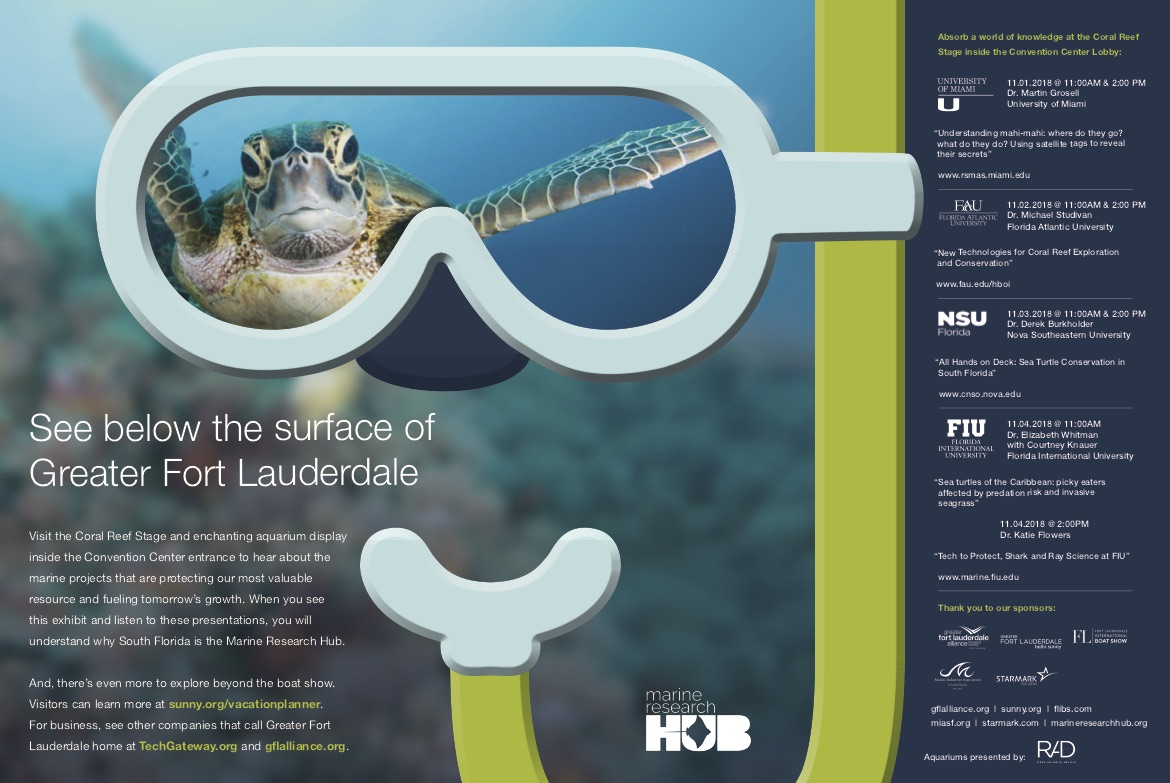 The FLIBS Directory Marine Research Hub Print Ad for the Marine Research Hub earned gold in the "Ads/Magazine" category. This alliance of marine research universities and community supporters needed a boat show guide print ad to attract attendees to their booth and events; promote Fort Lauderdale as a destination; and convey the Hub's ocean conservation focus. The challenge: fit all those messages on a two-page spread that could still stand out amongst all of the other guide ads. The end result did it, creating a strong focus, while encapsulating all the Hub's efforts into one impactful ad that invited readers to "See Below the Surface of Greater Fort Lauderdale."
"While we're always proud of the many MarCom honors our clients and creative team have earned over the years, it's especially gratifying to see Starmark's growing client diversity reflected in the judges' choices." said Starmark President, Jacqui Hartnett. "As we partner with more clients leading the way in innovative sectors like greener energy, emerging technology and groundbreaking marine research, it's particularly thrilling to earn honors for that diverse body of work."