Oct 11, 2021
Welcome to the new Starmark HQ at The Main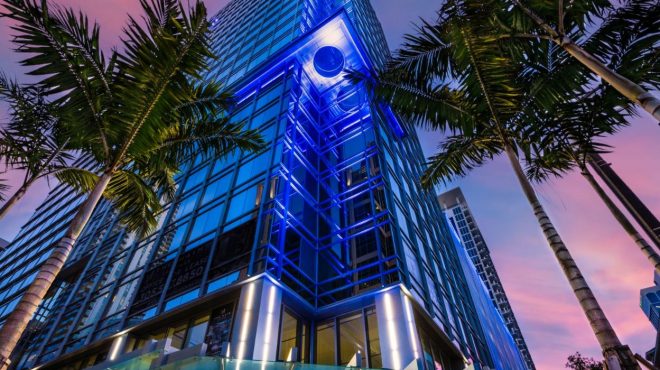 We're celebrating Starmark's 25th year in Fort Lauderdale with a move even closer to the heart of the city we call home. And to that note, we're proud to announce that Starmark HQ is officially open in The Main Las Olas.
Starmark HQ
The Main Las Olas
201 E Las. Olas Blvd.
Suite 1040
Fort Lauderdale, FL 33301
The new Starmark headquarters is on the 10th floor of the newest Class A office tower in Fort Lauderdale.
Branding The Main Las Olas
Back in 2018, Starmark collaborated with Stiles to develop the brand experience, vision, name and brand mark for The Main. In the years since, our work has won multiple national and international design awards, and we're thrilled to now call this incredible building home.
"Call it Kismet. Looking back, it wouldn't be the craziest thing to think being so close to this project in its early phases planted a seed in our minds. Because the vision for The Main really captured the excitement and imagination of our team. And the timing was perfect to relocate as Starmark is reinventing where and how we work."
Call it Kismet. Looking back, it wouldn't be the craziest thing to think being so close to this project in its early phases planted a seed in our minds.

-Jacqui Hartnett, Starmark President
The next phase of Starmark's Agile evolution
More than six years ago, Starmark made the wholesale transition to Agile Methodology agency-wide. Still today, this is relatively uncommon among agencies, but the improvements to our work, our sense of ownership in our projects, our relationships with clients and our ability to adapt are something we'll never stop talking about to our industry peers. And that's probably why the Wall Street Journal interviewed us to see what all the buzz is about.
There's no such thing as hybrid at Starmark
Being an Agile Agency helped us in immeasurable ways when we made the transition to all remote work in March of 2020. Because, unlike other agencies, our teams were already equipped and experienced at collaborating and coordinating their own two-week sprints, making commitments and owning the work. No project managers refereeing or handing out to-dos. The teams own the work, start to finish.
And now that our new HQ is open, we're bucking the trend of arbitrarily assigned days in the office and at home. Instead, we're expanding on our Agile Methodology with a philosophy we call Orbits. It's a simple idea that feels revolutionary when compared to what the rest of the industry is doing.
Because our teams already plan each sprint, with Orbits we're simply coordinating how and where to work, based on the work we share and our shared goals for each client. It's a simple premise that only works because of how we already work differently. You can hear Starmark President, Jacqui Hartnett talk about what we're up to on the American Advertising Federation's District 4cast podcast. Or check out our page on Orbits for a slightly deeper dive.
Come see Starmark at The Main
We'd love the chance to show the extended Starmark family our new digs. Get in touch with us to swing by for a tour – or just to spend part of your day in one of the most inspiring new spaces in downtown Fort Lauderdale.