Jan 14, 2011
Can you go Green and be profitable too?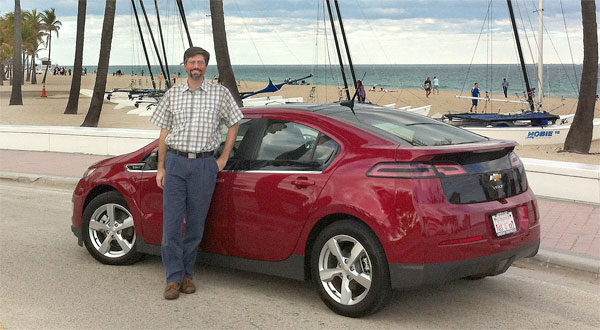 On Earth Day, Starmark posts its annual blog post about how many tons of CO2 the company and the staff has committed to reducing each year. This voluntarily program has been going on for a few years now, but questions always come up. What does it mean? Does this cost or save money? One person can't possibly make that much of an impact, can they?

In the past year Starmark was fortunate enough to work with some brilliant people in the energy industry and learned a lot about the green economy. As we embark into this new year, we are excited to be leaders in marketing and increasing awareness about this industry.
Last month I purchased a Chevy Volt. This is an electric car with an on-board gas generator, the purpose of which is to charge the battery when it dies. Not a hybrid, the generator simply charges the battery; it does not motivate the vehicle. This car was made for me: I am a technophile, a gadget-guy, an early adopter and this car fits every category. For my daily usage of the car I will never use gas at all. But, when I go on a road trip – for work or on the weekend – the generator will kick on and let me go anywhere.You can read about my recent journey from Baltimore to Florida in my new Volt published on the GM Volt Blog.
This car will cost me about 1/6th to operate than my previous car. But – as an early adopter – I expect the initial cost of the car will outweigh the savings I will gain. With technology like this, cost is clearly not the only motivating factor (ask any Apple fan-boy). The fact that I will fuel my car with domestically produced fuel is actually of much more importance to me than the initial cost of the vehicle. I am not interested in sending my money to the Middle East every time I fill up my car. The electricity I use to charge my VOLT is produced right here in the United States; and it's mostly Natural Gas and Nuclear Energy produced here in Florida where I live.
But not all green energy costs more than the return.
Clean Diesel is a good example of where going green can save lots of money. Clean Diesel greatly reduces the amount of harmful particulate being spewed out, and because new semi and class 8 trucks are more fuel efficient, companies can save upwards of $500/month just in fuel. Imagine a large grocery store fleet with 200 semi-trucks, and you can see how upgrading their fleets to this better cleaner technology can save millions of dollars too! This is a win-win for everyone.
Rich Paul-Hus is the President of HyPower Inc. Hypower is one of the most experienced full service Renewable Energy providers with Engineering, Procuring and Construction of more than 84 Mega Watts, either installed or currently under construction throughout the United States. "The best part about renewable energy is that the energy is produced domestically and once it's installed it can produce power for a very long period of time very cost effectively" says Rich.
HyPower Inc. is also starting to install automobile charging stations at public places like stadiums, malls and parking garages. I look forward to plugging my Volt into one soon at the new Marlins stadium and enjoying a game with my family.