Feb 22, 2022
6 things we've learned after using the Oculus Quest 2 Virtual Reality headset for over a year.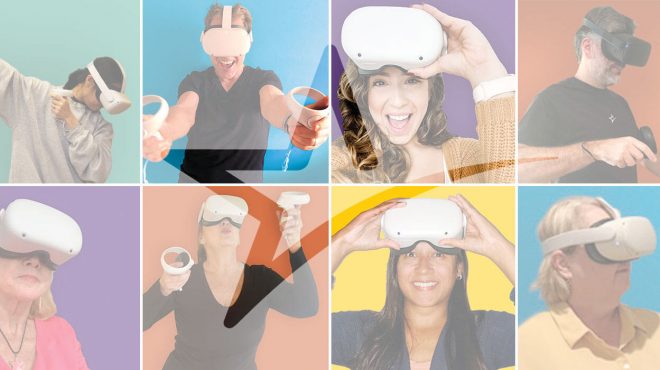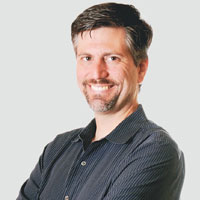 It's hard to believe, but we're already in our second year of everyone at Starmark using an Oculus Quest 2. We distributed the headsets in late 2020 to assist us working remotely and as a thank you for working under the pressures of a pandemic. Since then, all new hires have also received a Quest 2 as part of their onboarding.
One of the great things about working at Starmark is that we all feel like family, and the team really missed seeing each other in person while we all sheltered in place. These virtual reality (VR) headsets changed that, allowing our team to have meetings that better represented the in-person interactions and communications we were used to before the pandemic. Suddenly, our get-togethers again included eye contact, high-fives — even clapping — and more importantly, no interruptions.
Now that everyone has been meeting in VR for over a year, we decided to take a look back to see what we learned, what works and what doesn't.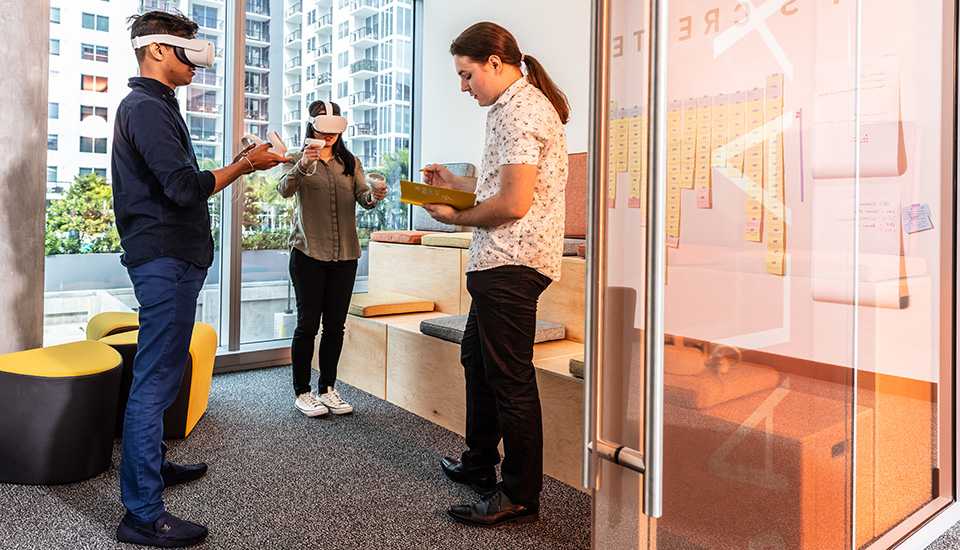 But first, the backstory
The Starmark Innovation Lab always kicks the tires on new technologies to understand marketing applications for our clients. Augmented reality and virtual reality were no exception.
We have been developing 3D renderings of products and packaging since the 1990s. In 2014, our first foray into augmented reality in for SeaWorld Parks & Entertainment was a huge undertaking, long before AR frameworks and toolkits existed. We learned a lot from that experience – and gained a lot of recognition for it, too.
We had also experimented with Google Cardboard for ourselves and our clients, giving them out to understand a simple implementation of VR. By 2017 we got the Oculus Rift to explore how to take our many years of 3D and AR experience into a dedicated virtual reality device. During our experimentations with the Oculus Rift and HTC Vive, one of the major drawbacks was that both devices required a powerful PC. So when the Oculus Go came out in 2018, we saw the ability to bring these immersive experiences to the masses on an inexpensive platform. At our holiday party that year, we demonstrated a huge Augmented Reality project for the MIA airport, and gave away an Oculus Quest Go as a door prize to get people excited about it.
Launching our current world of VR
March 2020: the U.S. shuts down for the Covid-19 pandemic. As an Agile organization, this really didn't affect our ability to plan or run work for our clients. Most of the tools we use on a daily basis were already in the cloud. The kinesthetic act of writing user stories in an Agile roadmap migrated to the cloud, and the team didn't miss a beat.
The mission of the Lab was now to identify ways we could maintain our company culture when nobody could see each other in person. Google Hangouts only gets you so far in a creative environment, so we started looking at business meeting software on the Oculus Quest (version 1 of the headset). Like any burgeoning industry, there were a lot of people trying to elbow into this space.
Over the summer of 2020 we tested out Bigscreen, VR Chat, vSpatial, Spatial, Immersed, MeetinVR, AltspaceVR, Alcove, Mozilla Hub and probably some others we are forgetting. It was a lot to sort through and run test meetings with, but the experience was full of lots of learning and a good bit of fun. What we discovered is that every platform had its strengths and weaknesses, and many of the strengths in these platforms weren't exactly what we needed at the time. For our needs, we decided that Spatial would probably be the best.
Spatial was a good fit for us when we were getting started in virtual reality

Spatial was a good fit for us when we were getting started in virtual reality

Spatial was a good fit for us when we were getting started in virtual reality
Oculus Quest 2 announced
September 16, 2020: the Oculus Quest 2 was announced by Facebook with a starting price that was $100 less than the Quest 1 when it launched. What an incredible price point for a faster and lighter free-standing wireless headset. Suddenly, this Lab experiment was looking like it was going to become a "reality" at Starmark.
After making the decision to go all-in on VR for the staff, it turns out sourcing 45 headsets during Fall of 2020 was not as easy as we'd expected. It was a newly released product, with order limits at major retailers, even with a corporate account. But through a series of incremental orders, we were able to secure enough headsets for the entire Starmark team. Now we just had to get them delivered without spoiling the surprise.
Throughout the pandemic, Starmark has been sending monthly care packages to the team to keep us all connected. In November 2020, we decided the next care package, scheduled for December, would be the VR headsets for everyone. We made a small welcome book to go with it, which included some customized onboarding instructions and an invite to meet in Spatial for our first Agile Sprint Retrospective in VR.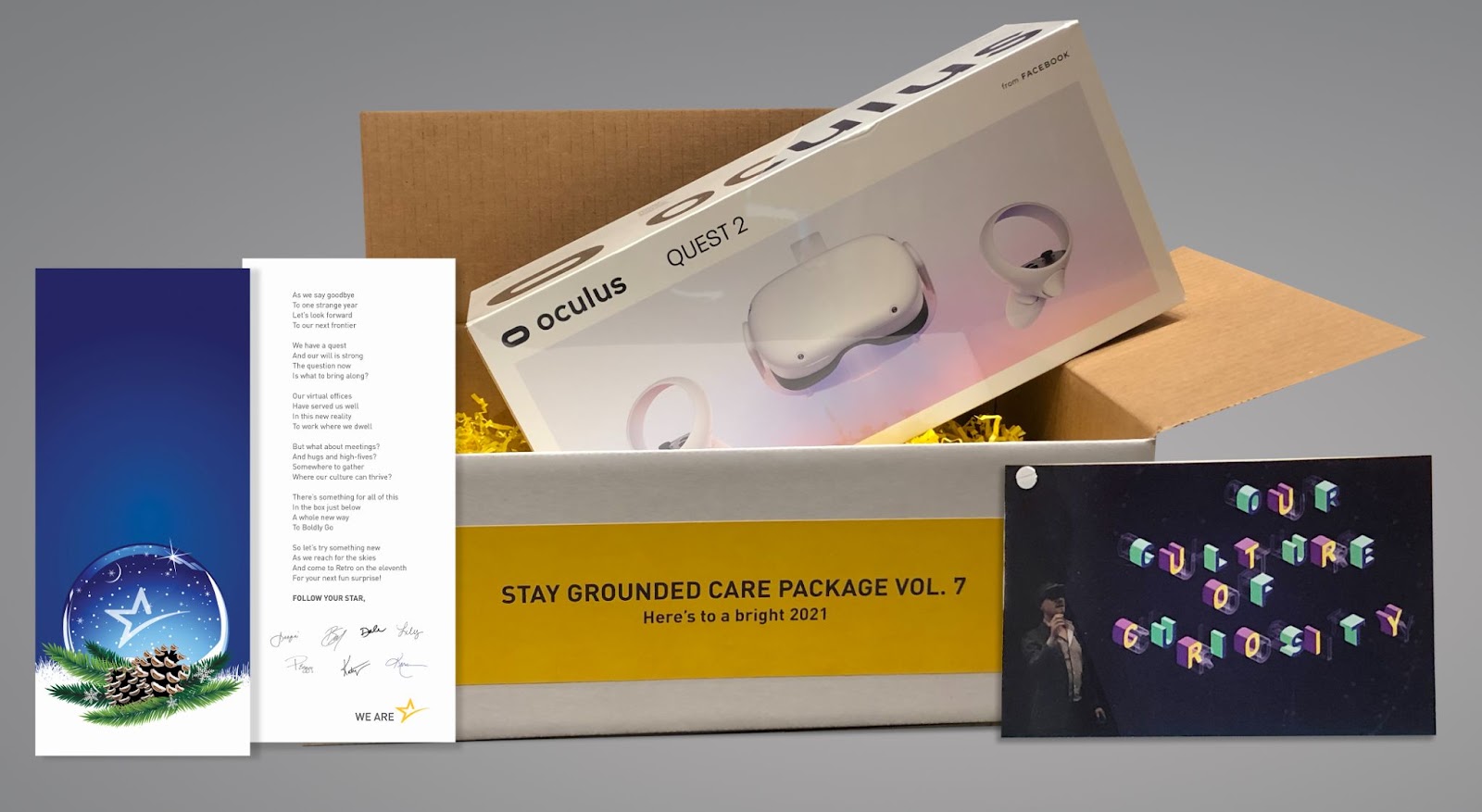 A typical Agile Sprint Retro, which we hold during the last hour of the last day of each two week sprint, goes like this — we review the work we accomplished that sprint so the rest of the company can celebrate the success. We also do announcements like birthdays, anniversaries, new business wins, client updates and the like. Then we "retro" the sprint, and everyone at Starmark has an opportunity to introduce any topic on an index card to describe how we can run the next sprint better. This process is at the heart of being a learning organization. We've been doing it for more than six years, and we'll never stop. Because as things change, we always want to do better — forever.
Our 2020 retros in traditional video meeting software were fairly sedate affairs. Everyone still participated, but the experience certainly lost a little of the excitement of our in-person retros. Well, our first retro in VR was certainly a return to form for the Starmark team. Each time a new person appeared in the retro room, everyone already in the room hooted, hollered and laughed, giving hugs and high fives. Several simply couldn't stop laughing about how cool it was. Then the next person appeared, and and the same ritual repeated itself…for the first 15 minutes. It was great, and everyone really enjoyed it. Once we all got acclimated, we were able to conduct our retros just like we were in person, showing the work, doing the announcements, and then everyone got to type a note card and stick it on the wall in VR, as usual. The excitement was back. The engagement was back. The connection was back.
And that's why we've been doing our Agile Retro in VR ever since. And because of the great experience, we've moved several other meetings to VR — including our February 2021 company meeting, which you can see here:
Over a year later, what have we learned?
Well, as a learning organization, it makes sense to start by asking questions. So we conducted a staff survey, and here is what Starmarkers had to say about their experiences over the last year and change.
1. Using VR beyond work
Over half the staff said they use VR for more than work meetings at Starmark. Other uses mentioned include gaming, exercise, entertainment, meditation and Netflix/movies.
2. What do people like most about virtual reality?
Even though people are working remotely, they love seeing their colleagues in meetings. It's almost like being together in person. Everyone is more focused and engaged because there are less distractions in VR. They love feeling so immersed. It's a fun way to work, and it adds an element of excitement. Discussion and chit-chat are way better in VR than a video meeting.
3. What do they like the least?
For slideshows and presentations in VR, the clarity of small text really suffers and can be hard to read. Anything that lasts more than an hour can get uncomfortable when wearing the headset. Also, there is not a very good way to take notes in VR. Forgetting to charge the headset before a meeting can mean you have to be tethered during the meeting. And, there's the issue of motion sickness. It can take a while to get your "VR legs," but there are things you can do in VR to prevent motion sickness. Overall, we learned that everyone progresses at their own pace. Some team members had no issues whatsoever, others are taking a long time to get used to this brave new world.
4. Some additional insights we didn't expect to uncover
Some people are more engaging in virtual reality than they are in the real world. Their personality just comes through better. That was certainly an unexpected finding. Watching someone experience VR for the first time is always exciting, and the Starmark team has certainly found some great uses for the tech. There are some very cool apps that put you into the shoes of someone else, which really changes your perception and gives you empathy. Not only that, several have experimented with ways to combine AR and VR to create a seamless experience.
5. Where do we think virtual reality is going for our clients?
Virtual reality seems like an obvious application for education and travel, and there will be a lot more done in these areas soon. Being able to transport a client into an environment to showcase our vision is a much more effective way to show a big idea — especially for things like activations, trade shows and events. VR in fitness and social spaces is probably going to grow as well.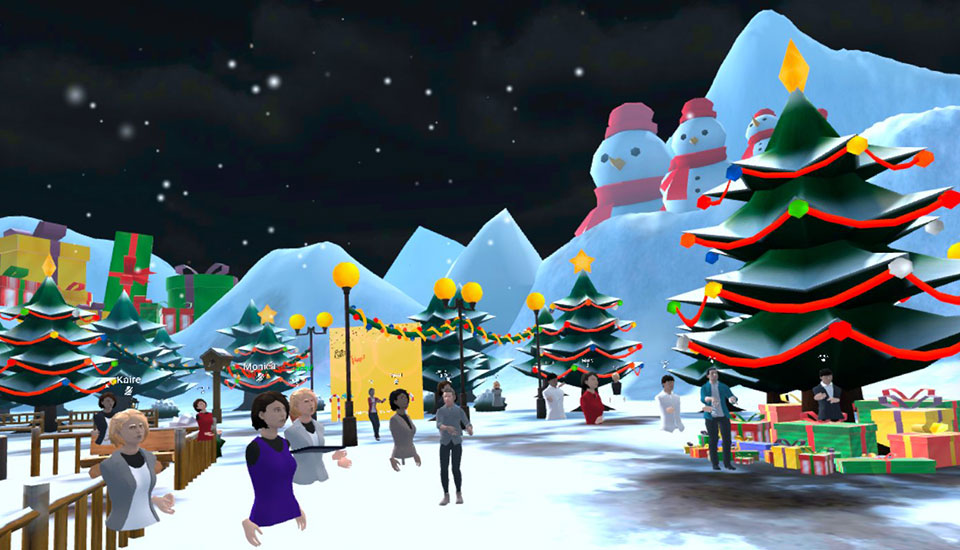 6. What apps do we use for VR meetings today?
A few months into 2021, we started to realized we'd outgrown what Spatial could provide for us. New meeting apps started to appear, some with far superior functionality. We switched to EngageVR around March, which has a lot of features that support online meetings — custom environments, custom objects, spatial audio, participant controls and a whole lot more.
We started to invite our clients and some prospects into virtual reality meetings with us. We hosted meetings for about six different clients last year in VR in industries including education, travel, healthcare and B2B.
We also signed up for the Engage developer program, and our development team — which has been using Unity to develop for AR and VR — is now up to speed on deploying our objects and environments in Engage. Development for the Oculus Quest 2 is an area that the team enjoys as they learn new skills in a platform they not only enjoy, but can showcase to the rest of the staff at Retro too.
Facebook then went all-in, renaming itself to Meta in honor of its goal to build the metaverse. We are all fluent in VR and ready to be on the metaverse journey with our clients.
Let's get together in VR on Star Beach!

Let's get together in VR on Star Beach!

Let's get together in VR on Star Beach!
Want to have a meeting in virtual reality?
Contact us to set up a meeting in virtual reality. We have solutions for education, healthcare, travel and B2B ready to go, and can design, create and build any solution in virtual reality that can be imagined. We love exploring big ideas on this big new platform.